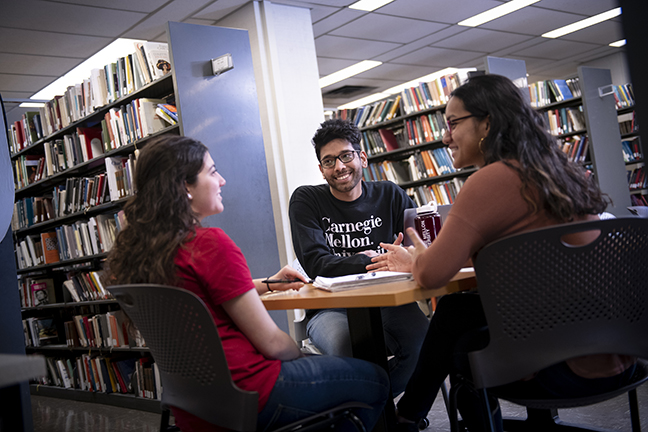 This is the first installment of an annual report to measure progress toward the Libraries' Diversity Equity & Inclusion (DEI) goals, hold ourselves accountable, and define the priorities for the year ahead.
The Libraries' finalized its DEI Strategic Plan in spring 2020. However, even before finalization of the plan, efforts were already underway to make progress in its three key thematic areas. As of September 2021, several foundational goals outlined in the plan have been achieved, laying the groundwork for future progress.
DEI Working Group
Guiding this important work is the DEI Working Group, composed of representatives from divisions across the Libraries.
As the Libraries' DEI Lead, Shannon Riffe attends monthly meetings with DEI Leads from the other CMU schools and colleges.
Hiring and Retaining Our Talent
Kelly Woessner joined the Libraries in July 2021 as its first Organizational Development Coordinator. In this role, Kelly supports the Libraries DEI efforts as well as professional development and HR.
The DEI Working Group created a framework for regular sharing of information to embed an active commitment to diversity, equity, and inclusion into the organizational culture of the Libraries in order to create and sustain an equitable, supportive, and welcoming workplace.
Building Services that "Serve"
Provisioning Equitable Access
The Libraries launched a redesigned website in August 2021. The development of the site incorporated best practices for accessibility and a third party vendor began a WCAG 2.0 AA accessibility review in September 2021 to ensure that the site complies with federal mandates for accessibility. The review is currently underway at the time of publication.
Looking Ahead
Below are some of the preliminary objectives identified as priorities for the coming year.
Libraries DEI Dashboard: Create, maintain, and share an internal, interactive dashboard tracking Libraries DEI efforts to promote transparency and accountability around this work. Amplify Impact through Partnerships: Expand the reach of the Libraires DEI work by partnering on programming with other schools and colleges as well as the central Office for the Vice Provost for DEI and Chief Diversity Officer.
Embed DEI Practices into Hiring, Onboarding and Training: Organizational Development Coordinator Kelly Woessner will lead efforts to standardize processes for hiring and professional development. Policy Creation: Develop and implement new policies for accessibility, workshops, instruction, and events in physical and digital spaces.
DEI and Distinctive Collections: Create an internal process document for how we describe and provide access to materials we steward that includes how we deal with offensive historical language.