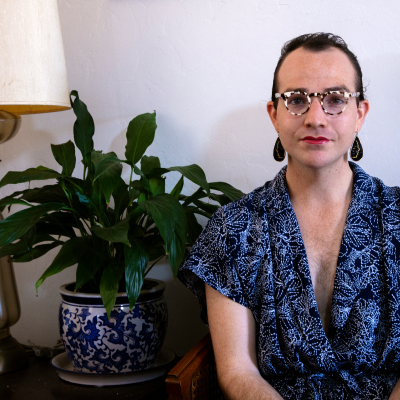 The
University Libraries Speaker Series
features speakers from a wide range of backgrounds who embody at least one of the Libraries' core values of context, curiosity, or access. The theme of the 2020-2021 speaker series focuses on the work of community archiving within the Pittsburgh region, and we're thrilled to welcome Harrison Apple of the Pittsburgh Queer History Project as our Fall 2020 featured speaker. 
"I Can't Wait for You to Die": A Community Archives Critique from the Pittsburgh Queer History Project.
Thursday, October 8, 7:00 p.m.
In this online event, Harrison Apple discusses the origins and revised mission of the Pittsburgh Queer History Project as a reflection of the precarious definition of community archives within the field of Library and Archival Science. By retracing the steps of the PQHP's mission from a custodial and exhibit-focused collecting project towards a decentralized mobile preservation service, this lecture argues that community archival practice is an important standpoint from which to critically reassess the capacity of institutional archives to create a more conscious and complete history through broader collecting. Specifically, this lecture considers how contemporary attention to the value of community records and community archives is frequently accompanied by a demand for them to confess precarity and eventual submission to institutional record keeping practices. Stemming from conflicts over the authority of professional archives to arrange and steward community knowledge, "I Can't Wait For You To Die" outlines the limitations of the archival apparatus to produce the conditions for social liberation through acquisition, and offers suggestions for how to operate otherwise in the interest of the community of records themselves.
Please
register
to attend this online event. 
About the Speaker
Harrison Apple is co-founder of the
Pittsburgh Queer History Project
, an oral history and community archiving project focused on queer after-hours nightlife. Apple is currently a PhD Candidate of Gender and Women's Studies with a minor in the School of Information at the University of Arizona. Apple's writing has been published in Transgender Studies Quarterly from Duke University Press, Outhistory.org, and the Introduction to Transgender Studies from Harrington Park Press