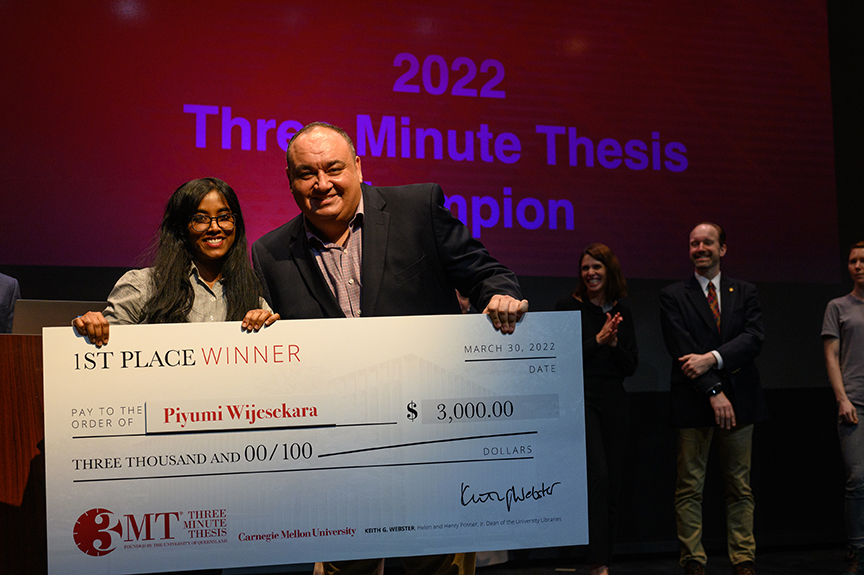 Carnegie Mellon University Libraries is offering Ph.D. students an exciting opportunity to showcase their research in an internationally recognized competition. CMU doctoral candidates of every level can register to participate in the 2023 Three Minute Thesis (3MT) competition for the chance to gain early career recognition, connect with the campus community, and win prizes of up to $3000.
3MT is a celebration of research that challenges Ph.D. students to present a compelling oration on their thesis and its significance in just three minutes and in language that anyone can understand. Developed by the University of Queensland (UQ) in Australia, the competition was brought to Pittsburgh by Helen and Henry Posner, Jr. Dean of Libraries Keith Webster in 2013. Since then, CMU doctoral candidates have joined students at over 900 universities across more than 85 countries worldwide in sharing their work with broad audiences.
Webster, who was Dean of Libraries at UQ when 3MT was developed, explained, "In bringing the 3MT challenge to CMU, I had no idea of the likely response. Despite the interruption of the pandemic, we have had several hundred participants from across the entire university. Participants often look back on their 3MT experience as an opportunity to develop their skills in public communication of science."
3MT is not an exercise in trivializing or "dumbing down" research, but requires students to consolidate their ideas, crystallize their research discoveries, and capture the imagination of their audience. Judges evaluate competitors based on how comprehensive their presentation is, how effectively they engage listeners, and how clearly their communication style reaches a non-specialist audience.
"Not only do students get to practice distilling and communicating their research, but they also get to hear from fellow Ph.D. students across campus and disciplines, which can spark interdisciplinary collaboration," said Principal Librarian and 3MT faculty moderator Sarah Young. "Furthermore, students get a chance to present their work to staff and faculty from a wide range of departments, some with real expertise in communicating academic research. This can be a great opportunity to get tips from these experts and connect with faculty in other departments."
Registrants will first compete in preliminary rounds, hosted January 24 through February 9 from 5-6:30 p.m. in Hunt Library. All preliminary round dates are listed on the 3MT website. Each presenter may use only one static presentation slide—no props or note cards—and must fit the entire presentation into three minutes.
"Since COVID put a temporary pause on the 3MT competition for two years, it was exciting to bring it back last year," said Librarian and faculty moderator Ryan Splenda. "Even with the two-year hiatus, we had participants from every academic unit at CMU. I hope to see even more participants this year."
Last year's finalists ranged from biomedical and mechanical engineering students to one College of Fine Arts student studying architecture, and students of all disciplines are encouraged to participate this year as well. "I would love to see a greater number of presentations from researchers in the arts and humanities," Young said. "They are sometimes underrepresented at 3MT, but they have so many compelling and innovative stories to tell about their work."
Winners of the preliminary rounds will compete in the 2023 3MT Championship, which will be held in the CFA Kresge Theatre on Tuesday, February 28 from 6 to 8 p.m. Both the championship and the preliminary rounds will be free and open to the public. Registration is required.
"The 3MT Competition provides a great opportunity for the larger campus community, including the CMU alumni network, to learn about the innovative and important work that is being done here to positively change people's lives," Splenda said.
Check back for more details about the championship round in the coming weeks.
Registration closes on January 13, 2023 at 5 p.m. Ph.D. students can register to participate here.
---
by Sarah Bender, Communications Coordinator