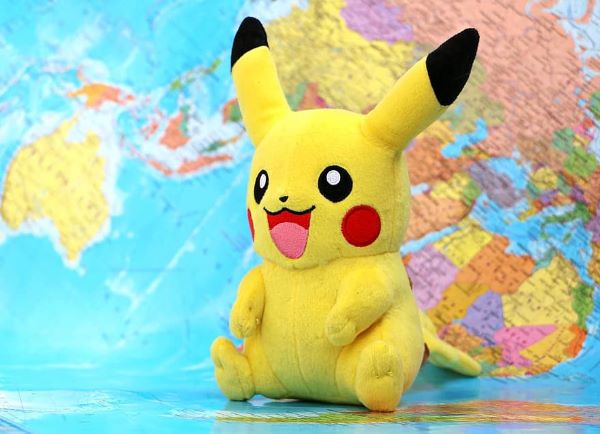 Image description: a plush yellow Pikachu toy sits on a table in front of a world map.
Our fall 2020 semester has officially started, and wherever you are joining us from, we are glad you are here! I am really happy to share that we have a full lineup of virtual workshops for the upcoming semester, many of which have a distinct Tartan Datascapes flavor! What's the benefit of attending a Libraries workshop? It's a great chance to learn some new skills in a short amount of time, and can be an excellent supplement to your teaching/learning/research/professional development. So, if you've ever wanted to learn more about making data visualizations, tidying data, writing a data management plan, or even how to learn about data management through Pokémon, this is your chance! All sessions are conducted via Zoom, and a Zoom link will be emailed to all registrants prior to the workshop. Space is limited, so register as soon as you can!
If you see any that pique your interest, click on the title of the workshop and you will be taken to the registration page! I've organized them into four general categories below:
Open Data, Data Sharing, Data Storage:
Getting Started with the KiltHub Repository
7:00pm - 8:00pm Tuesday, September 8, 2020
Making your Research and Scholarship Open and FAIR: Open Access and Research Data Management Services at CMU
6:00pm - 7:00pm Tuesday, September 22, 2020
Getting Started with Open Science Framework
12:00pm - 1:00pm Thursday, October 15, 2020
Data Visualization:
Data Visualization Best Practices
6:00pm - 7:00pm Thursday, September 10, 2020
Introduction to Making Data Visualizations Using Tableau
6:00pm - 7:00pm Tuesday, September 15, 2020
Introduction to Data Literacy: Finding the Truth in Visualizations
12:00pm - 1:00pm Thursday, November 5, 2020
Data Management
6:00pm - 7:00pm Tuesday, September 29, 2020
Writing an Effective Data Management Plan
6:00pm - 7:00pm Tuesday, October 6, 2020
Data Management for the Humanities
6:00pm - 7:00pm Tuesday, October 13, 2020
Learn Data Management through Pokémon!
6:00pm - 7:00pm Tuesday, October 27, 2020
Data Tidying, Analysis, and Formatting:
12:00pm - 1:00pm Thursday, September 24, 2020
Cleaning Untidy Data with OpenRefine
12:00pm - 1:30pm Thursday, October 8, 2020
Reproducible Plotting with Python in Jupyter Notebook
4:00pm - 6:00pm Monday, November 2, 2020
Using Overleaf at CMU: The Easy to Use, Online, Collaborative LaTeX Editor
6:00pm - 7:00pm Tuesday, November 17, 2020
---
We would be absolutely thrilled to see you at any of these workshops! If I may take a chance to brag on my colleagues at CMU Libraries, I can assure you that so much work is put in to organize these workshops to be as engaging and educational as possible, and we're so grateful that we can continue to offer these in a virtual setting!
Did you know that we also offer workshops on literature reviews, publishing, and scholarly identity? See the full workshop listing on our website!
Tags
:
Data
,
Instruction
,
KiltHub
,
Open Access
,
Open Science
,
Technology
, See all tags