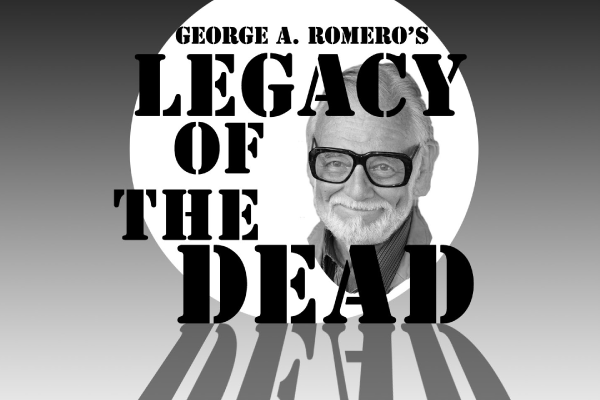 "Legacy of the Dead" would not be possible without the generous support of CMU School of Drama Professor Emeritus and frequent Romero collaborator Barbara Anderson. A professor of costume design and construction in the School of Drama, as well as Associate Dean of the College of Fine Arts until 2012, Barbara began teaching alongside her late husband, production designer and fellow CMU Professor Cletus Anderson, in 1968. This husband and wife team of film professionals were not only responsible for the production and costume design of Romero classics such as "Knightriders," "Creepshow," "Day of the Dead," "Monkey Shines," "Two Evil Eyes," the Tom Savini-directed "Night of the Living Dead" remake and "The Dark Half," but also contributed to numerous PBS productions such as "The American Playhouse" series.
Barbara Anderson with a picture of George Romero, Stephen King, Cletus Anderson, and Richard Rubinstein from the set of "Creepshow."
Along with building the costumes for the medieval motorcycle gang in "Knightriders" and designing the wardrobe for "Day of the Dead," Barbara also created specialty costumes for "Mr. Rogers' Neighborhood" and various historical costumes for the Heinz History Center. She was awarded the Carnegie Mellon University Ryan Award and College of Fine Arts Hornboestel Award for excellence in teaching. Many of her and her husband's students have gone on to successful careers in film and television; including production designer Neil Spisak ("Heat," "Face/Off" and Sam Raimi's "Spider-Man" series) and Eduardo Castro, award-winning costume designer for "Ugly Betty."
The exhibition highlights original costume design drawings, production sketches, and paintings from key Romero films. Some items displayed include:
Original poster art for "Day of the Dead," "Knightriders" and "Creepshow"
Production sketches depicting unused scenes from "Day of the Dead"
Costume Designs and Color Swatches from the production of "Knightriders"
Watercolor paintings from "The Crate" segment of "Creepshow," filmed on campus at Margaret Morrison
We are incredibly thankful to Barbara for her generosity and spirit as we celebrate the life of a pioneer filmmaker who changed the face of horror cinema. We hope you enjoy these incredible works of art.
Tags
:
Legacy of the Dead
, See all tags