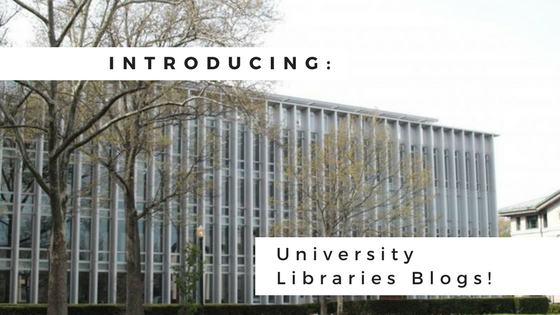 Welcome to the University Libraries Blogs! These blogs arose out of a need to create an online venue for our on-staff experts to do a deep dive into their topics of interest. Unlike the News section of our website, which offers timely updates of events and services, the blogs are a space for specialists to post what's current or noteworthy in their subject areas, providing readers with an expert's view of library services and collections.
We've organized this blog into nine blog channels. A blog channel is like a television channel in that it presents curated content around a specific theme. Read on for a description of each of our blog channels and make sure to subscribe to our RSS Feed to make sure you don't miss a post!
Back in the Stacks – Sure, you've heard of the current bestsellers, but what about books from previous years that you never had a chance to read? Rediscover some great titles you may have missed.

dSHARP – The dSHARP center, co-sponsored by the University Libraries and the Dietrich College of Humanities and Social Sciences, promotes innovative digital research by connecting scholars to collaborators and resources; researching original questions relevant to the arts, humanities, and sciences; and educating the community about digital tools and research methods.

New Ebla – University Libraries' take on the past and future of libraries, with an emphasis on emerging technologies and roles.

Scholarly Communications – Information and updates supporting the creation, dissemination, use, and preservation of the research data, creative works, and other scholarly outputs that weave together the fabric of your research.

Scotty Tales – Exploring unusual finds from the University Archives.

Teaching and Learning @ the Library – How teaching and learning theory and practice function in libraries.

The Information Environment - The people, collections, and services that support the University Libraries' mission to build, steward, and enhance the information environment of CMU.

The Intrepid Researcher – Research librarians give you the latest on the most effective resources, tips, and tools to optimize your work at every step of the research process.

Unique @ CMU – Spotlight on rarely seen items in our Special Collections.
Tags
:
About Us
, See all tags