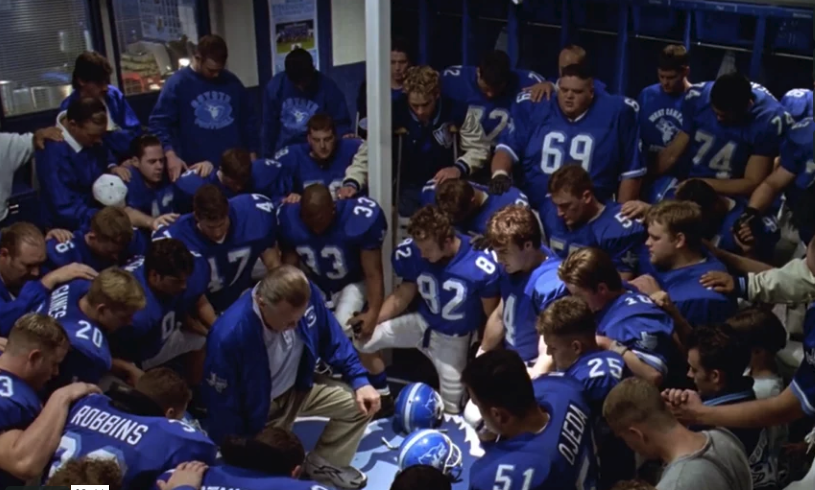 In recognition of Fair Use/Fair Dealing Week 2018, we recognize student work that represent the doctrines of Fair Use. This post was submitted by Keegan Barone, a sophomore in the School of Art, about her video remix, "To Play Football." Additional examples of student art can be found in the exhibit "The Art of the Remix," on the first floor of Hunt Library through March 30, 2018.
To Play Football is a remix that includes five well-known football films (ranked by fans and critics): Remember the Titans, Friday Night Lights, Rudy, Varsity Blues and When the Game Stands Tall. These movies are predominantly set in American high schools, portraying characters and events common in many communities. I drew inspiration from Christian Marclay's pieces, The Clock and Telephones, two of the most influential American remix works. In Telephone, Marclay stitches together scenes of characters in popular films to create the narrative arc of a telephone call. In To Play Football, I similarly created a narrative of rituals across five football films, by selecting reoccurring scenes of speeches and action dealing with the American ideal of sport.
My process for making this piece was similar to that of Marclay's piece The Clock. Marclay had a team go through thousands of movies and extract scenes that had the time showing. He then pieced them together, making an accurate 24hr clock. I watched, selected and extracted recurring scenes from multiple highly ranked football movies. I edited the scenes together so that scenes from each movie were interwoven so that they fit chronologically in terms of the beginning, middle and end of a football film. I was inspired by Marclay's remix works because I am interested in commenting on current cultural content by creating original works. For my piece, I wanted to reveal cultural aspects of these popular football films, and to do this it was necessary for me to modify/ remix the original movies.
This piece is a commentary on the reification of football culture in American society as portrayed in popular film. It is also a commentary on major themes and what is "essential" in making a popular sport movie. The foci in this piece are the pressures and conflicts that the characters experience, and the "rituals" repeated in the films to motivate and encourage the characters to persevere. A mentor figure appears in each film, as a guide to the coming of age of the athletes. There are also repeated actions such as the team huddle, the locker room talk, and prayer. Having rituals from the different films edited together to create repetitive speeches, pushes the viewer to consider how genre movies create a standard of what reality is or should be like. To Play Football creates a discussion regarding how Americans idolize sport, while also exploring the themes of perseverance and the meaning of success.
Tags
:
Art
,
Exhibit
, See all tags