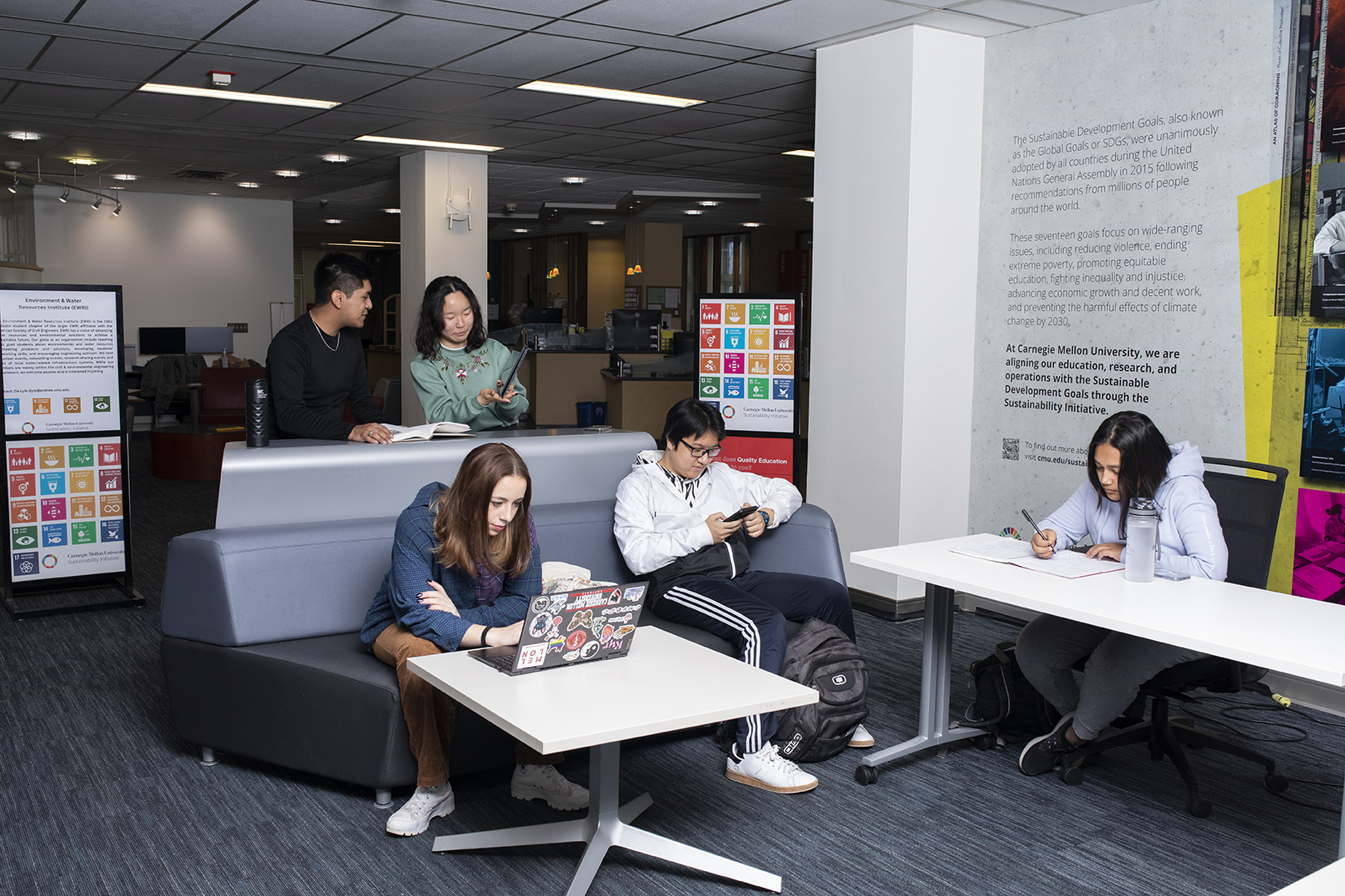 A Conversation with Costa Rica's Ambassador to the United Nations
On April 7, Carnegie Mellon University's Sustainability Initiative director, Alex Hiniker, led a conversation with Costa Rica's Ambassador to the United Nations, Martiza Chan. They discussed global advocacy for local change. The event recording will be posted on Youtube. Continue to check the CMU Libraries website and the Sustainability Initiative Instagram to view the recording.
The event was co-sponsored by the Center for Student Diversity and Inclusion, the Department of Modern Languages, the Heinz College of Information Systems and Public Policy, the Institute for Politics and Strategy, the School of Design, and the Steinbrenner Institute for Environmental Education and Research.
---
Economic Sustainability Open Studio
4/19, 4-5 p.m., Sustainability Studio (Hunt Library 1st floor)
Join us on Wednesday, April 19 for the Economic Sustainability Open Studio, an opportunity for students, faculty, and staff to learn about opportunities to engage with sustainability efforts across campus. This month, we're focusing on economic sustainability and prosperity. Stop by the Sustainability Studio in Hunt Library any time from 4-5 p.m. and enjoy free coffee and snacks from De Fer!
---
Weekly Office Hours
+ 4/20, 12-1 p.m., Deborah Steinberg - Green Practices Manager
+ 4/26, 12-1 p.m., Morgan Newman and Andrew Jones - Winners of the Steinbrenner Sustainability Symposium
+ 4/28, 12:30-1:30 p.m., Anthony Cheng - Graduate Student Assembly VP of Campus Affairs
---
This month we are planning on featuring weekly office hours in the Sustainability Studio. This programming allows for a sustainability-focussed staff member, faculty member, or student leader to host an office hour in the Sustainability Studio. Using the Global Goals as a framework to discuss social, economic, and environmental sustainability, office hour hosts will provide an opportunity to participate in educational conversations with community members. Look for updates for exact timing and schedule of participants on the calendar in the Sustainability Studio and our Instagram.
Stay up to date with all of the events on the Instagram page @SustainableCMU and find more information on the Sustainability Initiative website.
---
Feature image: Centrally located in Hunt Library, the Sustainability Studio is a first-of-its-kind space that unites the university to further our commitment to sustainability.