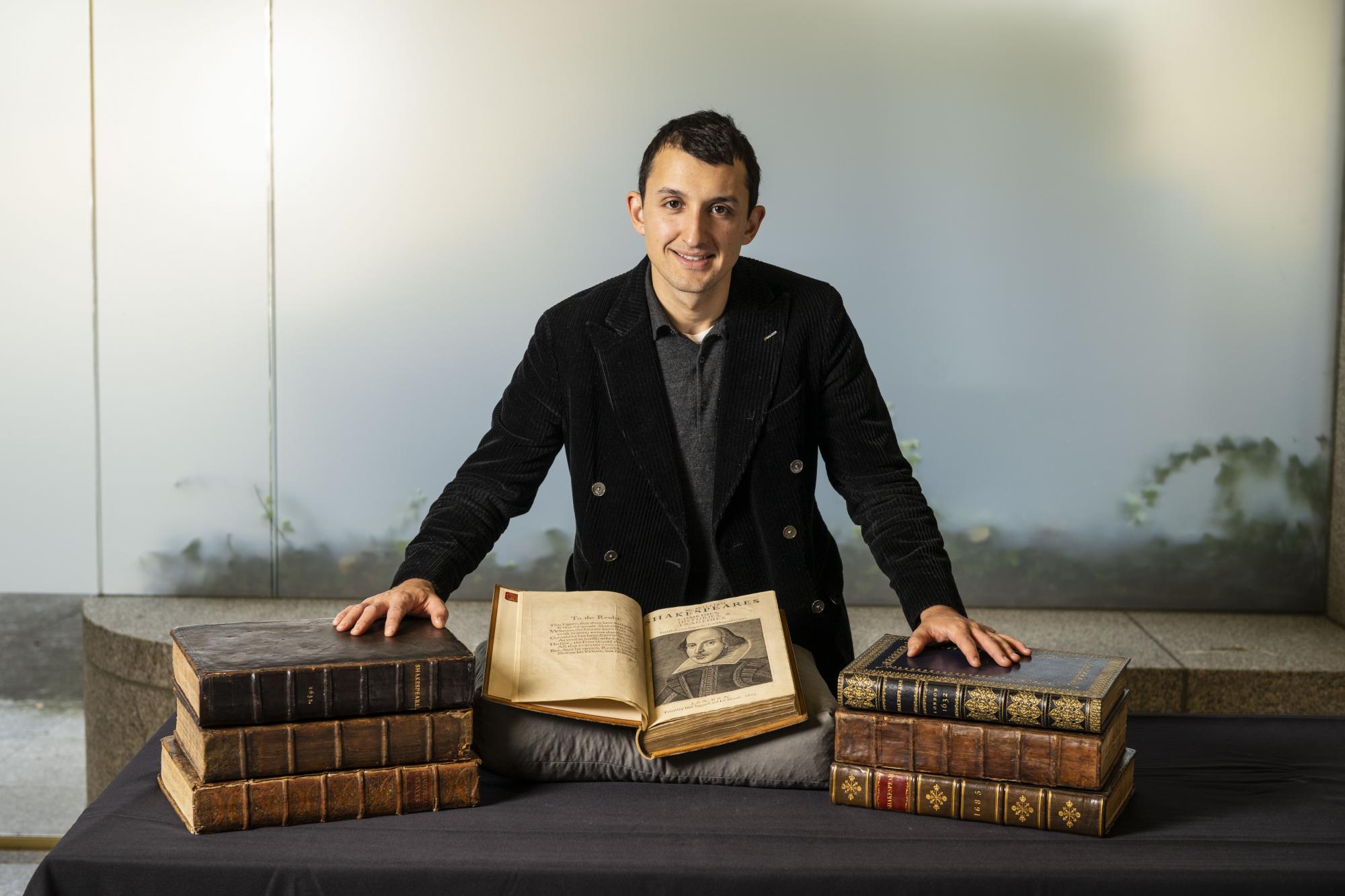 On January 19, 2023, the Carnegie Mellon University Libraries and Special Collections hosted "Fine and Rare II: Inside CMU Libraries' Special Collections," the first event of our celebration of the 400th anniversary of Shakespeare's First Folio. During the event, Curator of Special Collections Sam Lemley explored the fascinating history of Carnegie Mellon's unique copies of the earliest printings of Shakespeare's revolutionary work.
Printed seven years after Shakespeare's death in 1623, "Mr William Shakespeares Comedies, Histories, & Tragedies" was the earliest comprehensive gathering of Shakespeare's plays in print. The collection preserved 36 of Shakespeare's plays, half of which had never been printed before and might otherwise have been lost, including "Macbeth," "The Tempest," and "As You Like It." It established the version of Shakespeare that is read and performed today and remains an important cultural artifact — and the Libraries holds a copy, one of only 230 that survive.
Special Collections also has two copies each of the second (1632), third (1663/4) and fourth (1685) Shakespeare folios. Subsequent printings of the plays collected in the First Folio, these editions were made due to popular demand and have an equally fascinating history to explore.
The Libraries' previous "Fine and Rare" event provided a chance to look closer at the variety of artifacts Special Collections contains. This time, though, Lemley focused specifically on these folios. He reconstructed their histories with details that are only illuminated through studying the physical copies, like signatures and bindings.
"I'm of the opinion that we can still learn a great deal from direct encounters with these books," Lemley said. "I hope people leave with an understanding of how important it is to be able to provide research and teaching access to physical artifacts, and that these folios are still incredibly important today."
Coming soon, people will have an opportunity to experience more about these valuable documents in person. On February 20, 2023, the exhibit "Inventing Shakespeare" will open in the Hunt Library Gallery in the first floor Emma Sharp Alcove. Then, on April 1, "From Stage to Page: 400 years of Shakespeare in Print," opens at the Frick Pittsburgh. It features CMU's copies of the first, second, third, and fourth folios, and runs until October 1, 2023. This exhibit will give visitors a chance to explore the historical details Lemley illuminated in Fine and Rare II for themselves.
"I hope Fine and Rare II attendees will find their curiosity piqued, and decide to join us for the subsequent exhibits," Lemley said.