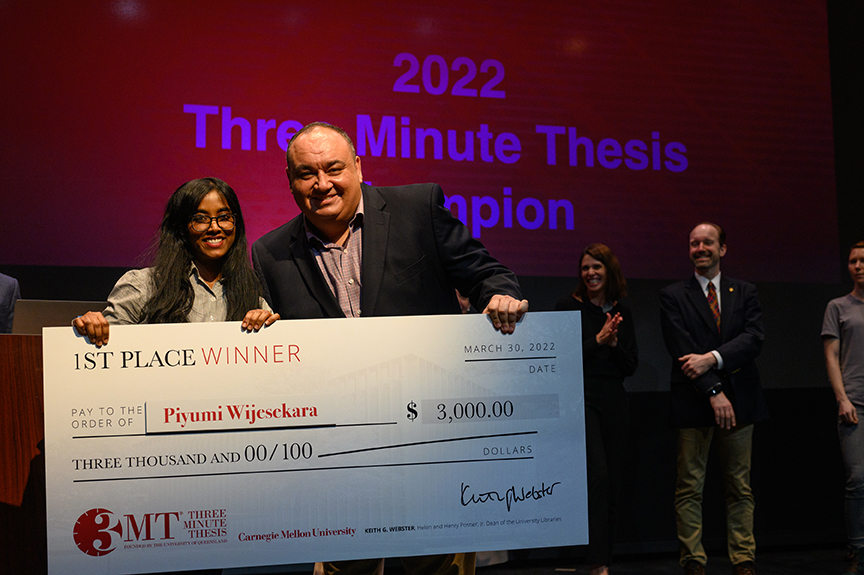 Eight doctoral students explained their years of research and its importance in under three minutes during the finals of Carnegie Mellon University's Three Minute Thesis (3MT), held Wednesday in the College of Fine Arts' Kresge Theatre.
First place went to Piyumi Wijesekara from the Department of Biomedical Engineering, second place went to Suzy Li, who is studying architecture in the School of Fine Arts, and third place went to Emma Benjaminson of the Department of Mechanical Engineering. The People's Choice Award — selected by the audience in the theater — went to Mohammad Ayaz Masud, who is studying electrical and computer engineering. Materials science & engineering student Amaranth Karra was selected as the Alumni Choice Award winner by online votes from alumni watching the livestream.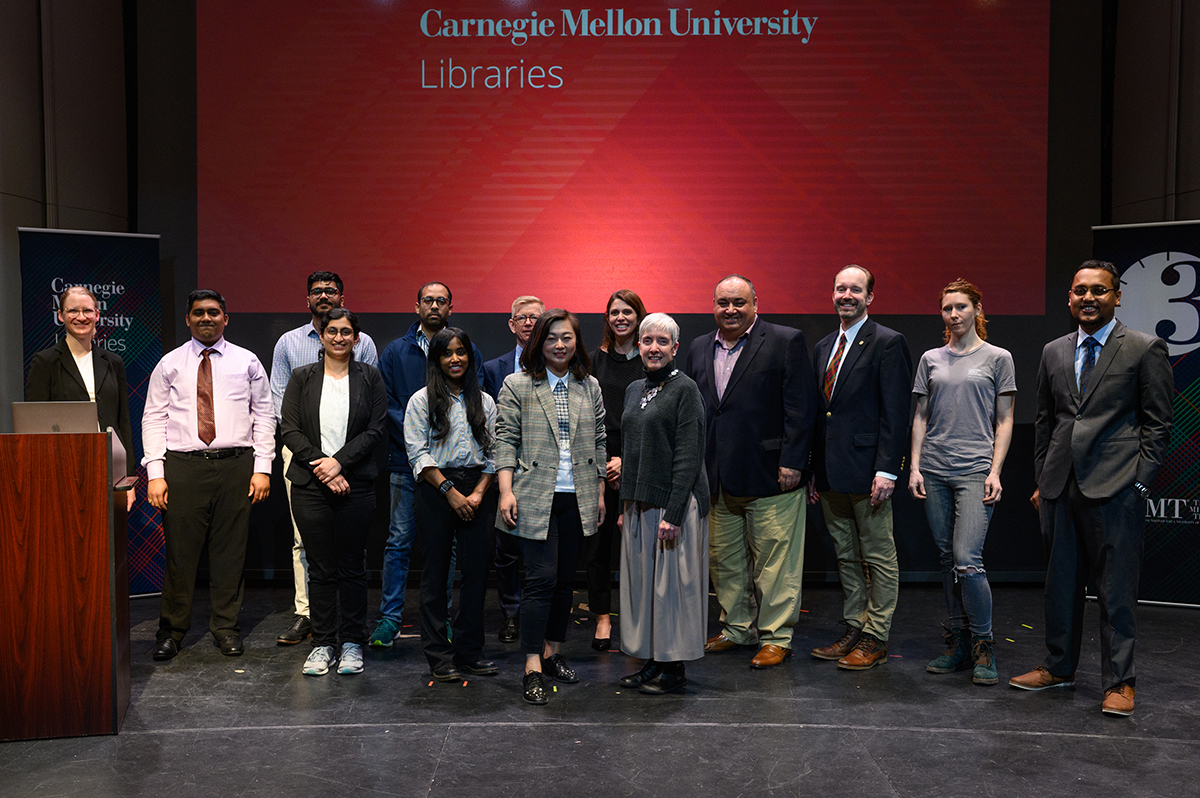 The event, which returned for its seventh year at Carnegie Mellon, after a two-year break due to the pandemic, started at the University of Queensland in 2008 and has been adopted by hundreds of institutions. Keith Webster, the Helen and Henry Posner, Jr. Dean of the University Libraries, who brought the competition to CMU, served as host of Wednesday' finals.
Wijesekara, a doctoral student in the College of Engineering whose research involves engineering mini-lung tissue to study lung biology, lung diseases and targeted therapies attributes her success to the timeliness of her topic. Having an accurate lung model is critical to respond swiftly to public health crises like COVID and makes us better prepared for another pandemic.
"Since I'm doing research on a topic that is relevant at this time, that probably made me stand out to the audience and judges," Wijesekara said. "We are still in a pandemic and are in dire need of inventing or engineering models to come up with solutions for this pandemic. Since everyone has gone through this tough time, maybe they can relate to this problem more."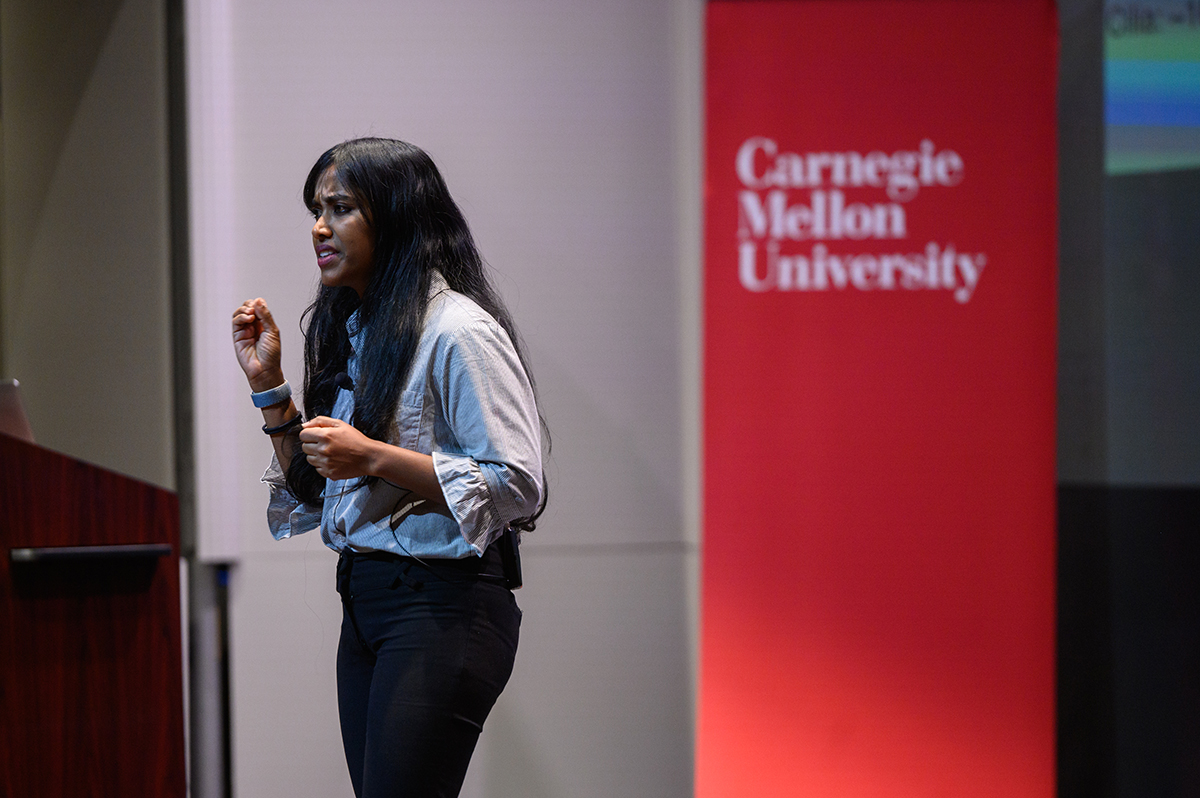 Masud, also from the College of Engineering, is working on a breakthrough memory device that will enable high density storage with minimum energy expenditure. His lab mate encouraged him to compete in 3MT, which he found to be a fun and valuable challenge. After the experience, he encourages other grad students to participate in 3MT.
"It was fun to talk about my research and to get the People's Choice award feels good, but the biggest reason to participate in 3MT is that you can spend a lot of time thinking about your research not to present to a committee or to professors but to present to a general audience," said Masud. "That allows you to discover the most important parts of your research and makes it a really enjoyable process."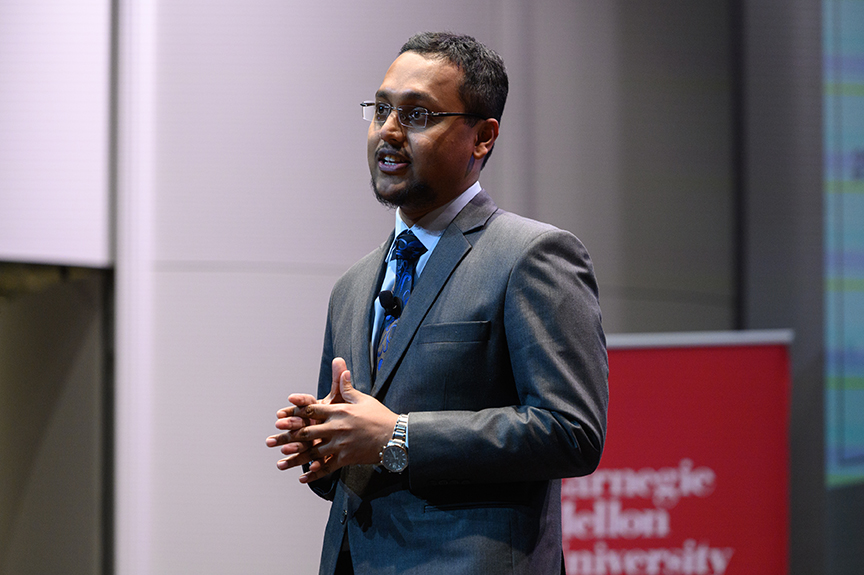 Like first-place winner Wijesekara, who overcame her fear of public speaking by practicing her presentation in front of audiences of friends and colleagues, second-place winner Li participated in 3MT to become more comfortable with public speaking, which she says is a valuable skill for PhD students of any discipline.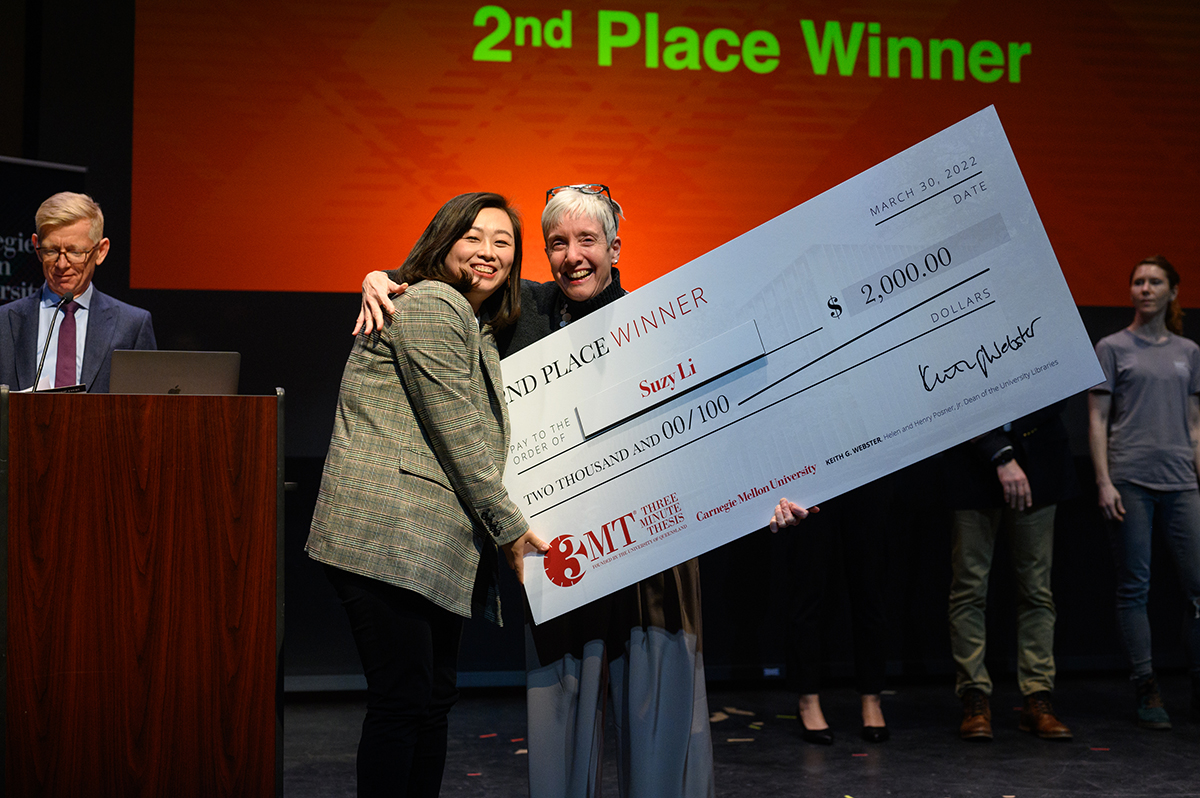 Li, who presented a talk on her research into creating smarter urban surfaces to bring benefits to climate change, human health and social equity, had previously participated in the 2020 3MT preliminary rounds, which were prematurely cut short due to the pandemic. She did not win her preliminary round that year and in the two years since, she continued to refine her presentation and sought help from the Student Academic Success Center.
In the end, it's all worth it if she's able to get her message out to a broader audience.
"Urban surfaces – roofs, streets and parking lots – are so common, they are everywhere," Li said. "This topic is relevant because we are now facing urban heat and flooding problems everyday. I hope the data points I shared in the presentation catch people's attention and make them realize that what a big problem we're facing. It will be good if my presentation makes people start to think about this topic."
by Shannon Riffe, Associate Dean, External Relations