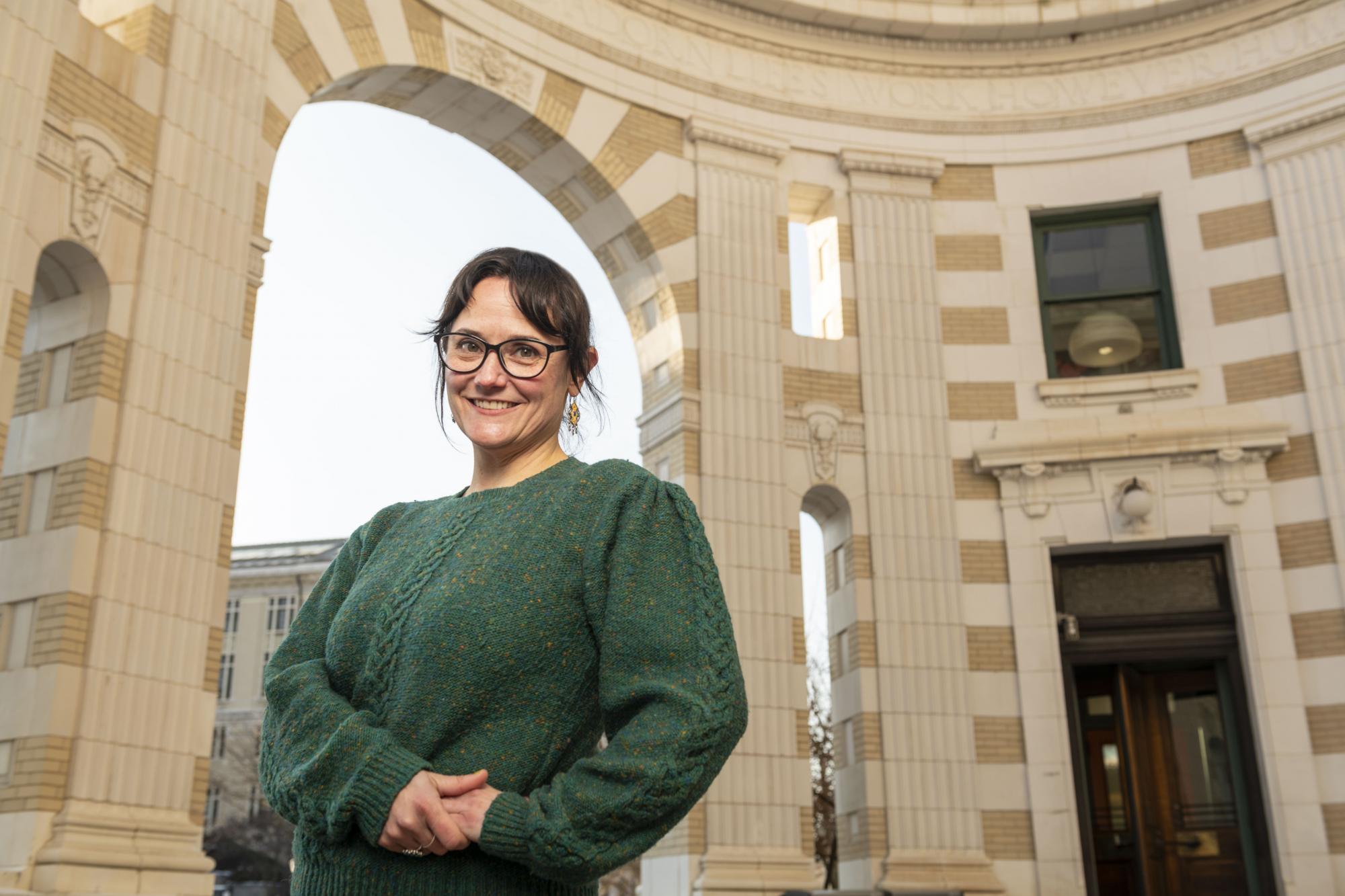 The Carnegie Mellon University Libraries and the School of Architecture are adding books and library resources for developing culture, curriculum and research to greater inclusion.
As the School of Architecture works to shift conventional assumptions about what architecture is, and what an architect does, to ideas that are more inclusive and equitable, they partner with the University Libraries to ensure content is increasingly reflective of diverse communities.
New additions to the architecture collection in Hunt Library include titles such as "Rethinking Global Modernism: Architectural Historiography and the Postcolonial" and "Reconstructions: Architecture and Blackness in America." The arrival of the books is a sign of important changes happening in the School of Architecture (SoA).
Race & Inclusion is one of three interrelated pedagogies—with Fundamentals and Design Research—in the School of Architecture's strategic planning process, titled Pedagogies 2020. The School of Architecture is reviewing its mission, values, and programs and developing an actionable vision that can address some of the significant challenges facing architecture and the built environment in the 21st century.
The Race & Inclusion pedagogy, "seeks to address the role architecture can play in creating more equitable, inclusive, and just communities at every scale in our School, at CMU, in Pittsburgh neighborhoods, the region, and the world," according to its webpage.
"Being a global university, and working in a field that must address every person, of every identity and class, we need to do better at making our field more accessible," said Kai Gutschow, associate professor of Architecture and associate head of design ethics.  "Our curriculum must be more jargon-free, our pedagogy must be open to different kinds of learners, and our courses should be teaching a greater variety of material."
University Libraries' Jill Chisnell supports this effort in her position as the art, architecture and design librarian. In this role, she is working to help identify books about architects from underrepresented groups and resources to address diversity and increase empathy in the practice of architecture.
"Urban planning, urban design, environmental design: these are all areas that require architects to be able to work within diverse communities. The school does a lot of programming and outreach to prepare their students to go into the profession and work in the public," Chisnell said.
The SoA Race & Inclusion Research Guide is a starting place for architectural research and scholarly curiosity of social, political, and economic disparities within communities and the built environment. Chisnell developed the research guide, shared it with faculty, and added it to the University Libraries' website.
"Now, the Race & Inclusion Research Guide serves as a model for the art and design collections too. This practice has changed how I buy books in all of my areas," Chisnell said.
Chisnell is always seeking to make the new architecture and urban planning resources accessible online, which was especially important when faculty and students need to work remotely.
"eBooks and full texts that people can access in their homes are more important than ever," Chisnell said. "Because there are a lot of titles that aren't available as eBooks, it can be challenging to find electronic alternatives or an e-copy of a book that we already have in print and making sure those are available to more than one single user."
Chisnell worked closely with Gutschow last year on a semester-long research project for his lecture course, "Modern Architecture & Theory" in which each student would pick a "non-Western" sector of the world, and identify three buildings to study that were not part of the usual list of great buildings in the Euro-American "canon" featured for so long in textbooks and courses.
This material can be hard to find on the internet, so students had to go to the library to get printed books and journals. But it was the pandemic, and some students were taking the course from their home countries. Chisnell worked to help students understand how to do the research, get access to library materials, and purchased books CMU did not own. The most prominent of these was the expensive, out of print 10-volume "World Architecture: 1900-2000: A Critical Mosaic," a survey of 20th-century architecture, with one volume for each major region, each identifying 100 important and less well-known buildings.
"Thanks to Jill making these resources accessible, the students did great work on some wonderful but relatively un-heralded buildings, many by women, indigenous people, or architects of color," said Gutschow. "I will repeat the assignment this year, and hope that all students can get in the library and find even more great sources."
by Ann Lyon Ritchie
Related Links: CMU Architecture Archives