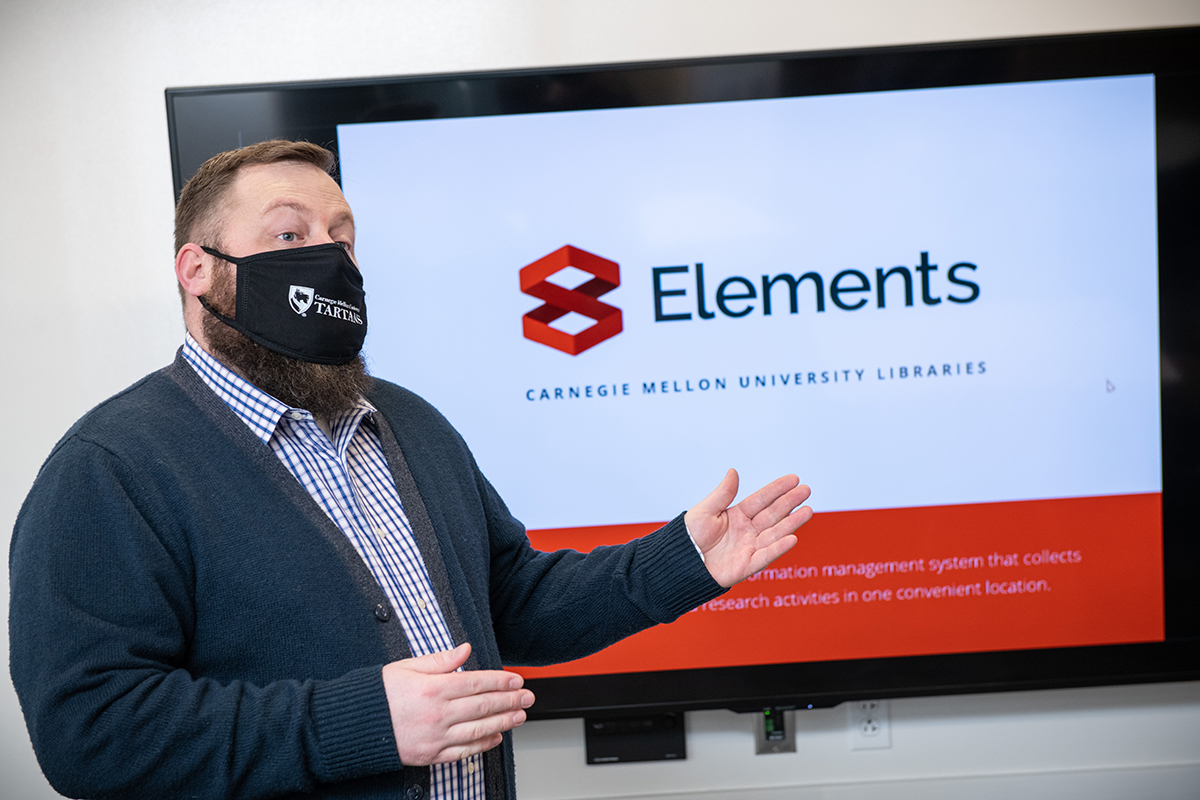 In the year since Carnegie Mellon University Libraries launched Symplectic Elements, a comprehensive and powerful platform from technology company Digital Science, the tool has empowered scholars across disciplines to showcase their academic achievements and activities.
Elements helps to expand the reach of scholarly work to significantly impact recognition, both at CMU and globally. The research information management system (RIM) brings together data from many, diverse sources and provides interconnectivity to publishing outlets and reporting tools.
Featuring external and internal automated data harvesting, rich and dynamic faculty profiles, assessment and reporting functionality, and open access deposits through integrations with the university's systems, Elements provides a wide array of solutions for faculty and leadership.
Starting in fall 2020, University Libraries began a rollout to CMU's David A. Tepper School of Business, Heinz College of Information Systems and Public Policy and Marianna Brown Dietrich College of Humanities and Social Sciences.
University Libraries staff and student workers helped to develop faculty profiles using manual data-entry methods, when the pandemic closed library buildings. Their at-home efforts gathered information available publicly and plugged data into the profiles, helping to accelerate the rollout by several months.
Faculty profiles store professional activities, from teaching experiences and courses, to scientific research and fine arts performances, to publications and grants. The platform automatically updates these activities via connections to other systems.
Once created, faculty profiles serve a variety of purposes. A faculty member may export the data, generate a CV or connect the data to other websites, such as Scholars at Carnegie Mellon University (Scholars@CMU).
Scholars@CMU is a searchable, public directory that applies the interconnectivity of Elements to promote faculty expertise and encourage collaboration. Willem-Jan Van Hoeve, professor of operations research, recognized the benefits of using Elements after Tepper School participated in a Scholars@CMU pilot program.
"It can help showcase the CMU faculty in a consistent fashion. In addition, the system is supposed to automatically collect information about faculty activities, which means that faculty do not have to enter such information manually," Van Hoeve said.
University Libraries' David Scherer, a scholarly communications and research curation consultant, shows faculty how to make the most impact using the platform's tools. He manages operations for Elements across the university.
"In an age of public knowledge and interdisciplinary research, where work in the sciences affects the arts and vice versa, it is really important to make ourselves available, but that can be hard with traditional models, such as a personal website or a faculty directory page. We need something that can make that information come to the surface easily but also in a way that people can browse and search."
Scherer added: "While we have the Scholars@CMU website, we can connect Elements to benefit other platforms. It can do the same thing to empower another faculty website."
Elements pulls data from internal sources, such Human Resources, Research Office and the Registrar, and external sources, such as licensed databases. It updates periodically. For example, scholarship and publication information refreshes daily via name-based searches, author identifiers and other methods.
Faculty members, or a delegate, can enter information manually to account for the diversity of their research and scholarship activities. Faculty members can opt not to have a profile.
"We optimize the way information is brought to Elements and minimize manual efforts," Scherer said.
Elements powered the faculty annual review at Carnegie Mellon University at Qatar (CMU-Q) in 2019-2020 academic year. Its size and mix of faculty in the arts and sciences made CMU-Q a good candidate for piloting the process.
Kemal Oflazer, who at the time served as associate dean for research at CMU-Q, worked with the Elements team to capture all faculty data and generate reports based on activities ending in June 2020.
"By early July, all faculty annual reports were available in a uniform format in the system," Oflazer said.
University leadership could quickly evaluate reports using an online workflow. The system could also aggregate statistics on faculty performance. Overall, Elements streamlined the reporting process going forward.
"If the data is updated, faculty need only spend perhaps less than hour a year to prepare and submit their annual reports," Oflazer said.
CMU acquired Elements in 2017. Since then, University Libraries assembled a team to become fluent with its capabilities and identified 10 use cases for supporting faculty and the university as a whole.
The use cases include service tracking, faculty annual reviews, publications monitoring, public directory, custom reporting, data visualization and analysis, data feeds to external websites, open access research and scholarship, data migration from historical systems, researcher identity management, and mapping faculty research to Sustainable Development Goals.
During the last year, the University Libraries worked alongside the Provost Office's Sustainability Initiative to conduct the Sustainable Development Goal mapping with a set of early adopters.
"Applying the Sustainable Development Goal framework to Elements facilitates both internal and external collaboration across education, research, and practice, advancing collective efforts to achieve this ambitious global agenda," said Alexandra Hiniker, Executive Fellow for Sustainability Initiatives.
After implementing Elements successfully at Dietrich College, Heinz School and Tepper School, University Libraries plans to continue new rollouts to additional schools and colleges into 2022. The Elements team is available to discuss ways of tailoring the system to meet the needs of additional units.
For details, see the Elements Support Guide.
by Ann Lyon Ritchie