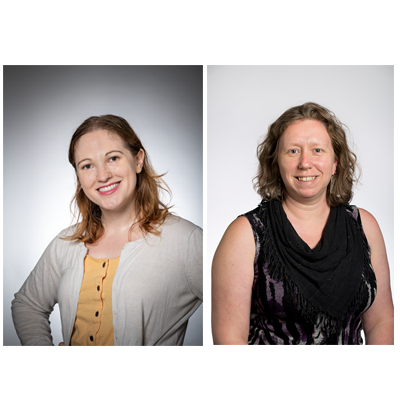 Emma Slayton and Jessica Benner, GIS Specialists at the University Libraries, recently received a grant to explore the Role of Libraries in Geography and GIS Education from the National Center for Research in Geography Education (NCRGE). 
A Geographic Information System (GIS) is a system designed to capture, store, manipulate, analyze, manage, and present all types of geographical data. It can be used to create maps that display information to researchers and the public in an engaging way. GIS is an essential part of introducing individuals to concepts such as where things are, how places connect with each other physically, and how people can interact with spaces. Librarians can help researchers and students expand their knowledge of how geography plays into their research, as well as their everyday lives. 
"When students are given the opportunity to map their experiences, they better understand their world, and their place in it," said Benner. 
The NCRGE grant will allow Slayton and Benner to convene a research group, comprising a network of libraries, data centers, and educators to develop a research agenda that focuses on assessing how the non-traditional teaching activities that occur in libraries can feed into and support existing methods of teaching about GIS and geography. The products of these efforts will include a refined research agenda, a workbook and repository of pedagogical materials, and a series of face-to-face meetings to discuss the current practices and roles of libraries in geography and GIS education.
"Libraries have become key players in GIS education, acting as spaces for teaching spatial literacy and critical engagement with geographic concepts that cross disciplinary boundaries," Slayton said. "Despite this change, or perhaps because of the rapid nature of it, there is no agreement on how librarians should teach GIS and spatial literacy concepts." 
A February event, "Colloquium on the Role of Libraries in Geography and GIS Education," is the first in a series of meetings about this topic. At the meeting, which is open to anyone with an interest in GIS and geography education, there will be a series of conversations centering on how to better engage with constituents on topics of mapping, using and re-using spatial data, and spatial literacy. These conversations will in part be driven by attendees, who can direct the flow of discussion towards issues they face on a daily basis when teaching geography and spatial concepts. 
Later in 2020, Benner and Slayton will also facilitate conversations at the American Association of Geographers (AAG) Conference in April and the PA GIS Conference in May. 
Register for Colloquium on the Role of Libraries in Geography and GIS Education
Saturday, February 8th, 10:00 am - 3:00 pm
Hunt Library, Ideate Studio A (First Floor) 
Registration deadline: January 31, 2020