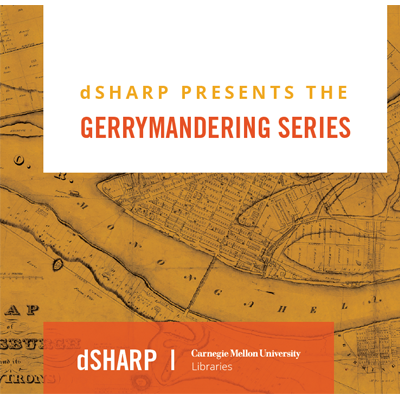 Our lives are greatly affected by how the government decides to group us. The resources we can access, the K-12 schools we're allowed to attend, and the individuals who represent our interests in Congress are all dependent on how we are organized through districting. However, these districts are not always practical, or, in some cases, are designed to favor certain groups over others. In many cases, "who goes where" is determined by politicians whose decisions are sometimes hard for us to understand.
Do you wonder what biases govern these decisions? Have you ever thought that you could draw a better Congressional map than the politicians?
Come to our series of events to find the answers to these questions, as well as a series of workshops that will teach you practical skills, such as finding and understanding public data or using R to perform text analysis. The dSHARP Gerrymandering Series, presented by the Libraries, seeks to work with students and faculty to evaluate real world problems with practical solutions, through the use of software and creative thinking.
 
If you are interested in discussing gerrymandering and its effects, as well as learning new technical skills, such as finding data or network analysis, join us!
 
• Teaching the Cultural Ramifications of Gerrymandering with Hannah Gunderman, November 12th (12pm to 1pm)
• Finding & Using Data for Elections Research with Ryan Spelnda and Sarah Young, November 25th (4pm to 5pm)
• Understanding Census Data with the Western Pennsylvania Regional Data Center, January 21st (12pm to 1pm)
• Network Analysis with Scott Weingart, February 10th (12pm to 1pm)
• R for Text Analysis with Matt Lincoln, Febuary 24th (12pm to 1pm)
• Gerrymandering Series Event "Packing and Cracking" with Joseph Amodei and Rachel Gita Karp, March 31st (4:30pm to 6:30pm) 
 
Whether you're a map geek or are just interested in picking up technical skills, these workshops and events will be a great opportunities for you to grow your skills, learn, and make a difference.
Learn more about dSHARP.
Learn more about the Libraries' GIS offerings.