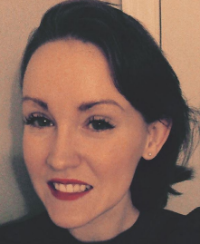 Hello CMU! My name is Dr. Hannah Gunderman and I am your new Research Data Management Consultant at the University Libraries. I'm thrilled to share the first installment of Tartan Datascapes with you all. This introductory blog post will describe a bit about me, what I do, and what Tartan Datascapes will offer you as a reader.
A few things to know about me: 
I get really excited about research data management. Really, really excited. 
I have an open-door policy, which means if my office door in Hunt Library 410A is open, then you can feel free to drop-in with questions, or just to say hi! I'm very friendly and I have several Doctor Who and Bob Ross action figures in my office. 
I use a lot of exclamation points when I write because I'm just so excited to be here helping you manage your data (see #1)! 
I have an incredibly interdisciplinary background, and as a result I've worked with a wide variety of data types, from geocoded locations of Grateful Dead-named businesses to population data to social media data on Doctor Who and Brexit. I've learned how not to manage research data and developed a toolkit for good practices in data management.
I will publish a new installment of Tartan Datascapes biweekly on Fridays with the first official post on September 20th, and I will alternate between posts about the landscape of research data management support across CMU Libraries and specific interviews with faculty, staff, and students across CMU doing awesome work with data.
Why did I start Tartan Datascapes? Too often, I see research data management conversations aimed solely at those working with quantitative data. With Tartan Datascapes, I hope to shine a light on all of the different types of data present on our campus, from photographs, to numerical data sets, to sheet music, to recorded field observations, to hand-written scribbles on a notepad, and everything in between. I'll highlight the folks on campus engaging with these different types of research data, and provide specific tips to readers for managing similar data types. 
Important Happenings in Research Data Management at CMU Libraries:
Want a general introduction to data management? I am co-leading a workshop with fellow librarian and Libraries Open Science Program Director Ana Van Gulick titled "Data Management Tips and Tricks to Organize your Research" on September 23rd from 1:00pm - 2:00pm in the Sorrells Library Den in Wean Hall, where we'll provide an introduction to data management applicable to folks in multiple disciplines, accompanied by some concrete tips and tricks that you can apply in your own research. Follow this URL to register: https://cmu.libcal.com/event/5651104?hs=a. 
And of course, please email me at hgunderm@andrew.cmu.edu if you'd like some help on your journey as a researcher/scholar/awesome human being here at CMU. Remember, we all use data, regardless of our discipline. If you think something might be data, you are likely correct and I can help you develop good habits for managing it! If you'd like to have your research data featured on Tartan Datascapes, please fill out this Google Form to get in touch!