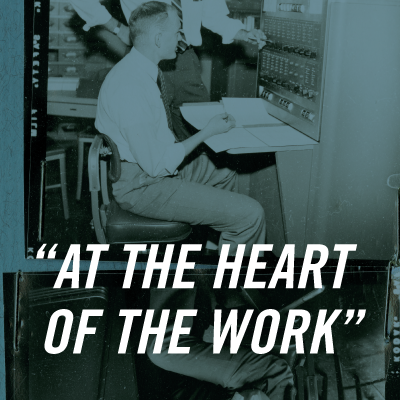 Throughout the month of April, the Libraries presents a series of events and exhibits in recognition of the impact that the computer has had on CMU. 
At the Heart of the Work: Plaque Unveiling and Reception in Recognition of the First CMU Computer
April 12, 2019
2:00 - 4:00 p.m.
Posner Center
In August 1956, CMU's first electronic digital computer, an IBM 650 mainframe, was delivered to the basement of the then Graduate School of Industrial Administration (GSIA). Initially used to train business degree candidates in complex decision-making techniques, that machine and the Computation Center that operated it were quickly embraced by faculty, staff, and students.
Over the past six decades, computers and the emerging field of computer science have gone on to shape the trajectory of this university and to radically transform all aspects of modern economic, cultural, and political life. In recognition of the computer's seminal role in society and on campus, the Libraries will unveil a commemorative plaque to be placed at the original site of the IBM 650.
Featuring remarks from James Morris, emeritus professor of computer science and former dean of the School of Computer Science.
@ The Heart of the Work: The Electronic Digital Computer at Carnegie Mellon
April 1 – April 26, 2019
The Posner Center
In 1956, Carnegie Institute of Technology received its first computer: an IBM 650. In the 63 years since the Computation Center opened in the GSIA building, the computer has changed Carnegie Mellon and Carnegie Mellon has changed the computer. Utilizing materials from the University Libraries Special Collections and the University Archives, this exhibit displays photographs, equipment and artifacts from the history of computing at CMU.
#HeartoftheWork: A Digital Exhibit
April 1, 2019 – April 30, 2019
Gates-Hillman Helix; Hunt Library; Kirr Screen, Cohon University Center; Wean Hall (entrance to Sorrells Library)
This digital exhibit invites the CMU community to contribute to a shared narrative: How did computing shape your CMU experience? Submit your story.