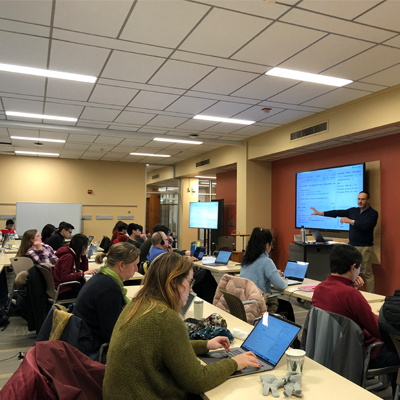 Register for the next Software Carpentry Workshop:
Intro to Python, Open Refine, and SQL
March 12-13, 2019 
Hunt Library, IDeATe Studio A
On a snowy January day, 40 attendees – graduate students, postdocs and staff from the colleges, as well as Libraries faculty and staff – gathered in Hunt Library to learn carpentry. But they didn't bring toolbelts, just their laptops. 
Software Carpentry is a non-profit organization that teaches basic computing skills to researchers. Workshops are designed for attendees that want to learn foundational computing skills, including automation of workflows, version control of code and files, and basic programming in Python or R. The workshops are hands-on and interactive, with an emphasis on building practical skills and confidence to learn more programming.
The January sessions, held on January 9 and 10 in IDeATe Studio A were led by Logan Cox, an Infrastructure Developer at University of Oklahoma Libraries and Dan Kerchner, a Senior Software Developer in the Scholarly Technology Group at the George Washington University Libraries. 
They – and all of the Software Carpentry instructors – are volunteers who have been trained in the pedagogy of computing. This voluntary ethos, as well as open-source lessons and instruction through hands-on examples, is at the core of the Software Carpentry model. The Libraries became institutional members of the Carpentries in September, which allows Libraries employees to organize workshops with instructors from across the country and provides an opportunity for faculty and staff to participate in instructor training. 
"The instructor training will allow 15 of us in the Libraries and broader CMU community to become certified SWC workshop instructors," said Ana Van Gulick, Librarian & Program Director, Open Science, who planned the workshops along with Librarian Melanie Gainey. "After that, we plan to hold workshops regularly and open them up to the entire campus community."
Though the January workshop on R and a November 2018 workshop on Python were marketed to only a handful of CMU departments, the slots filled quickly. Colleen Schneider, a doctoral candidate in psychology, is one workshop attendee who jumped at the opportunity to participate after hearing about it from Van Gulick, the liaison librarian for her department.
"Programming skills are becoming so important in many fields, but learning those languages can be overwhelming if you are not a computer scientist," Schneider said. "The Software Carpentry class was a great way to learn the ropes and also learn about more resources for further programming success!"
"Many researchers on campus that have an interest in improving the efficiency or reproducibility of their work may have a hard time finding the time or resources for learning programming," said Gainey. "Others might feel intimidated by it. The workshops are a great way to start the process of learning how to program and thinking programmatically."
This accessibility is what appealed to Cheryl Rozinski, a master's degree candidate in public policy and management. The Software Carpentry Workshop offered "an opportunity to dive into new programs at a pace that is comfortable in a low stakes environment," she said. "For me, learning software in a masters class setting was very stressful as teachers often skip steps or do not fully explain the why. This setting is not only safe, affirmative, and enjoyable, but you leave with new skills that can apply to your everyday work."
Rozinski plans to apply the skills from this workshop to her work at CMU – where she is using GitHub for file sharing – and beyond, when she enters the working world. "After graduation, I will become a consultant for State and Local Government," she said. "I will use R Studio to find sophisticated solutions to complex challenges, and present my findings using R's data visualization packages."   
Offering software and data carpentry workshops is one way the Libraries are expanding their support for Open Science and Research Data at CMU. A team of more than 10 data experts in the Libraries are focused on expending research support through digital tools, web resources, trainings, and consultations, and offering core computing skills to the CMU community through Software and Data Carpentry are key to that mission, including an upcoming session on Data in Python.
Register for the next Software Carpentry Workshop, Intro to Python, Open Refine, and SQL, held March 12 - 13 in Hunt Library, IDeATe Studio A.