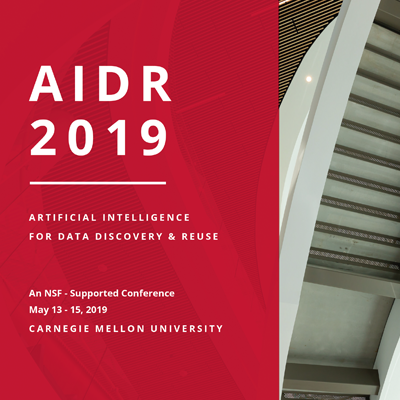 AIDR 2019: Artificial Intelligence for Data Discovery and Reuse
May 13-15, 2019
Carnegie Mellon University
Pittsburgh, PA
Featured speakers: 
Supported by the NSF scientific data reuse initiative, AIDR (Artificial Intelligence for Data Discovery and Reuse) 2019 is a conference aiming to find innovative solutions to accelerate the dissemination and reuse of scientific data in the data revolution.
The explosion in the volume of scientific data has made it increasingly challenging to find data scattered across various platforms. At the same time, increasing numbers of new data formats, greater data complexity, lack of consistent data standards across disciplines, metadata or links between data and publications makes it even more challenging to evaluate data quality, reproduce results, and reuse data for new discoveries. AIDR 2019 provides a platform for AI/ML researchers, data professionals, and scientists to come together and benefit from mutual expertise to address these data challenges and to facilitate the next breakthroughs in science and technology using the power of AI and scientific data.
See the website to learn more: https://events.library.cmu.edu/aidr2019/.