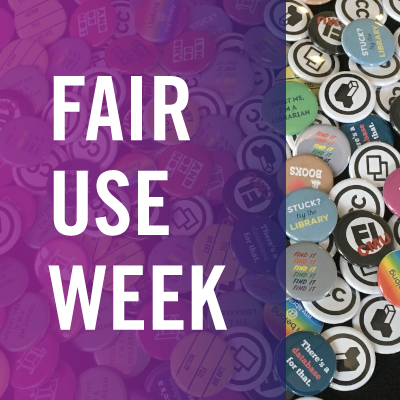 Join Carnegie Mellon University Libraries  February 26 – March 2, 2018 as we celebrate Fair Use/Fair Dealing Week, an annual celebration of the important doctrines of fair use and fair dealing. It is designed to highlight and promote the opportunities presented by fair use and fair dealing, celebrate successful stories, and explain these doctrines.
Button making stations, where you are invited to make your own custom button using fair use materials, will be held on the following days:
Monday, Feb. 26, noon – 2 p.m. in Sorrells Library 
Wednesday, Feb. 28, noon – 2 p.m. in the Hunt Library lobby
During this week, we also kick off, "The Art of the Remix." This exhibit on the first-floor of Hunt Library highlights examples of artworks that illustrate what happens when artists remix existing work and make it their own. The featured artists have "remixed" copyrighted materials to create something new.