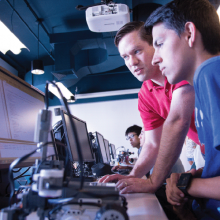 As you prepare for hybrid or online teaching and research, the Libraries can provide solutions that reduce your preparation time, enhance your students' experience, and make your research more productive. We invite you to schedule a consultation with the specialist for your department to get started.
Instructional Services
As you prepare to teach your hybrid or online course, contact us to come up with a personalized approach to ensure your students thrive in a virtual setting. Librarians and subject specialists can help you augment your courses this Fall, delivering curriculum in the way that is most impactful for your students. Information competencies gained now will serve them beyond the classroom for a lifetime as engaged citizens and creators. Here's how:

Embed a librarian as an instructor in your Canvas course to allow them to respond to discussion questions, help with links, and serve as an additional resource.

Partner with us to develop strategies to teach your students the necessary information competency skills that they need to succeed with research assignments, develop critical thinking and foster independent learning. Delivered via a custom-built course module, one-on-one student support, or asynchronous course sessions taught by the librarian, these skills include:
how to use library informational resources and databases, to enable: literature review use of and access to primary sources research using the Library's digital archival materials business and market data research patent and prior art research …and more
Methods for bibliographic research
How to use our licensed information and research tools
Understanding the peer review process managing and writing citations
Evaluating information and bias in information, disinformation
Data management, research data practices, data hygiene
Assessing scholarly impact
Text and data mining resources and methods
Copyright and fair use
Let us create a customized course guide or research guide for your students. Our research guides curate recommended resources and bespoke advice tailored to your course learning objectives. 
Digital Content
Remote instruction requires different resources than a traditional classroom. While many of our print holdings are now available in digital format via HathiTrust and other providers, other resources you typically use may not be available or accessible to a distributed global audience. 
We can help you:
Find and evaluate open educational resources/textbooks
Access and work with digital archival material from our University Archives
Access and work with the unique digital materials in our Special Collections
Determine availability of digital versions of the materials you used to use in physical format
Acquire unlimited-user licenses for ebooks to facilitate simultaneous access for all your students
Work with vendors to acquire needed course materials 
Assist with finding and using streaming video, live performances, music and images 
Use the features of our e-resources to curate and share personalized collections of materials
Consult with you on fair use of copyrighted materials 
Embed our licensed materials into your Canvas course
Virtual Collaboration Tools
All members of the CMU community can take advantage of virtual collaboration tools provided by the Libraries that allow research activities to transition seamlessly from the lab to the laptop. Explore the resources below, then work with a specialist to develop a plan to ensure continuity of your research process or find funding for a new opportunity.
Move your research group online with these productivity tools:
Find new opportunities for research funding to contribute to the fight against COVID-19:
Pivot – Funding sources for all disciplines and academic needs. User Guide
GrantForward - Federal and private funding sources in the sciences, social sciences, arts, and humanities.
Community
Many of the most valuable educational experiences take place outside of a classroom setting. Connect your students with collaborators or project opportunities that allow them to demonstrate the real-life application of the skills learned in the classroom.
dSHARP Office Hours – At these informal consultations, students connect with library experts in digital- and data-related topics like data curation, digitization, metadata, and scholarly communications, with expertise in humanities, social sciences, and STEM fields.
Virtual Office Hours – Participants with skills in data analysis connect with scholars with qualitative and quantitative datasets.
Library-as-client: Your usual external partners may be experiencing reduced or limited capacity to partner with student project teams. The Libraries are able to serve as clients and advisors for your authentic service learning projects. Contact us to explore opportunities.
Enhance Your Teaching
Advise your students about research methods and resources that enhance their learning inside and outside the classroom, unlocking your teaching potential.