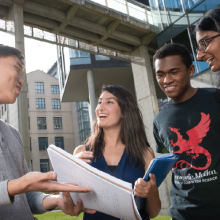 The Carnegie Mellon University Libraries Publishing Service (LPS) provides an infrastructure to publish and host born-digital scholarly content. LPS is part of the emerging innovations and services the Libraries offers to support the growing digital scholarship and publishing needs of the CMU community.
Service Details
The mission of the CMU LPS is to maximize open and free access to scholarly publications and products in a sustainable fashion for the benefit of scholars, students, and the general public. We champion open access to promote learning, share research, and create greater opportunities to engage the general public.
All journals or journal-like content hosted by LPS is published using the Janeway open-source publishing platform developed by the Birkbeck Centre for Technology and Publishing at the University of London.
Publish & Share your research
Navigate the many options for publishing your research to optimize its accessibility and impact.