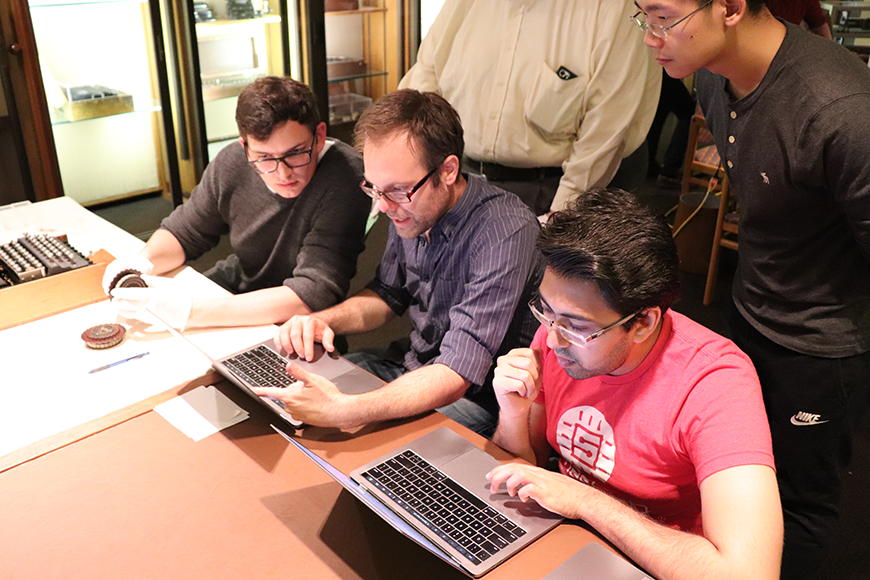 Researchers had a rare opportunity to peek "under the hood" of the Carnegie Mellon University Libraries' two Enigma machines, opening the World War II-era machines to photograph their carefully-crafted interiors and to locate and record the serial numbers printed on their rotors.
The University Libraries acquired the two encryption devices—one 4-rotor machine and one 3-rotor machine—in February 2018 as part of a collection of over 50 calculating machines, letters and books gifted to the university by author Pamela McCorduck, wife of the late Computer Science Department Head Joseph Traub. With this gift, CMU became one of a handful of American institutions to own an Enigma machine.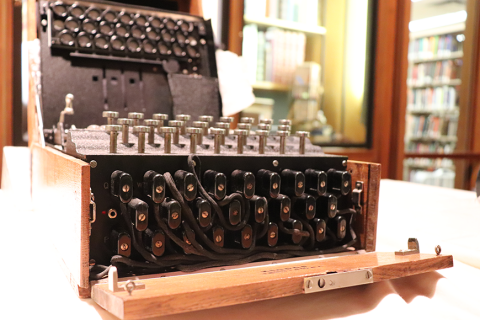 Enigma machines, electro-mechanical rotor cipher machines used to encrypt communication, were most notably were used by Nazi Germany to protect military communication during World War II.
During a four-hour period on October 7, campus historians and researchers associated with History of Science and Technology at CMU (HOST @ CMU)—a cross-campus, interdisciplinary initiative to collect and preserve CMU's historical contributions to scientific and technical development—assembled in the Hunt Library Fine and Rare Book Room to open up the machines.
Andrew Meade McGee, visiting assistant professor of history and the University Libraries' CLIR Postdoctoral Fellow in the History of Science and Computing, described the procedure as a hands-on history exercise.
"Today, historians and engineers with screwdrivers are attempting to recapture the inner workings of a past technology and trace the intellectual connections between this electromechanical piece of the past and today's information technology ecosystem," McGee said.
Under the direction of Chris Harrison, Haberman Chair, Assistant Professor of Human-Computer Interaction, and Director of the Future Interfaces Group, three researchers partially disassembled the intricate machines. With only 318 Enigma machines known to exist today, the experience offered a once in a lifetime opportunity for Sven Mayer, postdoctoral researcher; Yang Zhang, doctoral student, and Karan Ahuja, doctoral student, all of the Human-Computer Interaction Institute.
"This is a really exciting opportunity to have a piece of computing history, to be a part of its history and to find out more about its history," Harrison said.
When the university received the Enigma machines their model type, the year they were created and the unit to which they may have been assigned to during WWII were unknown.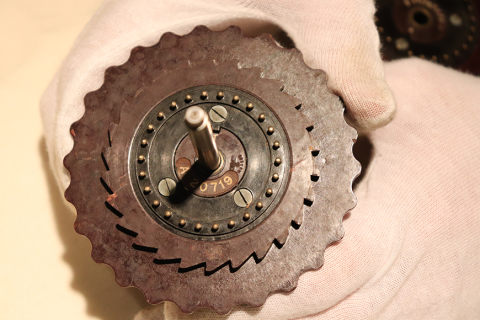 "Part of our investigation today is to check out the condition of the machines to see what quality they've survived in, and to recover the serial numbers on the rotors in particular, which are a major clue to identifying when and where it was made and the configuration it was in," Harrison said.
Wearing white cotton gloves, Mayer and Ahuja carefully dismantled the 3-rotor machine first, pausing occasionally to consult with Harrison or refer to online resources. They elicited cheers from the small assembled crowd, which included Special Collections Librarian Mary Kay Johnsen and Scott Weingart, Program Director, Digital Humanities, as the rotors were removed.
Mayer, a German speaker, translated inscriptions found inside the case.
"The inscription was like a manual with a description of how to use and maintain the machine and inside there was description of how to put new lamps in," Mayer said. "There was no useful information to disassemble the machine."
The Traub McCorduck Collection
The Traub-McCorduck Collection—which includes a Thomas Arithmometer, the first commercially produced mechanical calculator, and rare books by Charles Babbage, the 19th century mathematician considered by some to be a "father of the computer"–is managed by the University Libraries Special Collections and housed in the Fine and Rare Book Room on the fourth floor of Hunt Library.
Tags
:
History
,
Special Collections
,
Technology
, See all tags