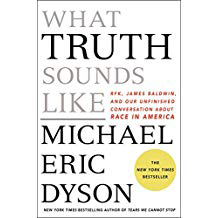 What Truth Sounds Like: Robert F. Kennedy, James Baldwin, and Our Unfinished Conversation About Race In America by Michael Eric Dyson (St. Martin's Press, 2018)
In May 1963, Robert F. Kennedy called for a meeting with James Baldwin, one of the most powerful voices of the civil rights movement. Baldwin brought the singers Lena Horne and Harry Belafonte, playwright Lorraine Hansberry, scholar Kenneth Clark, and freedom rider Jerome Smith. Kennedy expected a polite, deferential meeting, but his guests weren't willing to be patient
and work on policies. Smith was recovering from a savage beating by white supremacists; Baldwin and his friends angrily gave witness to "blackness seen through the prism of pain and trauma."
Michael Eric Dyson uses this meeting as a springboard to understanding racial conflict in 2018 America. He examines Barack Obama ("a black face in a high place does not guarantee a new order") and the rise of Trump, who is "far more representative of the nation than many whites would like to admit." He also looks at the campaigns of Bernie Sanders and Hilary Clinton, and at
newer candidates like Kamala Harris and Joseph Kennedy (grandson of RFK).
Dyson looks to popular culture and celebrates Jay-Z, Beyoncé, Lin-Manuel Miranda, Keegan-Michael Key and Jordan Peele, and other voices of African American struggle and triumph. He gives a background on James Baldwin, then praises Ta-Nehisi Coates' phenomenal, poetic Between the World and Me. Dyson compares Coates to Baldwin, in that they both use a "forensic,
analytical, cold-eyed stare-down of white moral innocence." He also recommends Erin Aubry Kaplan's "complex, allusive, elegant essays," making me want to check out her writing next.
The "Black Lives Matter" movement was a break from previous "respectability politics" and the "etiquette of respect." Dyson
compares Bobby Kennedy's anger at his meeting with Baldwin to Hillary Clinton's more open, positive response to the BLM activists who interrupted her speeches. Dyson admits he prefers politeness, but understands activists who use a more confrontational style. He also profiles Tarana Burke, founder of the #MeToo movement, which is more than just a Hollywood affair.
African American athletes such as Muhammad Ali and Colin Kaepernick are what Dyson calls the "black blessed [who] have always spoken up for the black beleaguered." I remember, as Dyson does, the 1968 Mexico City Olympics and the track stars John Carlos and Tommie Smith giving a raised black-fist salute, shocking at the time. Black athletes and entertainers have always
stood for civil rights, integration, and self-respect, from Jackie Robinson to LeBron James. Dyson urges "privileged white folk" to speak up as well, citing white coaches and team owners who support discussions of difficult racial issues.
Dyson plunges into the "Black Panther" fantasy world of Wakanda, "the name of our paradise and possibility" and "the place of our unapologetic blackness." From this, he rolls into a litany of "We are tired" of all the micro-aggressions, misunderstandings, and hate that African Americans endure on a daily basis. This is Dyson at his best, sermonizing and energizing, taking no abuse and pressing for change. If you read nothing else of this book, pick it up for the last chapter. These days, as we confront race in America, it takes courage to witness what we may not want to hear. In the end, though, it is essential that we listen to what truth sounds like.
by Jan Hardy, Cataloging Specialist
Tags
:
Government & Law
,
Nonfiction
, See all tags