Legacy of the Dead: Reanimated
The ethos of the Steel City is defined by solidarity. When the Pinkertons attempted to land on the barges of the Monongahela River to break up the Homestead Strike of 1892, they were defeated by workers united not only in strength but in spirit. This act of fellowship set the mood for the city of Pittsburgh, invoking a purposeful nature amongst like-minded individuals resulting in cooperation and a willingness to get the job done. This tenaciousness would proliferate throughout the decades as Pittsburgh continued to evolve, trickling down from the labor movement into the creative arts.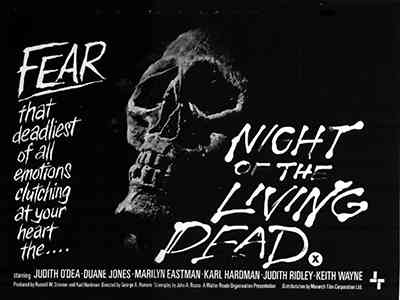 In 1968, Carnegie Mellon University alumnus George Romero banded together with partners John Russo and Russel Streiner to create a landmark film in the horror genre. While "Night of the Living Dead" will be remembered as the genesis of the modern zombie renaissance, it also serves as a testament to the birth of the independent film scene and the team building mindset; setting an example for future generations of individuals to come together in an effort to create something special. I personally experienced this camaraderie myself when I had the privilege of coordinating an exhibit our blog series, "Legacy of The Dead," that celebrated the life and films of George Romero after his passing in 2017.
It was exciting to see multiple individuals from various disciplines in the library come together to express their admiration for the man and his work, and it served as further evidence that when a team focuses on the greater good rather than individual need, true magic can happen. In honor of the 50th Anniversary of "Night of the Living Dead," we are reposting our blog series created by library faculty and staff that explores the life and work of Romero in both a historical and academic context. We are grateful to the creators of this seminal horror classic as it reaches its semicentennial and will forever be inspired by it moving forward.
by Andy Prisbylla, Coordinator, "Legacy of the Dead: A Tribute to George A Romero"
News category
:
About us