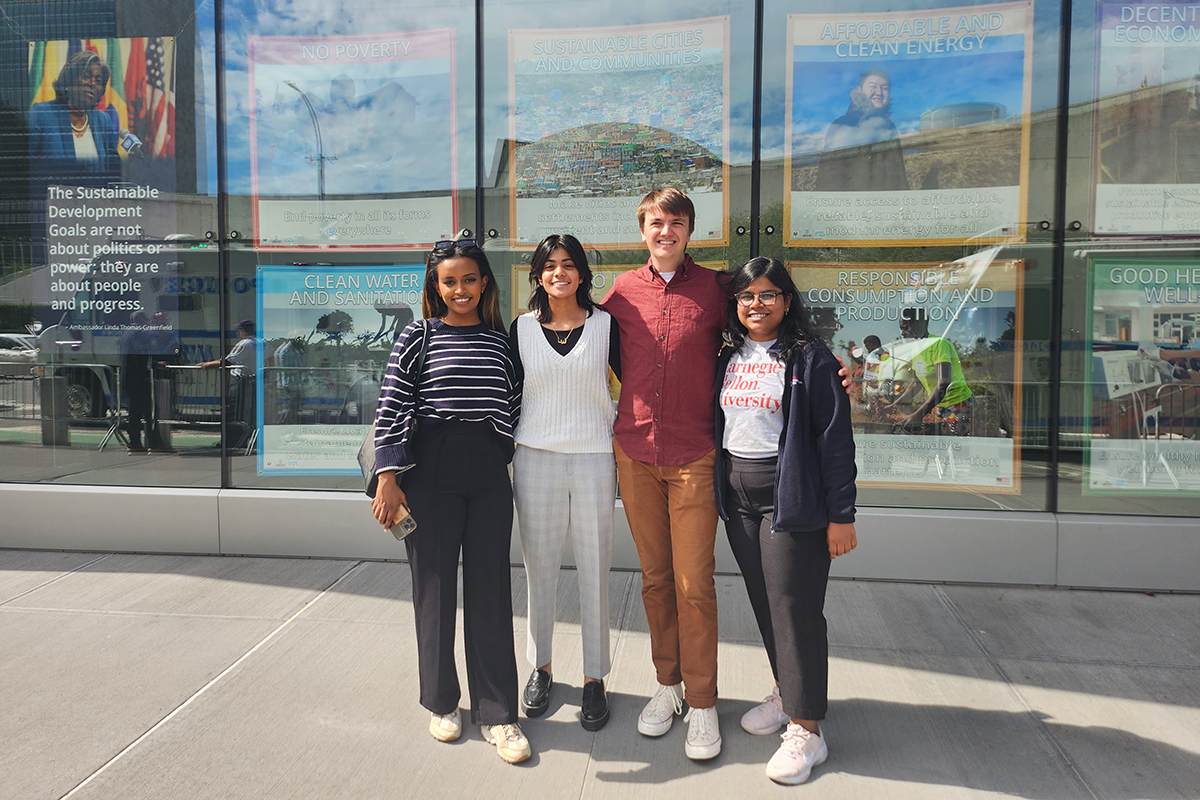 The Sustainability Initiative interns traveled to New York for the United Nations SDG Action Weekend. Left to right: Bethel Endawoke (Heinz liaison), Aleena Siddiqui (communications), Camden Johnson (thematic programming), and Ishwrya Achuthan Geetha (data analytics).
"Can you miss class on September 18 to join a UN event in NYC?"
This summer, the Sustainability Initiative interns — Ishwrya Achuthan Geetha, Bethel Endawoke, Camden Johnson, and myself — received an email with this as the subject line from Alex Hiniker, director of the Sustainability Initiative. We all excitedly responded "yes". This was a once in a lifetime opportunity to tour the United Nations, sit in on various sessions, engage with leaders across America, and truly to see the broader vision of our work at Carnegie Mellon.
The weekend of September 16th, SDG Action Weekend, preceded the 78th session of the United Nations General Assembly and the SDG Summit. The SDGs, or Sustainable Development Goals/Global Goals, were adopted by the UN member states as part of the 2030 Agenda for Sustainable Development in 2015. Now, in 2023, we are at the halfway point, and the SDG Summit focused on where we are in terms of achieving them by 2030.
Through the Sustainability Initiative, CMU identifies how the university contributes to the Global Goals and implements programming to make connections across education, research, and practices. The events we were able to attend and the conversations we had, helped us frame our own vision of the goals and really understand where we as students and leaders can take CMU's initiative.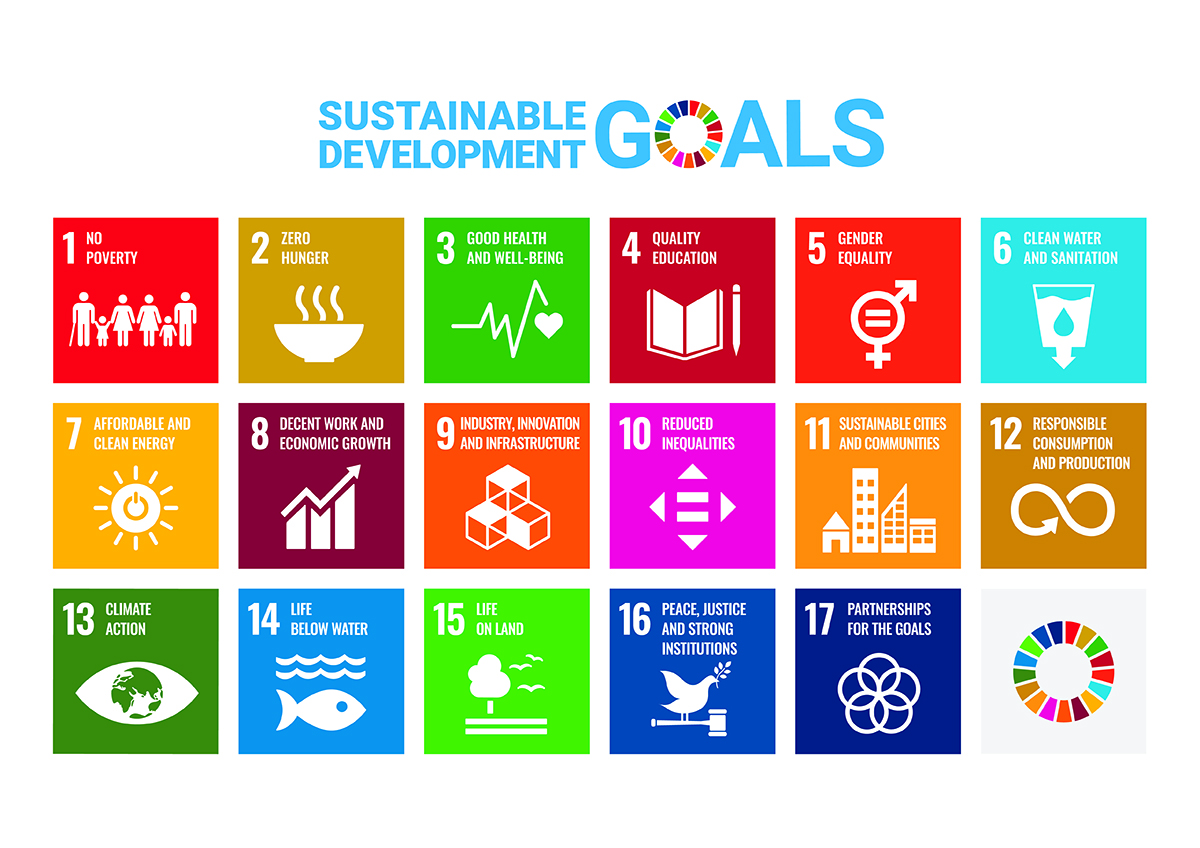 UN SDG Action Weekend
Once we got to New York and ate some lunch, our first stop was the United Nations Headquarters. We picked up our badges, got through security, and then entered the UN. We were immediately met with interactive displays, colorful posters, and logos of the Global Goals.
Alex spent part of her career working for the city of New York and the UN. We were fortunate enough to have her not only to give us a tour of the UN and the different artwork from each country, but also to provide an honest perspective on the work being done.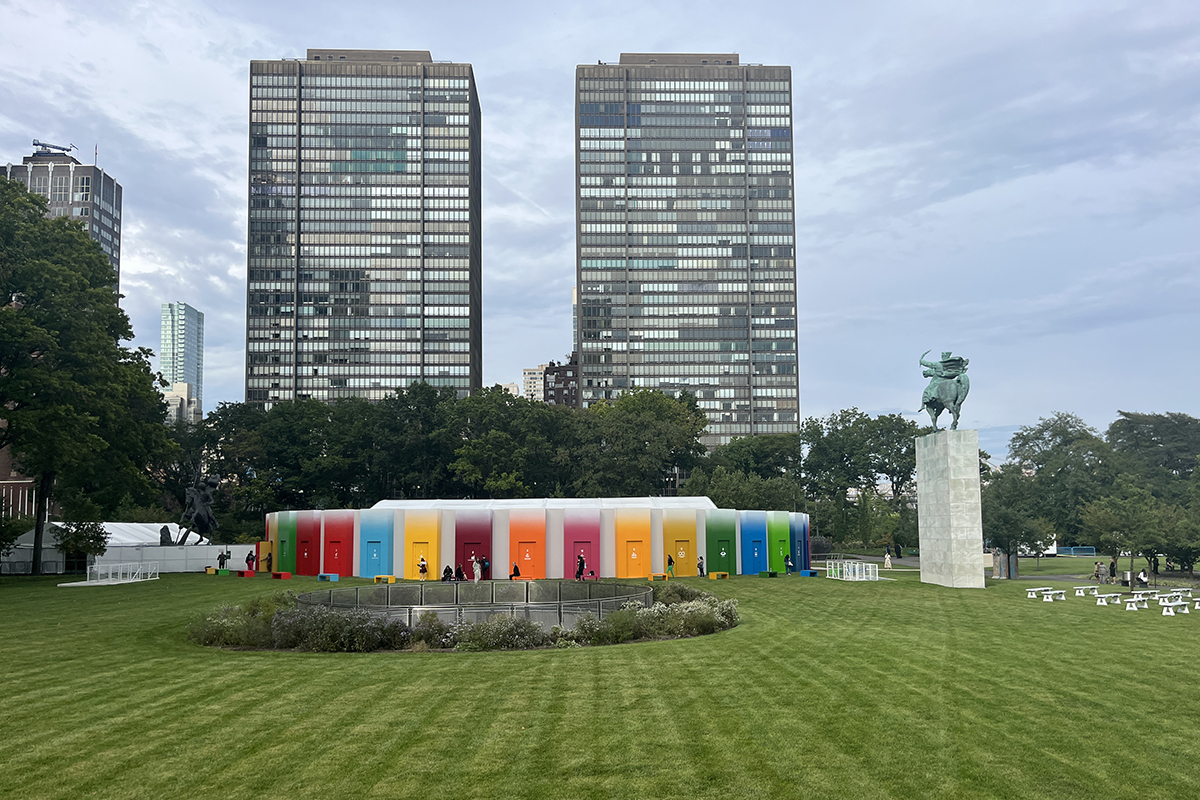 We first stopped by the Economic and Social Council Chamber where leaders had come together to discuss digital public infrastructure and its ability to aid us in achieving the Global Goals. After listening in for a little bit on fancy headsets, we stopped by the Trusteeship Council Chamber next door. The speakers there focused on Goal 5, gender equality, discussing the elimination of violence against women and girls.
In all honesty, the events we attended at the UN seemed very detached from the work we as students believe needs to be done. We only sat in on a couple of sessions, and while it was interesting to hear high level conversations about the issues we are facing, the sessions we attended seemed to lack a sense of action about tangible progress that could be made. In a space where all these leaders were able to convene, I believe they could have been critically thinking about new and innovative solutions, but I can't be certain that post-SDG Action Weekend will evidently show that.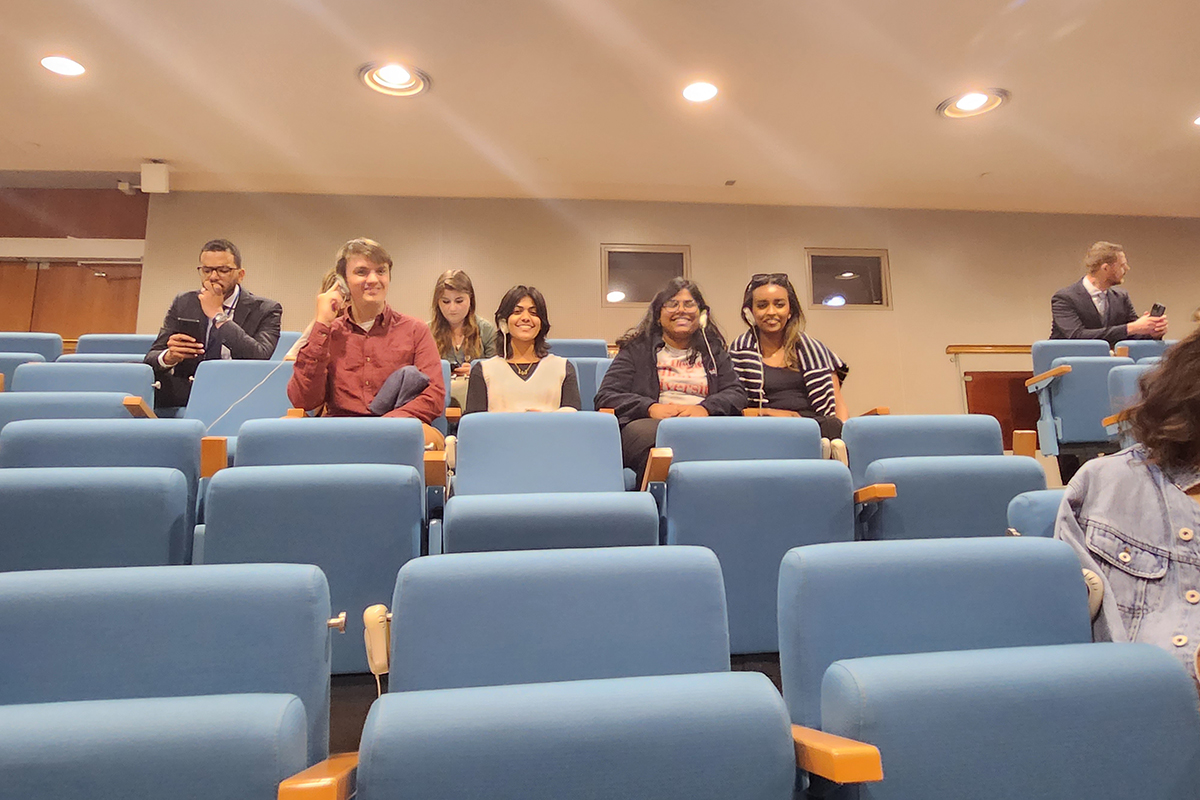 UN Academic Impact
Before leaving the UN, we sat down with Jayashri Wyatt, Chief of Education Outreach in the UN Department of Global Communications and head of the UN Academic Impact (UNAI). We spoke about CMU's role in completing the first official Voluntary University Review (VUR) and how these VURs are a valuable resource for universities to use. Wyatt told us about the UNAI's current goals; they aim to provide more resources and benchmarks for more universities to connect their work to the Global Goals. As we work on this year's VUR, we hope to connect with other universities who are doing similar work to bridge connections and strengthen the impact of it.
American Leaders Advancing the SDGs
This event, put on by the United Nations Foundation and the Center for Sustainable Development at the Brookings Institution, was one of the main reasons we took this opportunity to go to New York. We were able to listen to a great panel of speakers including researchers, professors, the governor of Hawaii, White House officials, and fellow youth.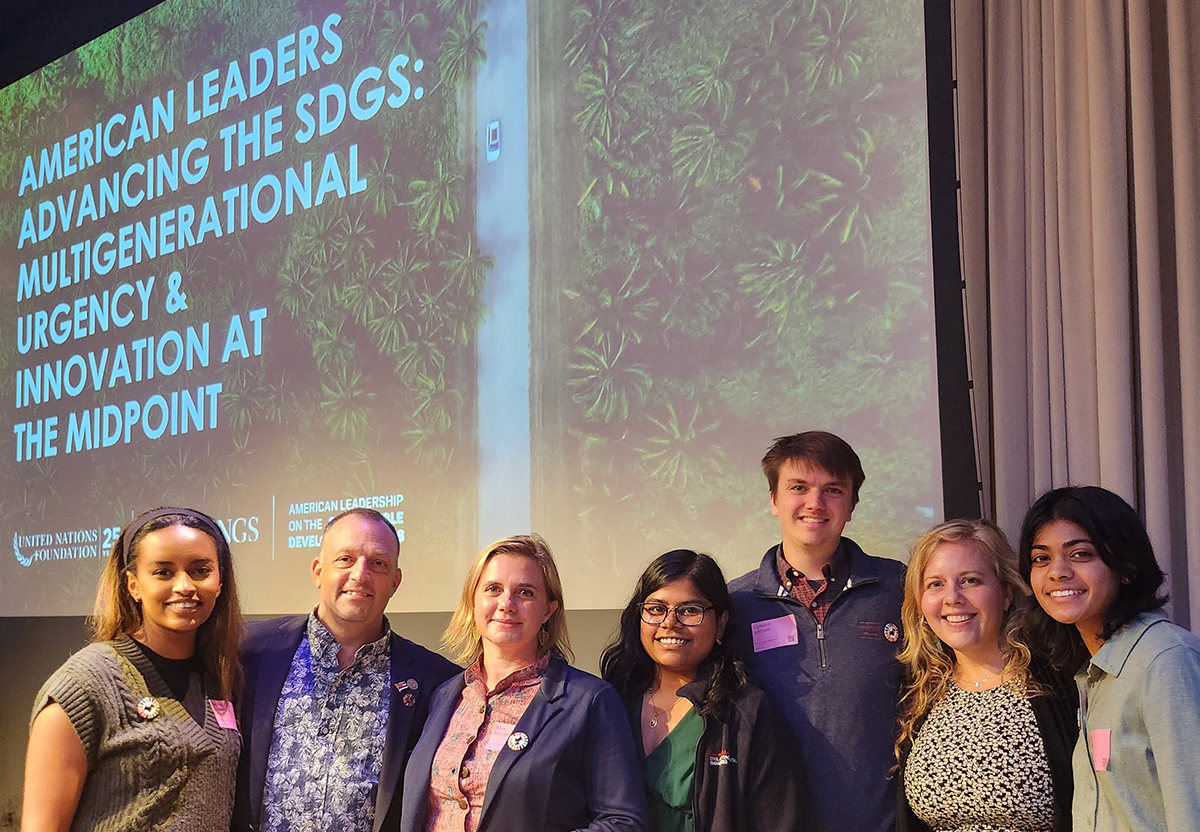 I really enjoyed the speakers of this event. It felt more actionable than some of the conversations we heard among UN leaders. Hearing work being done in the public and private sectors through research and investment changed the tone of the weekend for me. Even more so, the youth delegation from Hawaii had a different perspective to share. A group of 12 ninth graders spoke about how their culture and ancestral values already embodied the Global Goals. They understand how to use their resources sustainably and live within the means of their island.
A theme throughout the speakers was that often the Global Goals are seen from a top-down perspective. They were enacted at a global level and when trying to implement them at a local, or even university level, there can be a lot of gaps or impractical action items. Every community and its needs are different. When making real progress, we have to start with the community and assess what's feasible.
This is one of our team's big focuses this year. We need to set the framework for the work that can be, and needs to be, done at CMU and connect it back up to the Global Goals.
Cooper Hewitt, Smithsonian Design Museum
For our final stop, we met up with Pamela Horn, Director of Cross-Platform Content at Cooper Hewitt, Smithsonian Design Museum, a member of the University Libraries' Dean's Advocacy Council, and a CMU alumna. She gave us a tour of some of the current exhibits and walked us through how we can engage with the design process.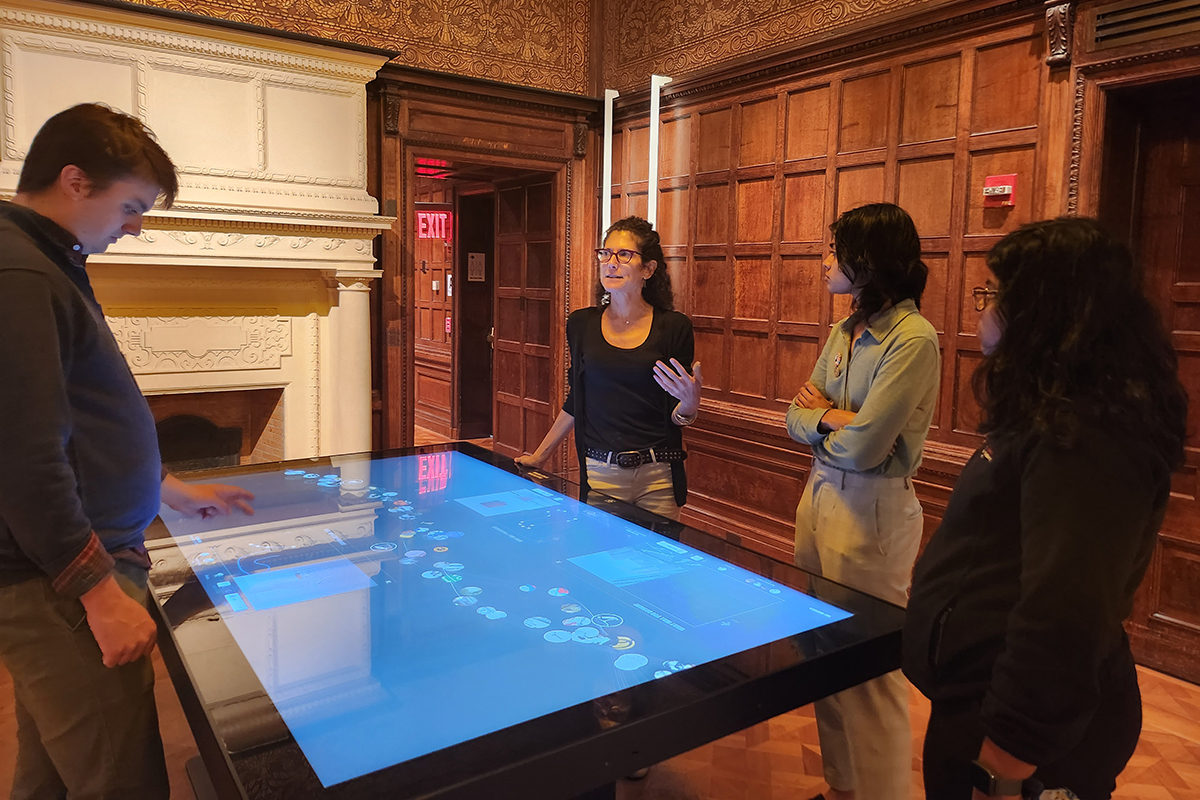 We met with Pamela for two main reasons: she's done an incredible amount of work utilizing technology to create meaningful experiences and she has a lot of experience in using design to engage with patrons. Seeing Pamela's work in tagging the museum's collection gave us some insight into our own Tableau dashboard that tracks CMU's work on the Global Goals.
The team is also redesigning the Sustainability Studio housed on the first floor of Hunt Library, behind De Fer. We are looking to create some design elements that students, faculty, staff, and any member of the community can engage with. The goal is for students to still use this space to study, but also have interactive elements to show what the Sustainability Initiative is and how they can be a part of this vision.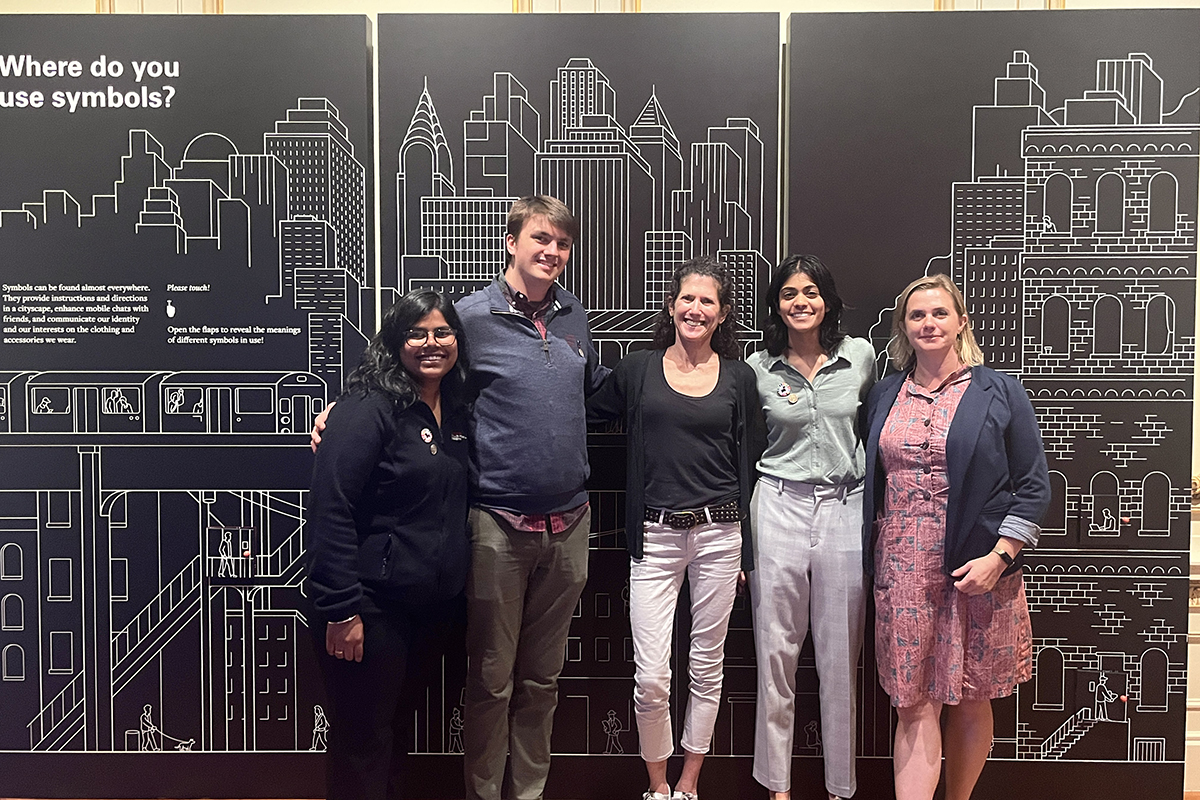 Looking Forward
Without a doubt, our short trip and missing class on September 18 to join a UN event in NYC was an invaluable adventure. It was a great real-world experience that I never imagined I'd have. As someone studying engineering and environmental studies, I am passionate about sustainability, but never thought it could take me to a weekend at the UN, and I am very grateful to Alex for allowing that to happen.
After hearing various leaders speak and engaging in conversations with people from the UN Academic Impact and UN Foundation, I can honestly say that I learned more in those 30ish hours than I can articulate. I think I speak for our team when I say the trip provided us with the groundwork for where we want the Initiative to go not only this year but in the long run. We have the opportunity now to converse, collaborate, and act as we shape CMU's Sustainability Initiative.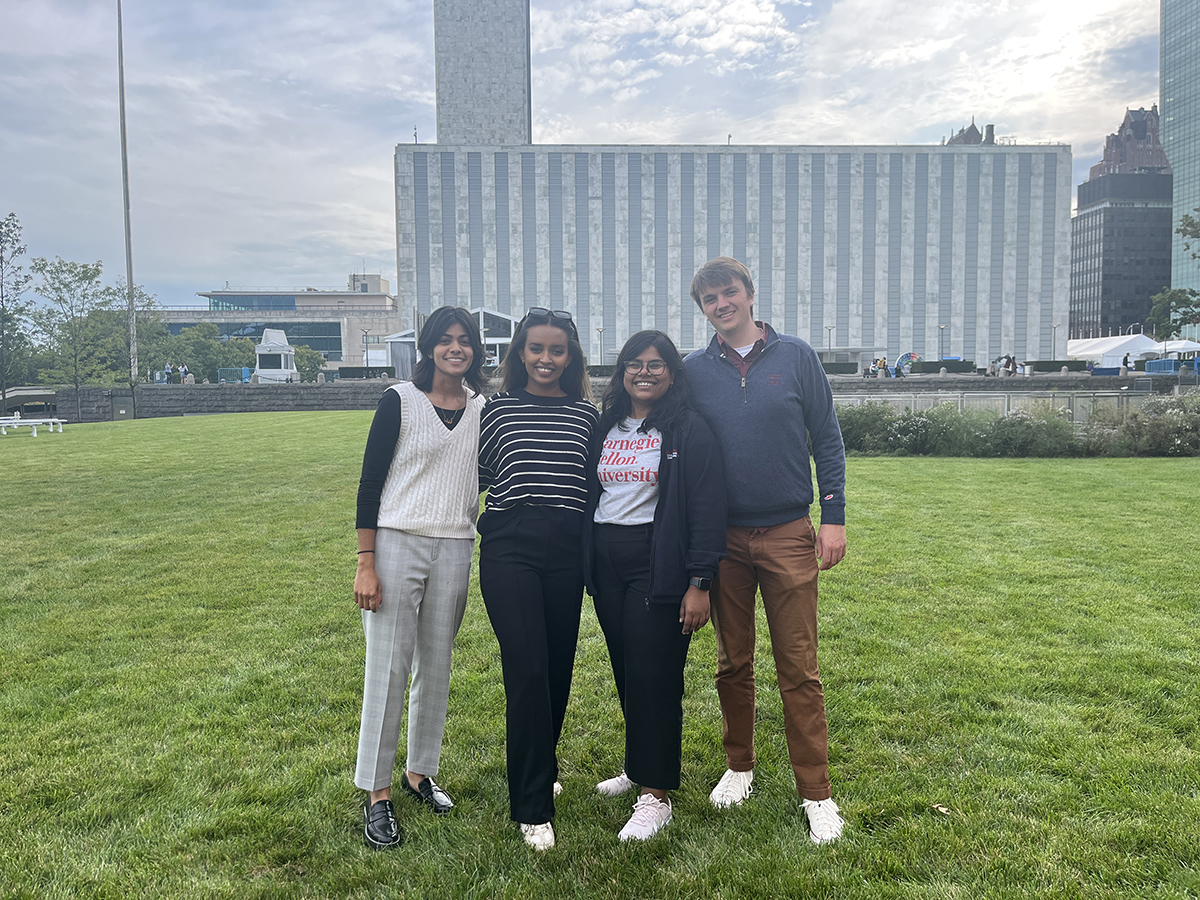 ---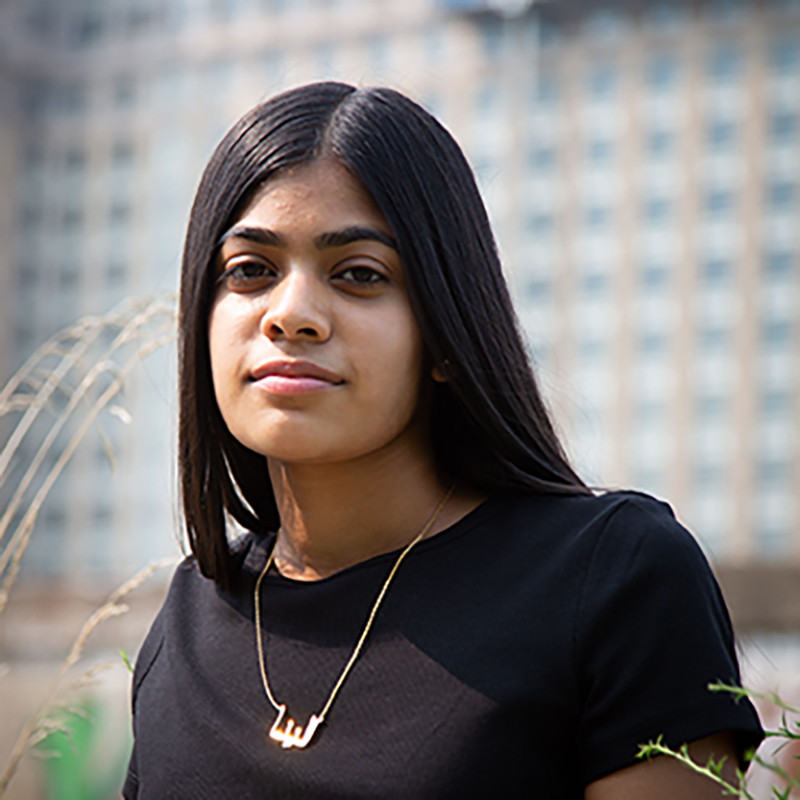 Aleena Siddiqui is a sophomore double majoring in materials science and engineering and environmental and sustainability studies. From Grosse Pointe, Michigan, she is the communications intern for the Sustainability Initiative. She is focused on finding new and meaningful ways to engage with the campus community and sharing resources that allow others to think critically about how their work connects to the Global Goals. She is excited to bridge connections between student groups, staff, and faculty to strengthen our sustainability network.