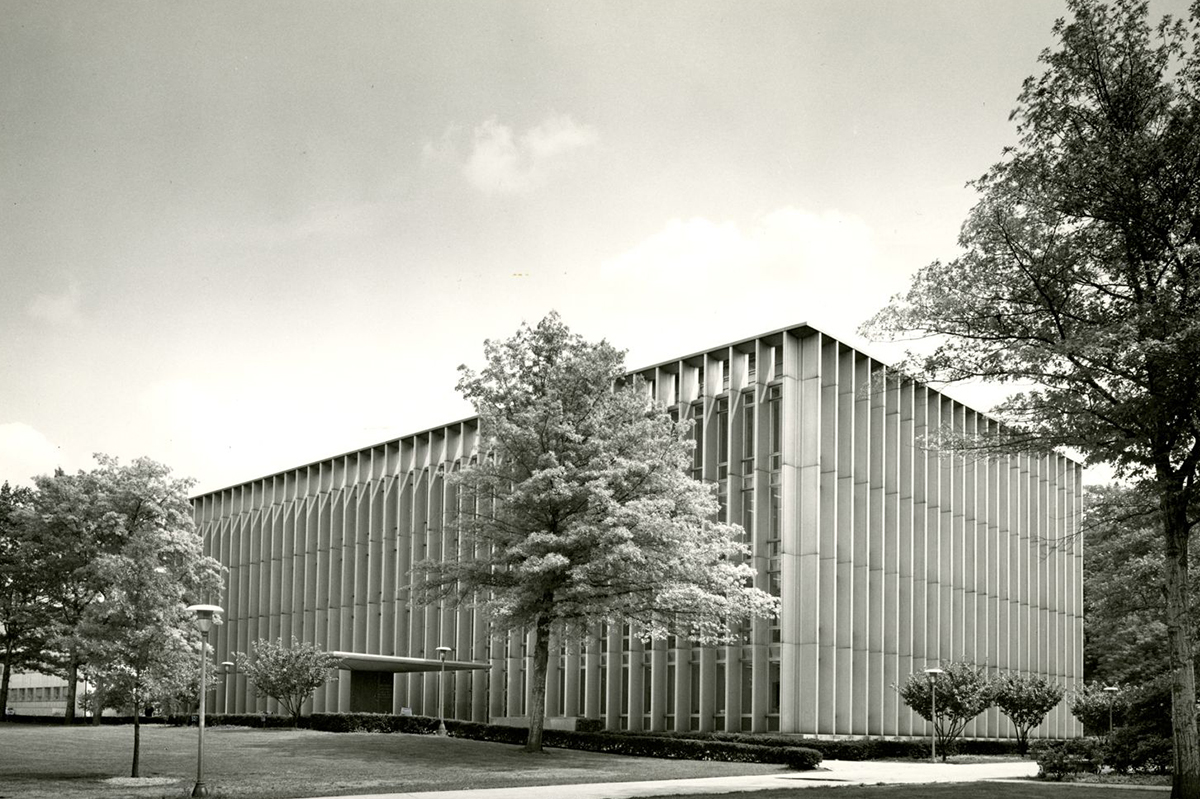 Feel free to reach out to our friendly faculty and staff in the Libraries at any time to help you get acquainted with our many services, events, workshops, and technologies available to you.
Feature image of Hunt Library (c.1961) from the University Archives, available online via our Digital Collections.
Fall Semester Library Hours
The Libraries' fall semester hours will begin on August 28:
Hunt Library: Monday through Friday, 8 a.m. to midnight; Saturday, 10 a.m. to 6 p.m.; Sunday, noon to 8 p.m.
Sorrells Library: Monday through Thursday, 8 a.m. to midnight.; Friday, 8 a.m. to 6 p.m.; Saturday, closed; Sunday, noon to 8 p.m.
Mellon Institute Library: The Mellon Institute Library will be accessible to Mellon affiliates during Mellon Institute hours of operation.
Be sure to check out De Fer Coffee & Tea at the Maggie Murph Café in Hunt Library. Founded in 2016 by CMU alumnus Matt Marietti (TPR, 2010) and his wife Vanessa, De Fer Coffee & Tea roasts all of their coffee in-house daily, with a focus on unique, sustainably sourced specialty coffees, blended loose teas and tasty house-made food, including scones, muffins, cookies and paninis.
Seating
Visitors to Hunt and Sorrells are no longer required to reserve general Libraries seating. To reserve a study space, use our study room reservation system.
The Mellon Institute Library will be accessible on a first-come, first-served basis for those who already have clearance to enter the Institute. The Mellon Institute Library will not be staffed. Group study rooms can be reserved through our online seat reservation system. At this time, study room reservations are restricted to students only. Please contact us with any questions.
Borrowing and Returning Materials
The Libraries Catalog contains records for the majority of our physical and digital collections. Resource types include: books, peer-reviewed articles, eBooks, journals, music scores, audio CDs, conference proceedings, reports, government documents, film, dissertations, theses, newspaper articles, book reviews, and digital images.
If you need access to materials that CMU does not own, you may be able to request materials from other institutions using the ILLiad or E-Z Borrow Services.
All CMU faculty, staff and students can access The New York Times, Wall Street Journal and Pittsburgh Post-Gazette web content through the library.
Connecting with a Specialist
There are many ways to connect with librarians and information specialists for quick questions or consultations, including phone, e-mail, chat, or Zoom web conference. Contact your departmental librarian directly to make an appointment, or use our Live Chat service, Monday through Friday, 9 a.m. to 5 p.m. for immediate assistance.
Technology & Multimedia Lending
Explore our growing technology collection of devices that are available for you to borrow, including iPads, calculators, charging cables, headphones, portable DVD drives, music foot pedals and more.
Fall 2023 Workshops
Our workshops are designed to help attendees learn a new skill, deepen their understanding of a specific topic, or gain exposure to an unfamiliar technology, tool, or technique. Workshops will be delivered virtually and in-person. Seating is limited and registration is required. Explore this semester's offerings.
Subscribe to our Newsletters
Sign up for the University Libraries Newsletter to learn more about events, exhibits, resources, and other library services.
Visit the Getting Started pages