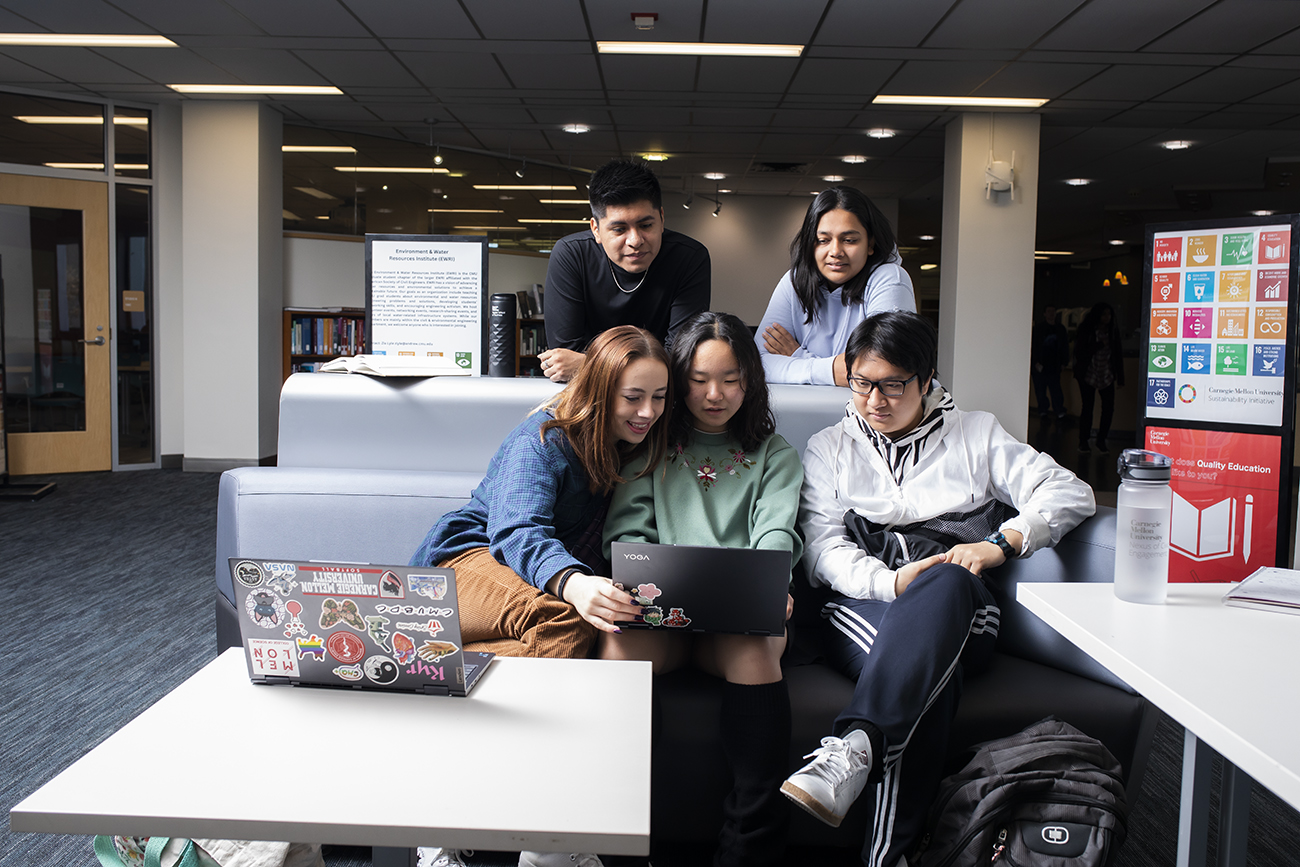 Prepared by Jessica Benner, Joelen Pastva, Shannon Riffe, Kelly Woessner
The Carnegie Mellon University Libraries continues to make progress toward the goals outlined in its Diversity, Equity, & Inclusion (DEI) Strategic Plan. This report provides an overview of the Libraries' efforts in the three focus areas outlined in the plan:
Hiring and Retaining Our Talent
Building Services that "Serve"
Provisioning Equitable Access
This internal annual report is shared with Libraries and university leadership to measure progress toward the Libraries' DEI goals, hold ourselves accountable, and define the priorities for the year ahead. A version of this report is delivered as a presentation at a Libraries' all-employee UniLib Meeting.
As the Libraries' DEI Lead, Shannon Riffe attends monthly meetings with DEI Leads from the other CMU schools and colleges and assembles this annual report. Due to her maternity leave, this report includes activities undertaken and completed during FY22 and FY23.
DEI Working Group and Subcommittees
In FY22, this work was led by the DEI Working Group, composed of representatives from divisions across the Libraries. In FY23 the working group transitioned to a subcommittee structure to bring in more contributors from across the organization and align goals to job responsibilities.
Hiring, Professional Development and Employee Engagement Subcommittee
Lead: Kelly Woessner
Members: Katie Behrman, Ann Marie Mesco, Lina Crowe, Matt Marstellar, Ken Rose
Services Subcommittee
Lead: Joelen Pastva
Members: Lina Crowe, Crystal Johnson, Sonia Wellington, Ashley Werlinich, Lynn Kawaratani
Accessibility Subcommittee
Lead: Jessica Benner
2022 Members: Dom Jebbia, Lauren Calloway, Maranda Reilly, Leah Zande
2023 Members: Emily Bongiovanni, Julia Corrin, Jimmy McKee, Charlotte Kiger Price, Maranda Reilly, Ryan Splenda, Sonia Wellington, Lean Zande
Hiring and Retaining Our Talent - Create the conditions that are favorable for hiring, retaining, and educating a diverse workforce that will serve all members of the CMU community with empathy and respect.
The following progress was made in FY22 and FY23:
Piloted guidelines for hiring to include diversity and inclusivity considerations into recruitment and hiring activities that includes but not limited to, training for bias, evaluating candidates fairly, developing a broad pool of candidates, implementing successful and inclusive campus visits, and templates and resources.
Created structured onboarding checklist and activities for new hires to ensure all new Libraries employees have the opportunity to enter their new roles with a common DEI understanding and vocabulary.
Kicked off a new mentoring program for faculty to support new hires, matching early-career faculty with senior faculty. Six pairs participated in this pilot year and there are plans to continue the program.
Offered DEI training opportunities for library faculty, staff, and leadership

Included DEIB training session as part of the Libraries annual retreat
Invited CMU's digital accessibility coordinator to present at a monthly library all staff meeting
Dr. Meredith Evans, Director of the Jimmy Carter Library and Museum, hosted a virtual lunch and learn for the Libraries in March to share her thoughts and ideas surrounding community archives, advocacy, and activism

Developed internal engagement opportunities for Libraries employees around DEI themes – including the DEI Collective meetings and Interacting Across Difference series – and allocated funding to support them.
Building Services that "Serve" - Ensure our collections, exhibits, events, and communications are reflective of the populations we serve and that we aim to serve.
The following progress was made in FY22 and FY23:
Materials Processing Coordinator Leah Zande curated physical book displays, collecting a range of Libraries resources around a specific monthly theme. DEI-related topics included diversity in the arts, pride, ADA accommodations, Black History Month, refugees and immigration, and Mental Health Awareness Month
Welcomed the Sustainability Initiative into the Libraries and opened the Sustainability Studio in Hunt Library, a welcoming space for the CMU community to engage with the United Nations' Sustainable Development Goals, which encompass environmental protection, social equity and economic justice.
Hired a CLIR Fellow for Community Data Literacy to promote data literacy, management, and research on the UN's Sustainable Development Goals and environmental justice issues and to liaise with the Center for Shared Prosperity.
Hosted screening of "Change the Subject," a documentary about students challenging outdated terminology in the Library of Congress Subject Headings vocabulary.
The Inclusive Description Working Group finalized its mission statement, which is available on the Libraries DEI LibGuide. It also identified priority areas where members can begin their work of making library description more inclusive
Work continued on the processing of Joe Trotter's collection, an important archival record of CMU black faculty and labor history.
The University Archives worked with Jay Aronson from the History department on a course titled "Documenting the History of Policing and Campus Safety at CMU" on the history of policing at CMU where the Archives were embedded into the course and students were able to use the library's resources to complete their projects, 99-519: Documenting the History of Policing and Campus Safety at CMU
The CMU Robotics Project team collaborated with Dr. Meredith Evans, who served as a diversity consultant during the creation of the toolkit "Multimodal Archives: A Toolkit for Collecting Robotics and Other Complex Material in a Research Ecosystem"
The Center for Shared Prosperity (CSP) organized a reading group titled "Reading & Action" in collaboration with the Libraries, which was a five-week discussion series which took place in fall 2021 focused on "In the Shadow of the Ivory Tower" by Davarian L. Baldwin.
OLIBTEL created a Libguide featuring resources for instructors including resources from the Eberly Center and Digital Accessibility Office to support an inclusive and supportive learning environment.
The subcommittee held a listening session for Libraries employees to collect feedback to inform guidelines and best practices to ensure DEI in Libraries exhibits and events. The final version will be distributed in July 2023.
Continued the partnership with the Office of Vice Provost for DEI and Chief Development Officer Wanda Heading-Grant with another installment of the annual Heading to the Point event series. "The Power of Representation" featured Dr. Heading-Grant in conversation with Carnegie Mellon University alumna and Libraries Advocacy Council member Jewell Parker Rhodes (DC 1975, 1976, 1979). A related curated book display and book club kit offered additional opportunities for the campus community to engage with the themes of the event.
This Spring Carnival, the Libraries, in partnership with the Carnegie Mellon Black Alumni Association, hosted a C-MAP/CMARC Archives Open House. "C-MAP/CMARC 55 Years Later: Affirming Black and Underrepresented Minority Student Experiences" brought the community back together to commemorate the legacy of these historic organizations on campus, and celebrate the diverse groups they represented.
Provisioning Equitable Access - Deliver equitable access to information, spaces, and opportunity, thus enhancing the quality of the student experience and providing our scholars with a competitive edge.
The following progress was made in FY22 and FY23:
Created an accessible text request form to allow library users with print disabilities to request accessible versions of our materials.
Worked with our Library Associate for Media and our eResources Team to review accessibility of streaming media that we offer.
Completed an accessibility review of Libraries website with a third party.
Participated in University level activities via representation on the University Digital Accessibility Committee.
Formed an Accessibility Committee who will coordinate the work happening in this pillar of the Strategic Plan.
Participated in a university-wide cohort on digital accessibility resulting in one member of the library sitting and passing the International Association of Accessibility Professionals' Certified Professional in Accessibility Core Competencies exam.
Attended and contributed to a panel session at the University's first Global Accessibility Awareness Day (GAAD) event in May 2023. The "Accessibility in Pittsburgh Discussion Panel" featured partners in the Pittsburgh region – including representatives from Carnegie Museums of Pittsburgh, HackPGH, Carnegie Library of Pittsburgh LAMP/Library of Accessible Media – discussing the accessibility initiatives happening here.
Recognizing the importance of equitable access to knowledge, the Libraries advanced open access initiatives to make scholarly research more accessible and inclusive. This included supporting open access publishing with our latest transformative agreement between PALCI and ACS Publications, celebrating 10 years of financial support for open access publishing via our APC Fund and establishing the Dr. Hillard and Joan Lazarus Open Scholarship Library Fund to support efforts in open science and open scholarship and help expand CMU's ability to provide cutting-edge tools and training to all members of our community, especially early career researchers.
The Libraries also launched the Open Source Programs Office (OSPO) to leverage CMU's research, teaching and policy expertise to build open source capacity on a global scale. Open-source software development can bring in diverse perspectives beyond those of a single company and give individuals the agency to participate in software design: anyone can look at the code, anyone can test the user interface.
Looking Ahead
Moving forward, Carnegie Mellon University Libraries will remain dedicated to the ongoing work of promoting DEI, recognizing that it is an ongoing process that requires continued learning, reflection, and action. Below are some of the preliminary objectives identified as priorities for the coming year.
Partnerships and Collaborations: The Libraries actively seeks collaborations with campus departments, student organizations, and community partners to amplify DEI efforts. Through these partnerships, the Libraries is able to leverage collective expertise and resources to create meaningful and sustainable initiatives that address DEI challenges.

The Libraries plans to revive its Student Advisory Council (SAC) to identify priorities that address DEI in the context of library services to students.
The Libraries OER Team plans to work with the Eberly Center for Teaching Excellence and Educational Innovation on programming that targets DEI issues related to open education resources (OERs).

Throughout the year, the Libraries organizes and hosts a variety of inclusive programming and events, fostering dialogue, understanding, and collaboration. These events feature guest speakers, workshops, panel discussions, and exhibits that explore diverse topics, promote intercultural awareness, and celebrate marginalized voices.

The Libraries once again plans to host another Heading to the Point event in partnership with the VP DEI Office. This year's event will celebrate the legacy of Giant Eagle University Professor of History and Social Justice Joe Trotter and announce the availability of his papers in the University Archives.
The Violins of Hope exhibit in the Posner Center will display remarkable stories of string instruments played by Jewish musicians during the Holocaust. Each surviving instrument has a unique and inspiring story that connects both young and old to the history of the Holocaust in a deeply emotional, personal, and relatable way. Paralleling lessons of the past to present day issues is key to creating a future where diversity, equality, and inclusion are valued.
A new exhibits program on the fourth floor of Hunt Library that focuses on student-created work will expand the diversity of displays in the Libraries.
The Libraries will plan ongoing programming designed to enhance awareness of DEI in relation to teaching pedagogies, and the use and creation of OER sources. This programming will feature events during Open Education Week and other related venues, and potentially involve collaborations with library partners.

Capitalize on the White House Office of Science and Technology Policy's proclamation of 2023 as the Year of Open Science to continue to expand the suite of services that support open science, open source software and their related practices.
Looking into the next year, the Libraries will continue to work on accomplishing the organization's goals by:

Standardizing hiring and recruitment practices by developing inclusive job advertisements, inclusive interviewing, and establishing diverse hiring committees.
Continue to support supervisors and managers with monthly meetings that focus on communication, inclusivity, and developing their employees.
Focus on helping individual departments and divisions identify training and development areas including DEI content relevant to the current and future needs.
These accomplishments are a testament to Carnegie Mellon University Libraries' commitment to fostering a culture of diversity, equity, and inclusion within the academic community. By embracing diverse perspectives, promoting equitable access to resources, and cultivating an inclusive environment, the Libraries will strive to create an environment where everyone feels valued, respected, and empowered to reach their full potential.