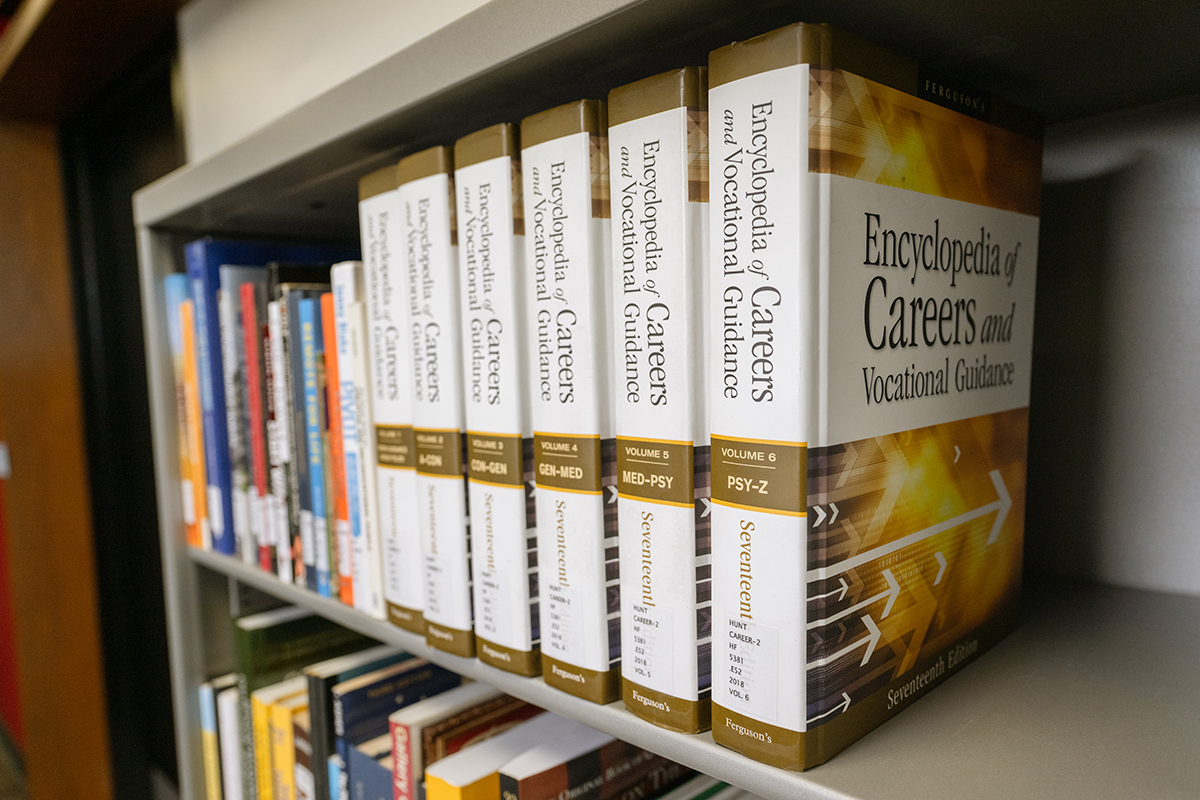 The University Libraries offers a number of resources to aid the CMU community with job searching, looking into companies and industries, and other career-related research. Now, a partnership with the Career and Professional Development Center (CPDC) will provide even greater support to students and alumni seeking employment and career opportunities.
This summer Librarian Ryan Splenda, who serves as the liaison to the Tepper School of Business and University Advancement, teamed up with CPDC Career Consultant Sammie Walker Herrera to refine and cross-promote resources from their respective units. Their first major project was to assess the books in the Libraries' Career Collection on the second floor of Hunt Library.
The Career Collection contains books, databases, and other resources with diverse, expert knowledge about the job search process, the professional world, leadership skills, and more. Though the collection was already expansive, there was an opportunity to incorporate recent titles with exciting new strategies and resources to help the community navigate their career paths.
"I realized that there were some seminal career books that could be added, about topics that are really important for students to know," Walker Herrera explained. "These are areas like networking, behavioral interviews, what to do in the first 90 days of a job — and even how to tell if you like the career path you're on!"
Walker Herrera surveyed colleagues at the CPDC for help identifying a wide range of relevant new titles. She also reached out to her network beyond CMU through LinkedIn, including people she's coached on public speaking and confidence, for additional perspectives.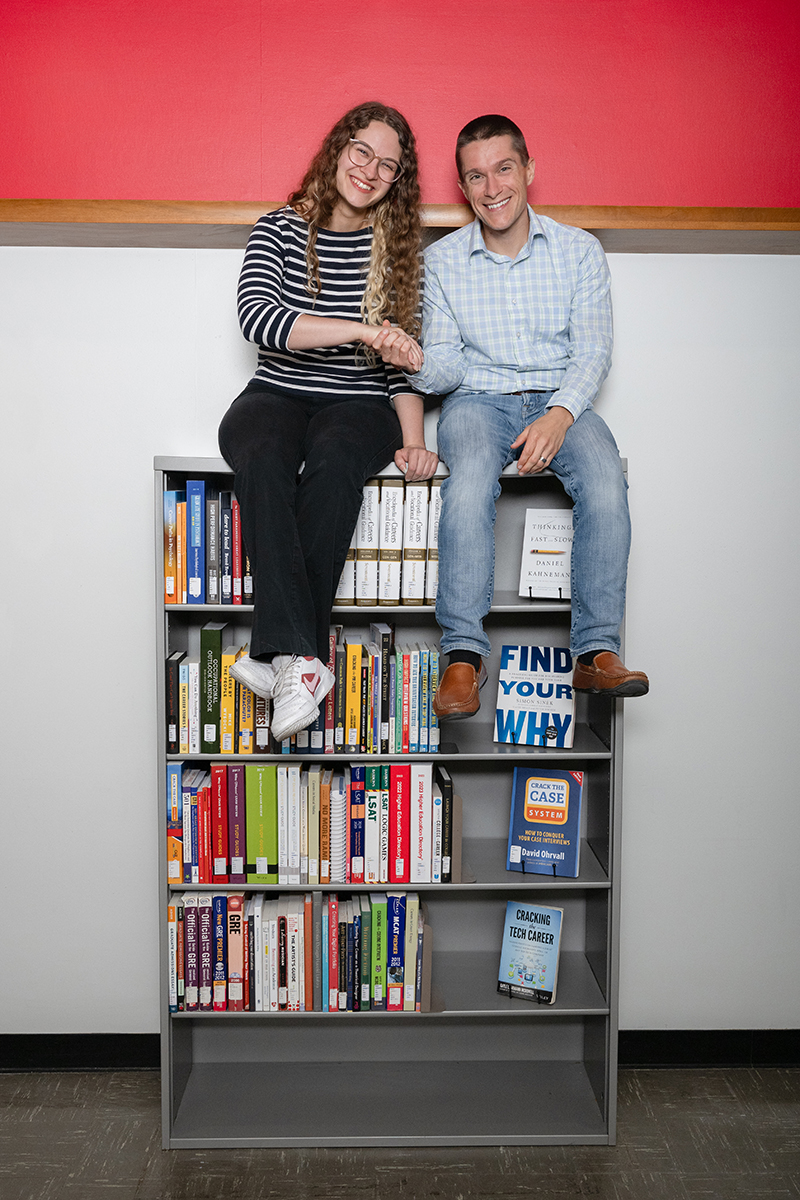 "With my own business, I mainly work with top-level executive leaders at technology companies," she said. "When I asked them for recommendations, they offered titles focused on leadership and management to compliment what we already had, and spoke to many job seekers' diverse identities, work styles, and how they can use their educational experience to build their lives."

50 total new books were added, including 38 print books and 12 ebooks. New titles cover everything from career exploration to interviewing to life after CMU. Splenda and Walker Herrera also made sure to prioritize diversity in their selections — there are books focused on women, people of color, neurodiversity in the workplace, and more.
Like the Libraries, the CPDC follows a liaison model, with experts specially equipped to help people all across CMU. Between the Libraries and the CPDC, job seekers can access specialized knowledge in a wide variety of areas.
"Many learners love to gain multiple perspectives, and between the two of us, we can refer to each other's offerings as a way to become more secure in their career search," Walker Herrera said.
"There are only a handful of units on campus that cater to the entire CMU community and not just specific schools or colleges and departments," Splenda added. "The Libraries and CPDC are uniquely positioned to provide valuable resources and expertise to all CMU stakeholders. Both units naturally complement each other with the ultimate end goal of helping students and alumni achieve career success in their lives."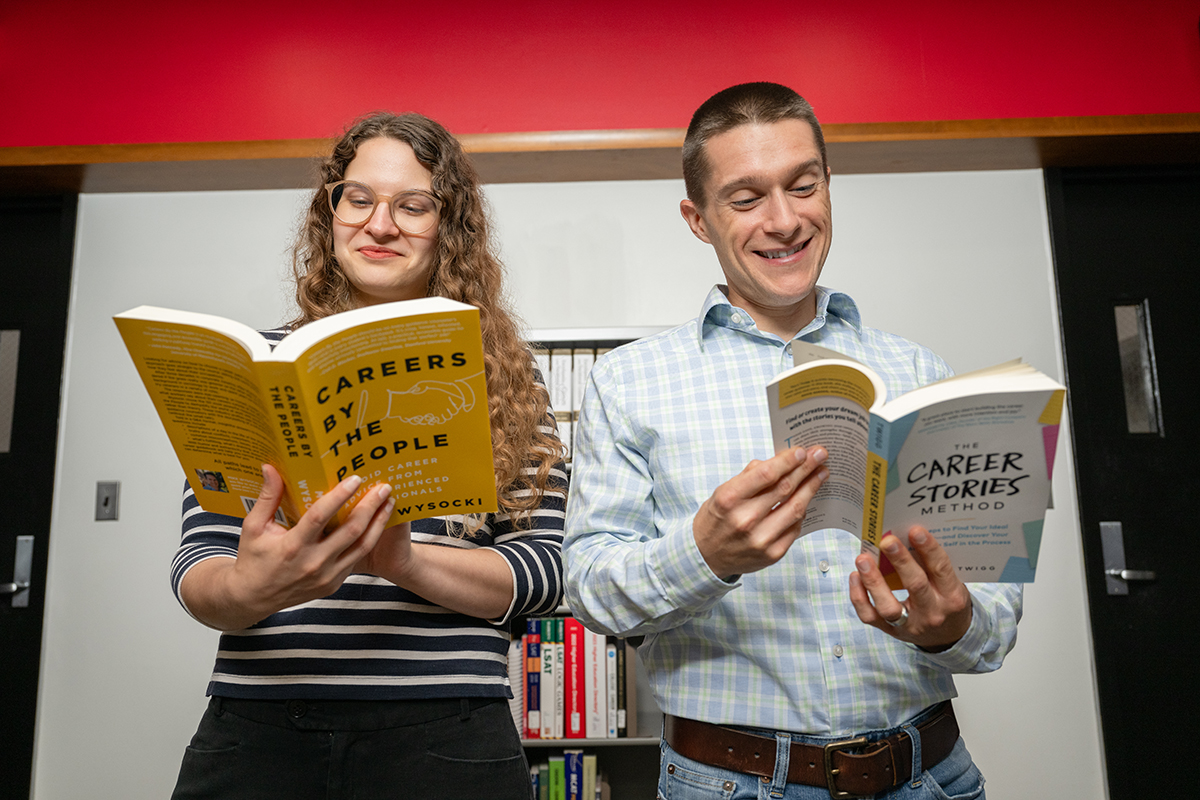 The Career Collection update is only the beginning of the partnership between the Libraries and the CPDC. In the coming months, Splenda and Walker Herrera plan to put together features highlighting helpful books on different topics. They'll also work to connect additional liaison librarians and career consultants, to forge new collaborations that can benefit specific schools and colleges.
"I'm most excited to expand collaborative efforts between our two units and to see where this dedicated partnership takes us in the future," Splenda said. "It has been truly wonderful working with Sammie and the rest of the great folks in CPDC as we strive to make a positive impact and difference in our students' lives."
To begin your job search, check out the Libraries' Career Collection resources. Physical copies of books are located on the second floor of Hunt Library, and eBooks can be found in the catalog. You can also visit the CPDC website to find additional resources, or make an appointment with a career consultant.
---
by Sarah Bender, Communications Coordinator