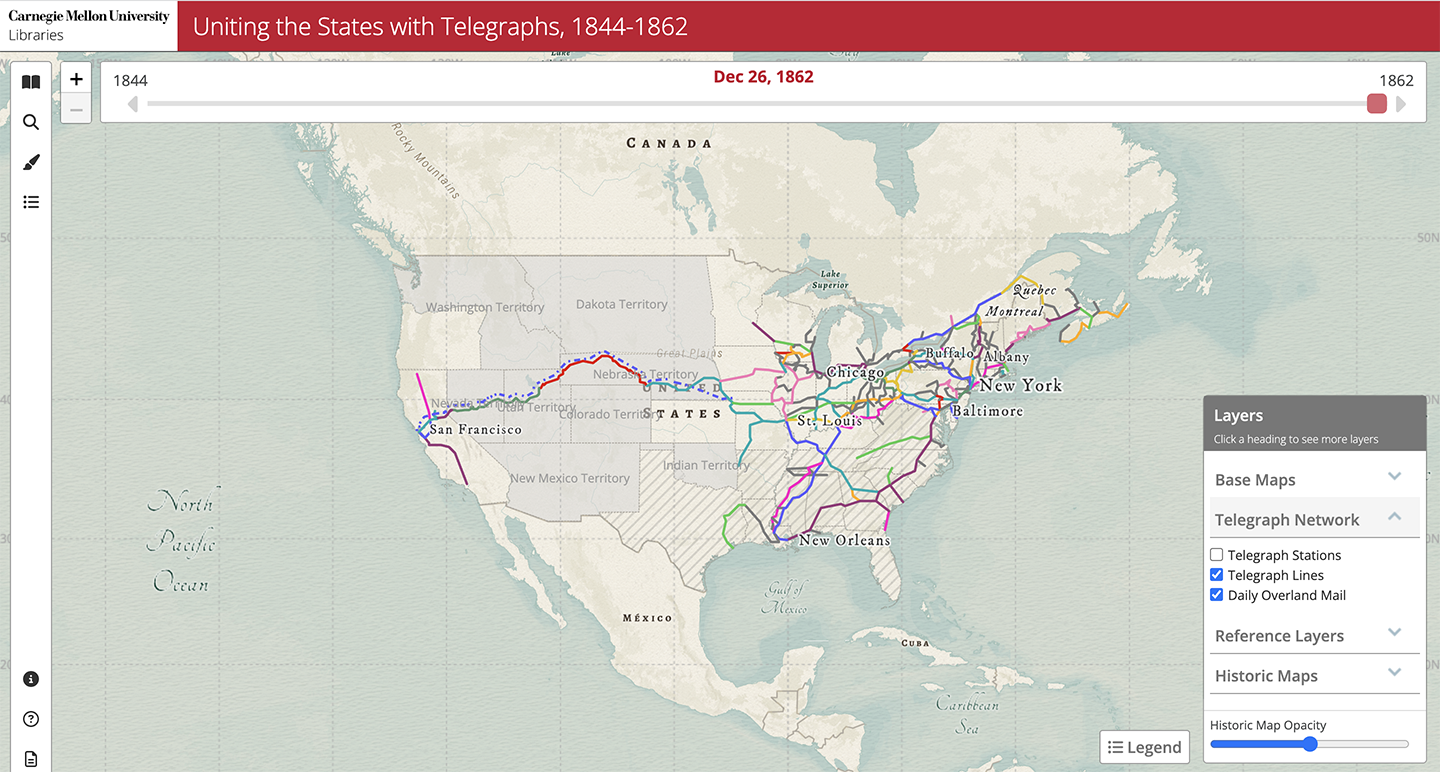 When Edmund Russell, David M. Roderick Professor of Technology and Social Change in Dietrich College of Humanities and Social Sciences' Department of History, needed a way to make his research publicly accessible online, he turned to the University Libraries' Web and Applications Developer Jonathan Kiritharan for help. Russell and Lauren Winkler, a geographic information system (GIS) cartographer and 2006 graduate of Carnegie Mellon's Information Systems Program, created the first digital map of a telegraph system, tracking the growth of networks in North America over time.
The Libraries hosts a number of other Digital Humanities projects, including Shakespeare-VR, Six Degrees of Francis Bacon, and the Encyclopedia of the History of Science (ETHOS). But beyond providing a place for research to live, the Libraries can also serve as an active partner and provide additional expertise for projects. Kiritharan's experience as a developer allowed him to advise the researchers at various steps of the process, contributing to a secure, successful final product.
---
Goal
Help a Dietrich College faculty member make research accessible on a site that is free for users, secure, and preserved online.
How We Helped
Provided digital preservation support by hosting the website on the Libraries' server.
Advised on coding and front-end debugging to ensure that the site was functional.
Secured the source code so that developer usernames and passwords were hidden from users.
Advised on copyright and helped select a license to protect the intellectual property of Winkler's code.
Results
Russell and Winkler's research "Uniting the States with Telegraphs, 1844-1862" is now publicly available online.
Users can track the development of telegraph lines across the United States between those years, and can also view contemporary states and territories, Indigenous territories, elevations, and more. At some points on the map, historic photos of telegraph stations are available as well.
Read more about this project in the story on the Dietrich College website.
---
by Sarah Bender, Communications Coordinator