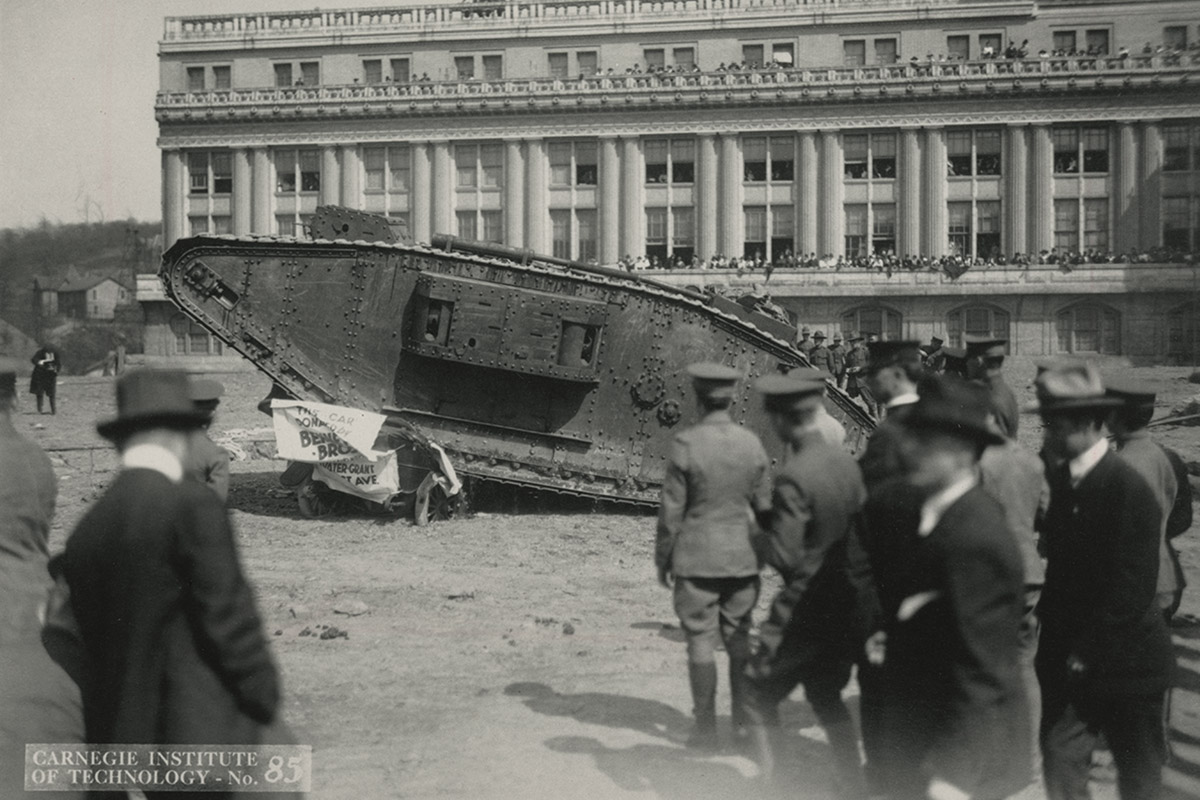 A demonstration of a British Mark V tank is given to soldiers and civilians on the campus of the Carnegie Institute of Technology.
The Carnegie Mellon University Archives is home to the General Photograph Collection — roughly one million photographs that document the history of Carnegie Mellon from the early 1900s to the 2000s. Thanks to a 2021 gift from Michael and Lonna Smith, the Libraries' Digitization Lab, in close partnership with the University Archives, has now completed the first year of a four-year project to digitize this extensive collection.
The collection consists of 121 linear feet of prints, transparencies, and negatives collected over more than 100 years. The invaluable primary sources capture campus community members, academic programs, events, athletics, commencements, and more. They tell the story of the campus from its founding, and also offer rich documentation of technology and experimentation on campus, including campus laboratories, computers, and machinery.
"This collection allows us to look into Carnegie Mellon's history — to see how our community has evolved over time," said University Archivist and project lead Julia Corrin. "Photographs also make our history tangible and vital in a way that documents alone cannot."
However, at the start of the project only about 20,000 photos — a mere 2% of the collection — had been scanned. In addition, many photographs in the collection were undated, and most lacked additional descriptive details such as subject names and locations, making searching for specific content nearly impossible.
The gift from Michael Smith, a 1968 College of Engineering graduate, and Lonna Smith, who graduated from the College of Fine Arts in 1969, was awarded to help overcome these challenges. By digitizing the General Photograph Collection, the Archives has the ability to significantly increase the accessibility of the content, and engage more deeply with CMU's alumni community. Digitization will allow for community members all over the world to celebrate the university's past, and help document important moments in campus history for future generations.
With a million photographs and countless unidentified subjects, a project of this scale required an expert. Jon McIntire, project metadata specialist and digitization technician, who has been with the Libraries since 2001, joined this project to process the photos. McIntire's work is a sort of detective investigation — he dives into the history of different organizations and events on campus to match mostly-unlabeled photos with the dates, people, and locations that are depicted.
"I love playing Sherlock Holmes with this, trying to figure out what's going on — and with some of these images, we just have no idea," McIntire said. "Sometimes you'll be lucky and there's a tiny little note on the back, or a line that says where something was taking place or what was going on. But that's not the case for the majority of them."
McIntire's work begins when Corrin identifies a group of photos that are ready for description. The photos come assembled in folders that are titled — but those titles are not always correct. For example, a folder might be labeled as a production of "Alice in Wonderland" when it was actually Shakespeare's "Love's Labour's Lost." McIntire verifies the available information, and then begins to dig deeper.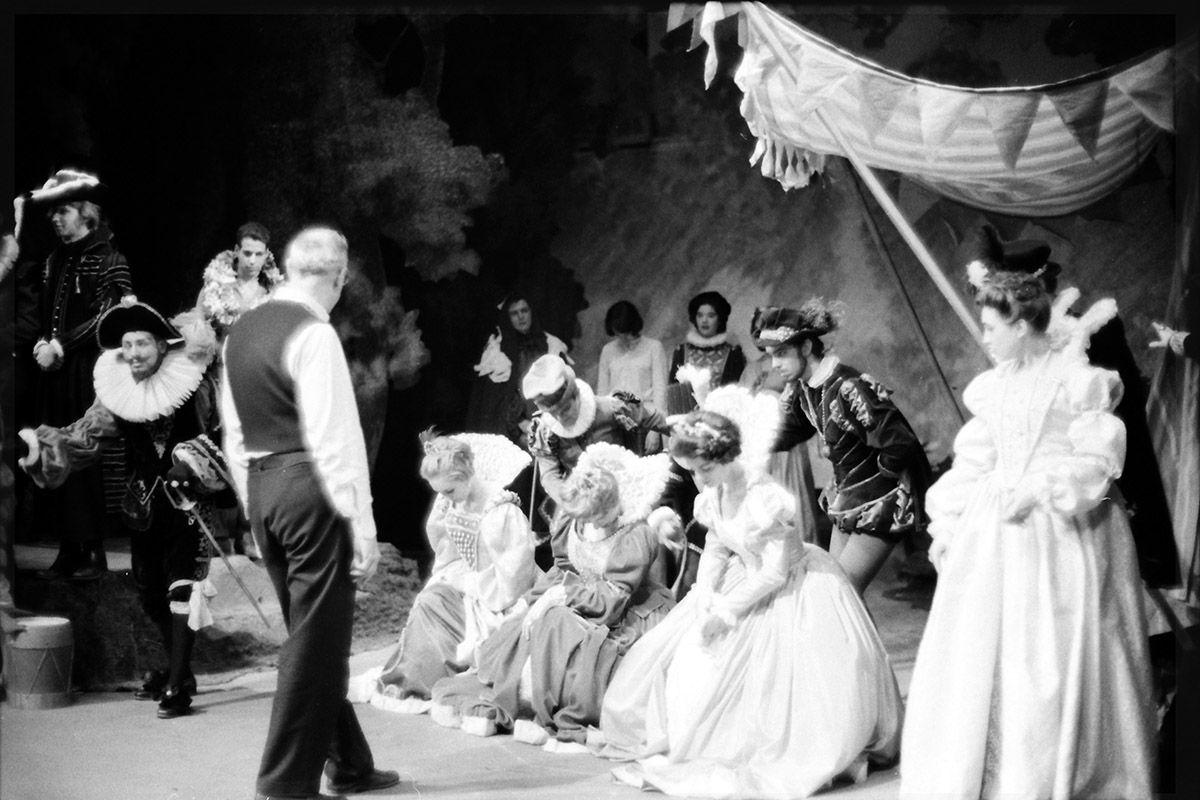 A previous Digital Collections undertaking, the migration to digital repository Islandora, laid the foundation for the next steps. McIntire, who also worked on that project, uses many of the resources now available on Islandora to help fill in metadata blanks: digitized copies of the Tartan student newspaper, the Thistle yearbook, and faculty newsletter the Faculty Bulletin. This gives him access to detailed records of historic events and people on campus.
He titles each photo, and lists the people he is able to identify through yearbook photos or mentions in the Tartan. He notes whether the image is a photograph or a negative. He also includes the date, as specific as he can make it.
"Sometimes I don't find exact dates, but when I do I include them," McIntire explained. "For example, during Spring Carnival, there are tons of sorority challenges. In some of the photos, it looked like people were walking like crabs or throwing things at each other. Another one was a challenge called 'Catch the Robber,' where you had to throw a hula hoop over a person. I was able to use the calendar from Carnival that year to pin down exactly when the events were happening."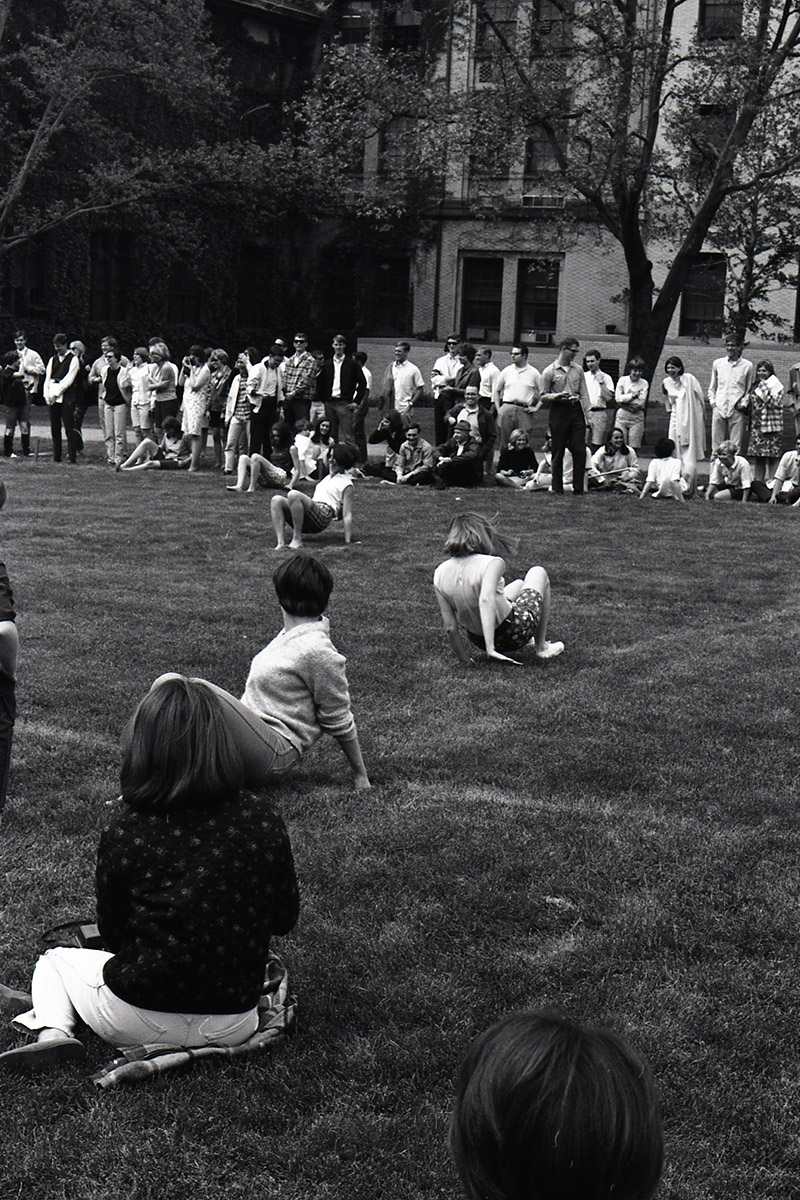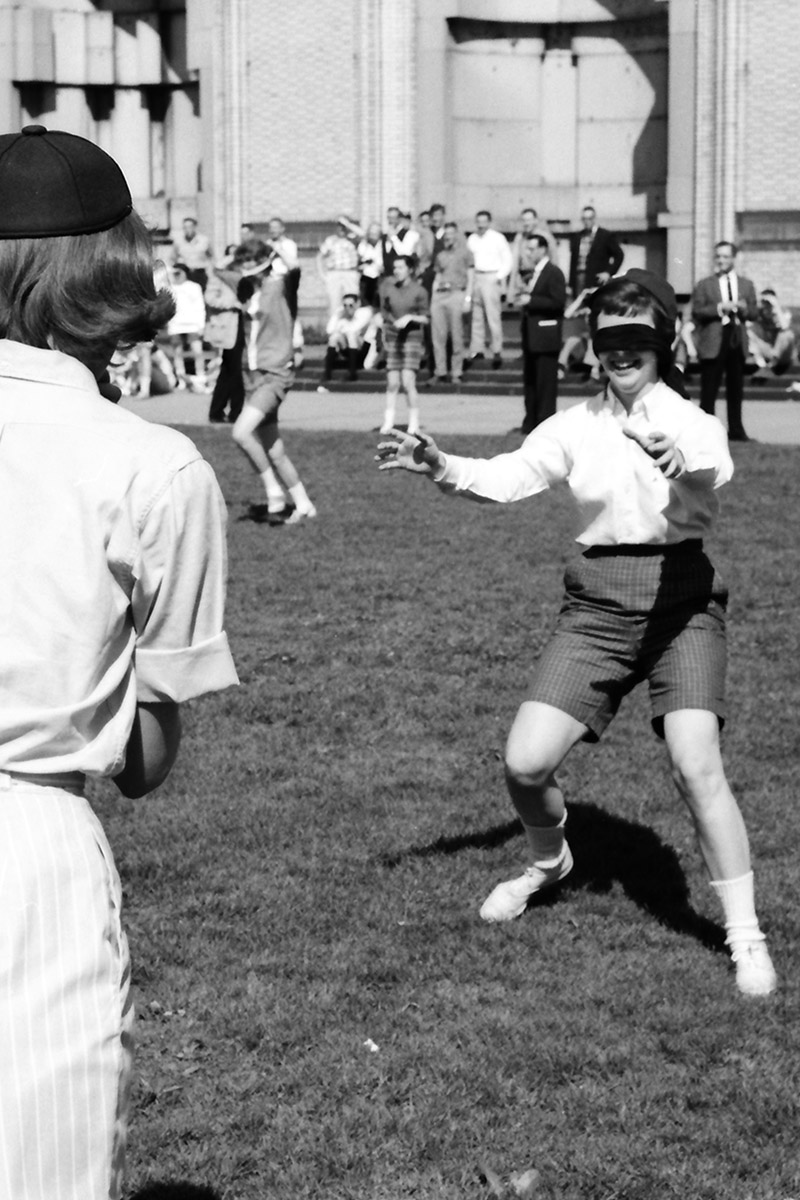 Another metadata field identifies the places that appear in the photos. To describe many of these, McIntire had to revisit the historic names of buildings on campus, like Administration Hall (now Baker Hall), Industries Hall (now Porter Hall), and Machinery Hall (now Hammerschlag Hall) — as well as buildings that no longer exist, like Langley Aeronautical Laboratory. Langley was built especially for the United States Army's School for Radio Mechanics and Airplane Mechanics during World War I, in the location where Hunt Library stands today.
McIntire only has about 20 minutes to investigate each photo, and sometimes he has no choice but to give a general description like "unidentified man talking to unidentified woman." "You have to remain objective with metadata, and if you don't know something for certain, you don't want to risk putting your biases on the picture," McIntire explains. "But I have a huge love of history, and I want to do my best to get to the bottom of what's going on. I feel like these images have a story to tell, and I don't want that to get lost. It's the history of Carnegie Mellon."
As of the end of April, more than 6,000 photos have been digitized. With three more years of the digitization project still ahead, incredible photos from CMU's past will continue to become available digitally. Keep up with the progress and view digitized images on the General Photograph Collection website.
Michael and Lonna Smith are longstanding CMU alumni, volunteers, and donors, who support a wide range of programs across the entire university at the University Libraries, the College of Fine Arts, and the College of Engineering. At the 2021 CMU Alumni Awards, they received the Alumni Service Award. They previously supported the buildout of the first floor gallery in Hunt Library, and created an endowment to fund exhibitions that celebrate collections held by the University Archives.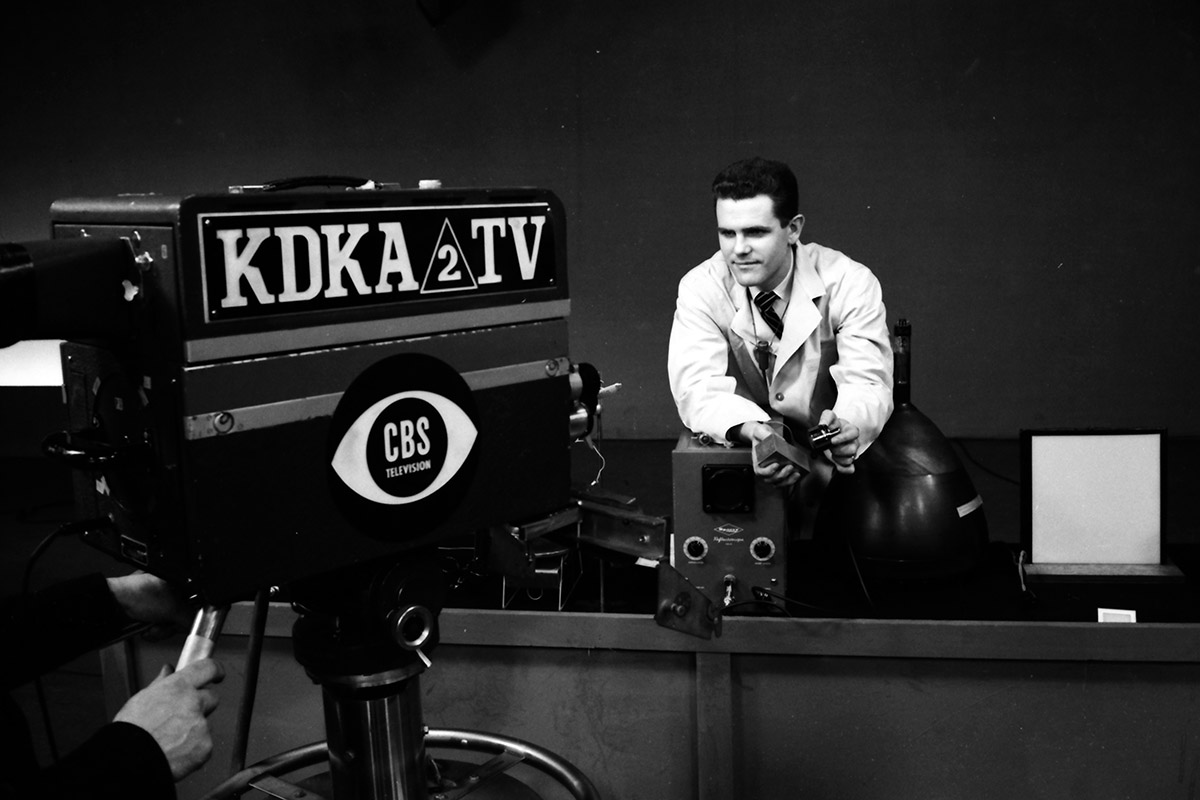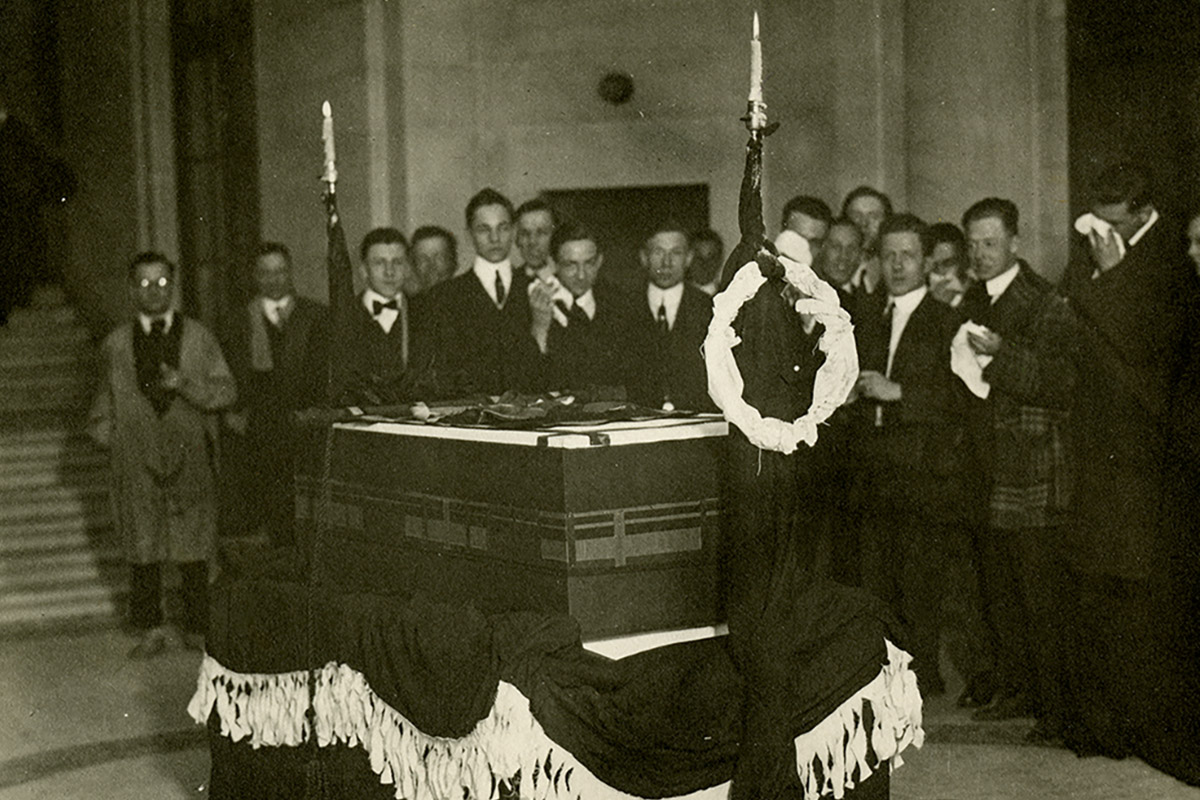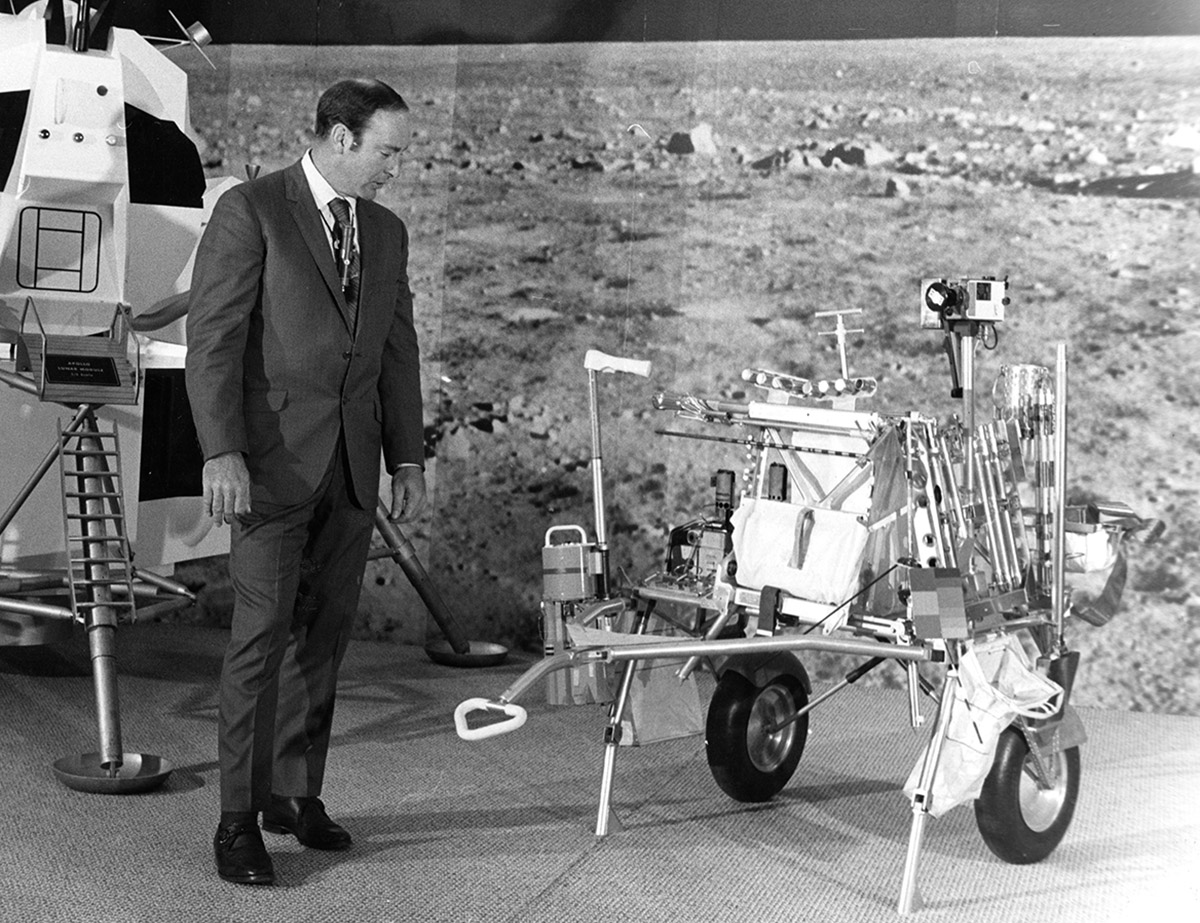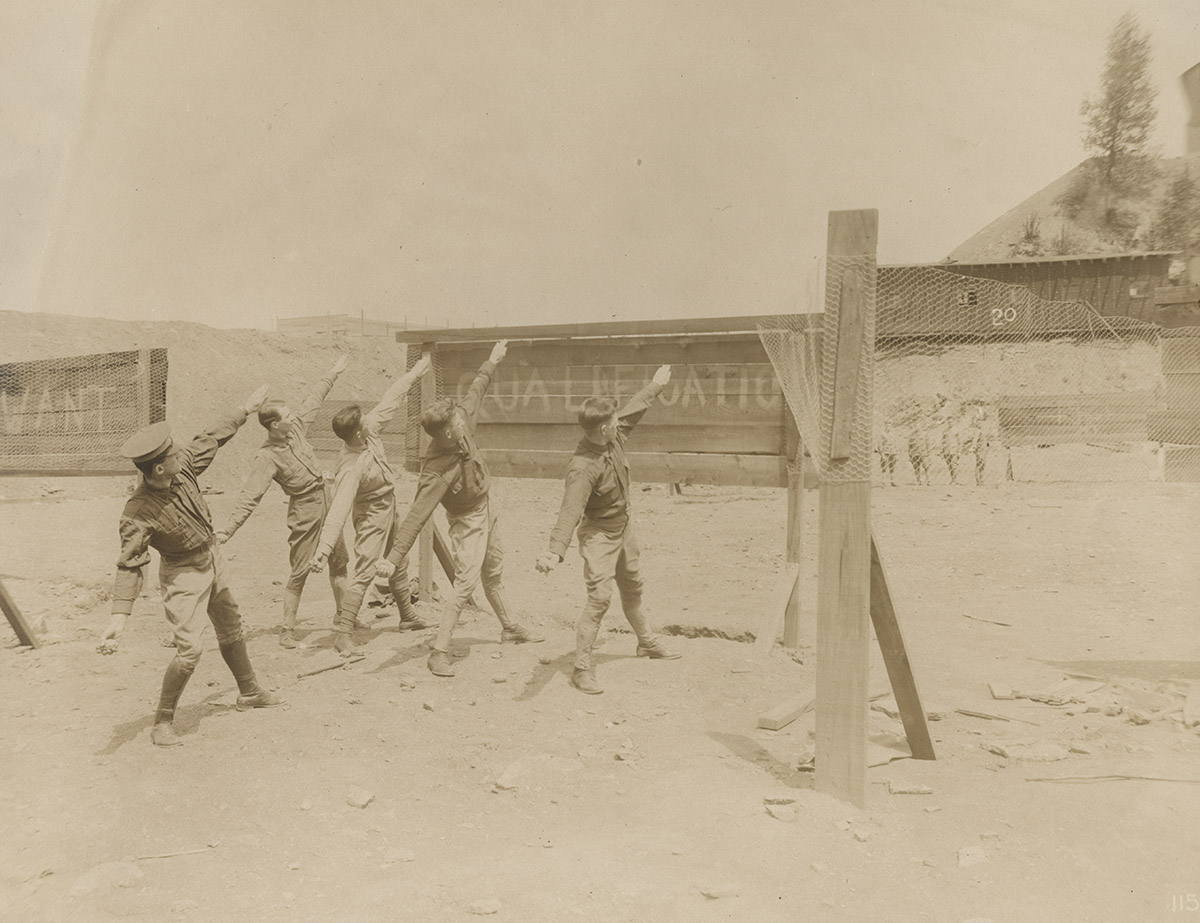 ---
by Sarah Bender, Communications Coordinator