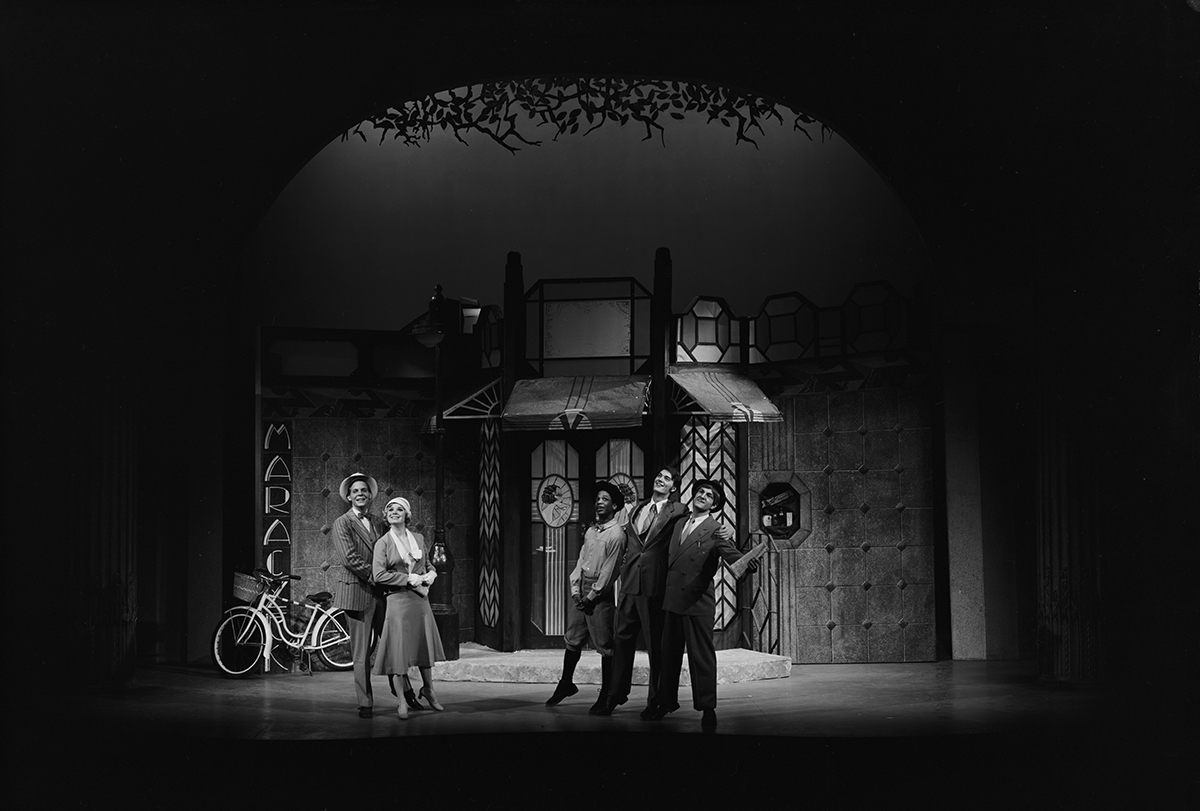 The Carnegie Mellon University Archives is the official repository for Carnegie Mellon's intellectual, cultural, and administrative history — it holds more than 100 years of digital and analog materials from university leadership and administration, academic programs, student organizations, and more. So when the School of Drama decided to host an event honoring Sheldon Epps, an alumnus who graduated nearly fifty years ago, they turned to English and Drama Liaison Librarian Ashley Werlinich for her access to Libraries resources and expertise.
Epps was an acting student in the School of Drama from 1969-1973, who went on to form his own production company and bring shows to Broadway. Now a renowned television and theater director who led the Pasadena Playhouse as Artistic Director for twenty years, he recently published his memoir "My Own Directions: A Black Man's Journey in the American Theatre." School of Drama associate professor and Area Chair of the John Wells Directing Program Kim Weild invited Epps to campus to engage with students and faculty in the School of Drama and the College of Fine Arts about his life and career. Epps held two book signings on November 17 and 18, met with several groups of students, and led an interdisciplinary roundtable discussion for the Center for the Arts in Society.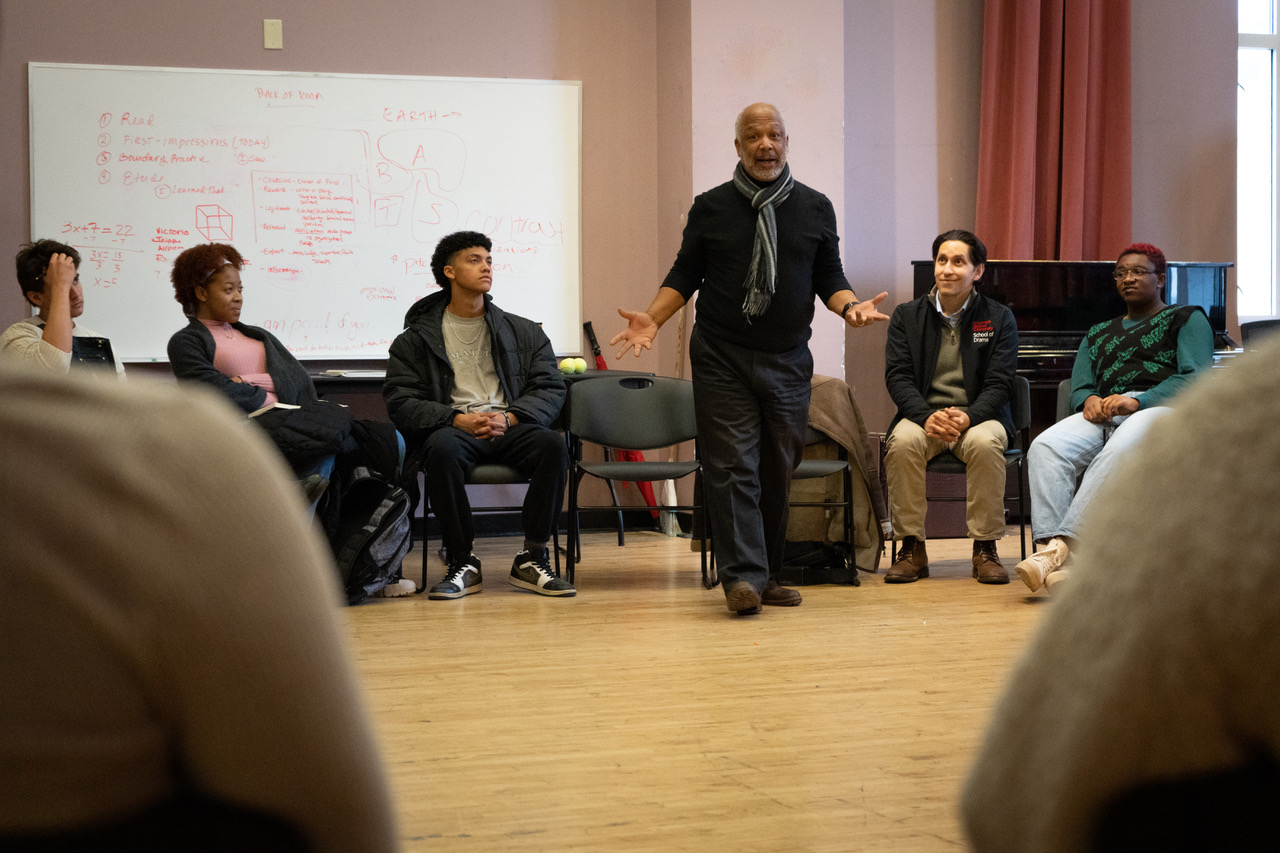 Werlinich worked with archivists at the University Libraries, and with theaters and other cultural organizations across the country, to acquire headshots, production photos, playbills, and more. Together, Werlinich, along with Weild, created an exhibit in honor of Epps' history from his time at Carnegie Mellon through today.
"Ashley was a wonderful collaborator who brought together her terrific research and organizational skills to create an exhibit timeline of both Sheldon's years at CMU and his professional work," Weild explained.
Throughout his life, Epps was a trailblazer, and often found himself the only actor or director of color in a room. His book explores the joys and struggles this journey, detailing his efforts to champion diversity both on and off the stage. The School of Drama, which has made a commitment to embodying anti-racist theater practices, knew this was an important story to share with students. Highlighting Epps' experiences helped elevate their goal of prioritizing diversity, equity, and inclusion in the CMU community, and the theater industry as a whole.
"Sheldon is a Black leader of the American Theater whom many refer to as their 'godfather,'" Weild said. "He is a trailblazer upon whose shoulders many of our students stand — yet many of them did not really know who he was. His engagement with them was fantastic, joyous, and uplifting."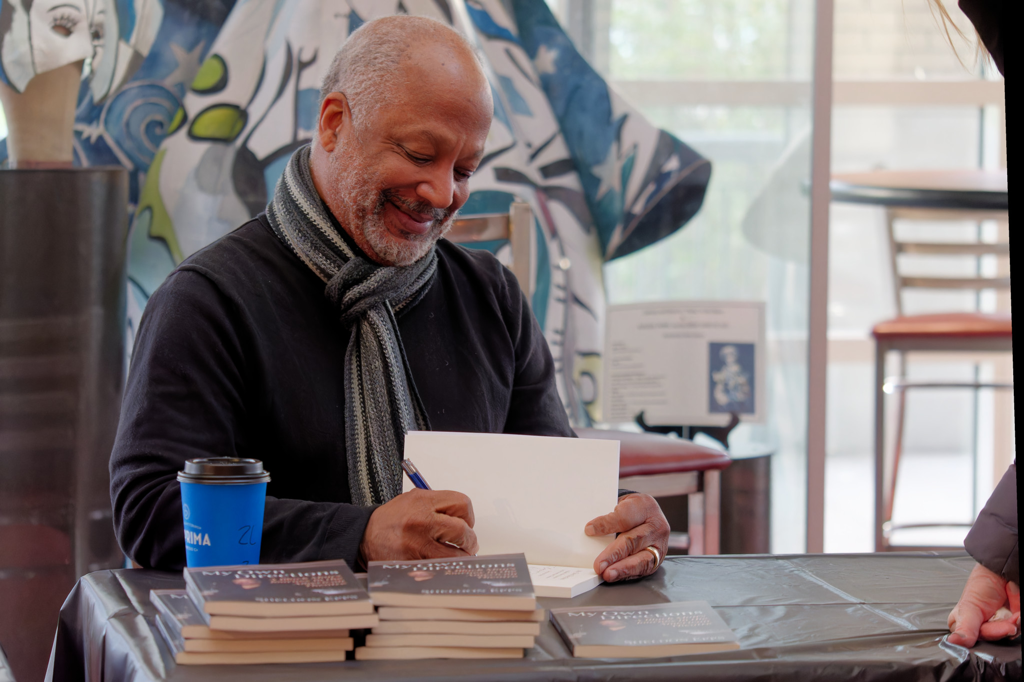 The University Libraries, which has been engaged in a number of its own diversity initiatives, welcomed the opportunity to help highlight another powerful example of representation. "It's so important for this artist to come back and reflect on his experiences as a person of color in the theater industry," Werlinich said. "He can help us examine what the industry looked like then, what it looks like now, and how we can be intentional as we shape new approaches to theater that are welcoming to everyone."
Beyond the University Archives, Werlinich also connected the School of Drama with colleagues at the University of Pittsburgh University Library System, which recently acquired the August Wilson Archive. The collection, which contains more than 450 boxes of material, documents a wide array of Wilson's career and interests from the 1960s to 2010s. It includes scripts and production materials, Wilson's personal library and music collection, artwork, poetry, unpublished work, correspondence, and more.
"When you get a collection like this one, which is so important to Pittsburgh and the theater community, you want it to be used," Werlinich explained. "CMU's drama department is a natural partner to help connect people with the materials, and this event was a great opportunity to get everyone in one room and get a conversation going — an opportunity to connect people at Carnegie Mellon and beyond, and turn this into a true interdisciplinary experience where people across Pittsburgh could share and grow."
In her time as liaison to the School of Drama, Werlinich has had a chance to work with drama students, faculty, and staff on a wide range of projects — everything from teaching classes to helping find grants and funding to highlighting playwrights of color. She appreciates that the department is very collaborative, and home to people with a wide range of interests and career paths — and that it often takes a different approach to more traditional departments on campus.
"Drama has been a great collaborator across the board, especially when it comes to seeing the Libraries in unexpected ways and being honest about the best ways that we can meet the needs of their students," Werlinich said. "I can't wait to see what we can continue to build together, and how our services can evolve going forward."
---
by Sarah Bender, Communications Coordinator
Feature image: Production Photo from "She Loves Me," courtesy of: School of Drama Photographs Collection. Carnegie Mellon University Archives. Image 2: Photo by Chris Jovanelli, Sheldon Epps with actors. Image 3: Photo by Foo Conner, Sheldon Epps book signing.