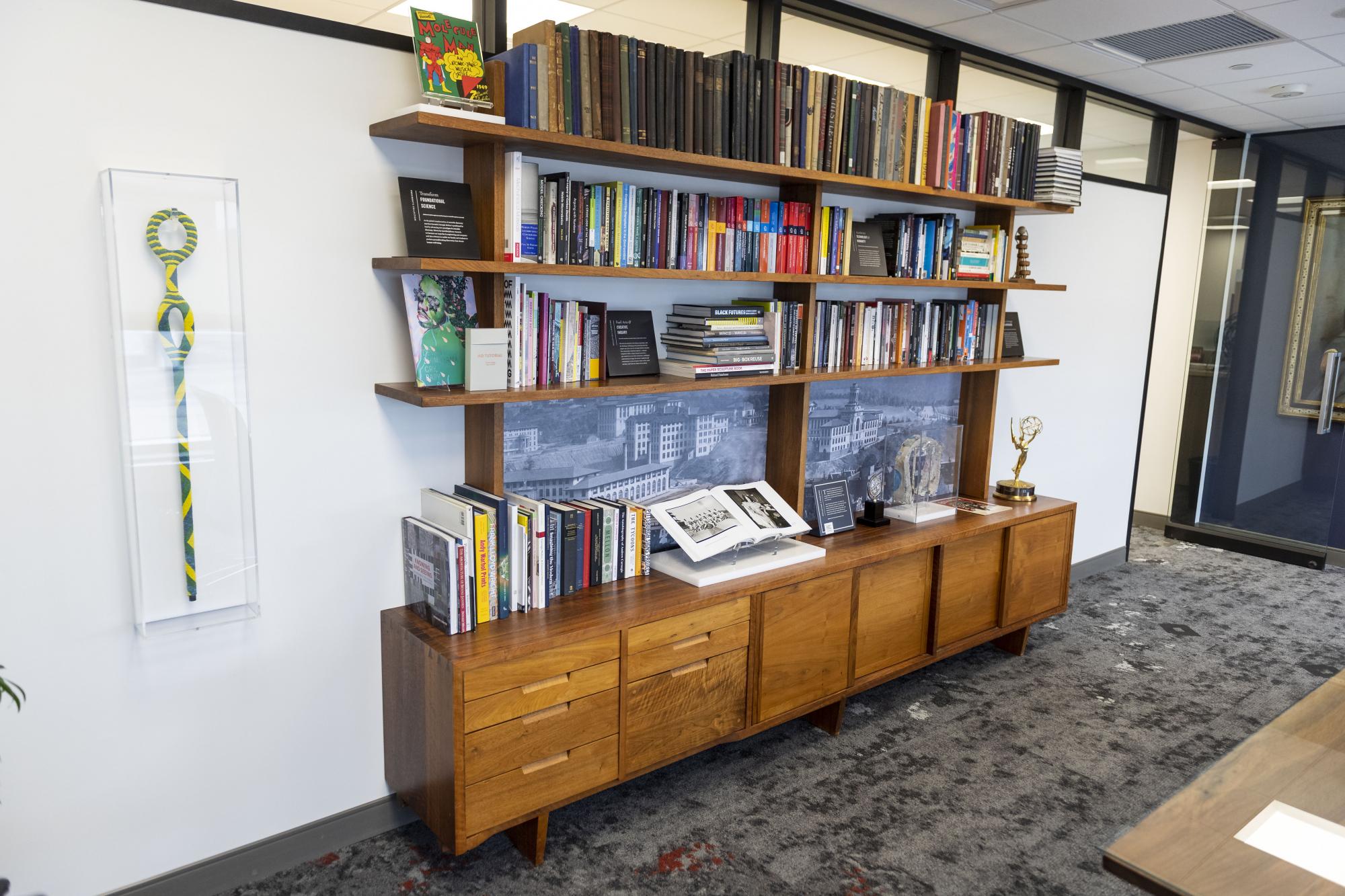 To sum up the university in a single snapshot would be impossible—but a view of President Farnam Jahanian's bookshelf comes close.
Carnegie Mellon University Libraries and the University Archives curated a selection of books and objects for a display that chronicles the university through expressions of its heritage, voice and impact.
No ordinary bookshelf, this handcrafted piece was designed by George Nakashima and commissioned in 1966 as part of a suite of furniture for the President's Office Warner Hall. In an effort to showcase CMU history, The President's Office consulted with the University Libraries to curate what this shelf, which already has a unique relationship to the history of the university, should hold.
"The University Libraries delighted the President's Office with their creative approach for transforming the Mellon Conference Room bookshelf and surrounding space into a vehicle for storytelling. The result is expertly curated and beautifully designed to encapsulate the university's mission, student body and achievements, as well as our aspirations for the future," said Kelly Elder, Executive Administrator to the President and Office Manager.
The display is tucked inside the Mellon Conference Room in President Jahanian's Office on the sixth floor of Warner Hall. The conference room is not open to the public. The bookshelf has four shelves with titles written by or about university faculty, students, and alumni across a broad spectrum of disciplines.
University Libraries' Designer, Heidi Wiren Bartlett and University Archivist, Julia Corrin created the display based on a framework of four conceptual themes. The four themes—Accelerate technology and humanity, Fuel arts and creative inquiry, Transform foundational science and Foster a stronger CMU experience—were inspired by the university's Make Possible Campaign, which was launched in October 2019 to raise funds to accelerate CMU's leadership and fuel work across the university. These pillars help tell the story of CMU's transformative impact on individuals and on society.
"To give the office and its bookshelves personality, they needed to display more than books!" Barlett said. "Momentos, awards, and photographs make this ordinary space extraordinary."
Bartlett selected a local vendor to create steel bookends that bear inscriptions about each pillar. The use of steel, one of Pittsburgh's signature materials, was among her many intentional design decisions that evoke a sense of time and place.
Prominently featured books on Pittsburgh Courier photojournalist Charles "Teenie" Harris and the region's renowned architectural masterpiece Frank Lloyd Wright's Fallingwater are other nods to the region and CMU's hometown. From the pandemic, a grey box contains a 2020 catalog of the School of Art's "No Tutorial," the first senior art exhibition presented in a fully digital format without a physical gallery space.
"Of course, there is a lot more happening at CMU than can be summed up on these shelves.. Julia and I consider this a 'living' collection, with the flexibility to add and incorporate more and different content in the future," Bartlett said.
For example, Bartlett intends to incorporate an artifact related to CMU and space travel in the coming months.
"Heidi did remarkable work in identifying recent and non-print material and including representations of Pittsburgh," Corrin said.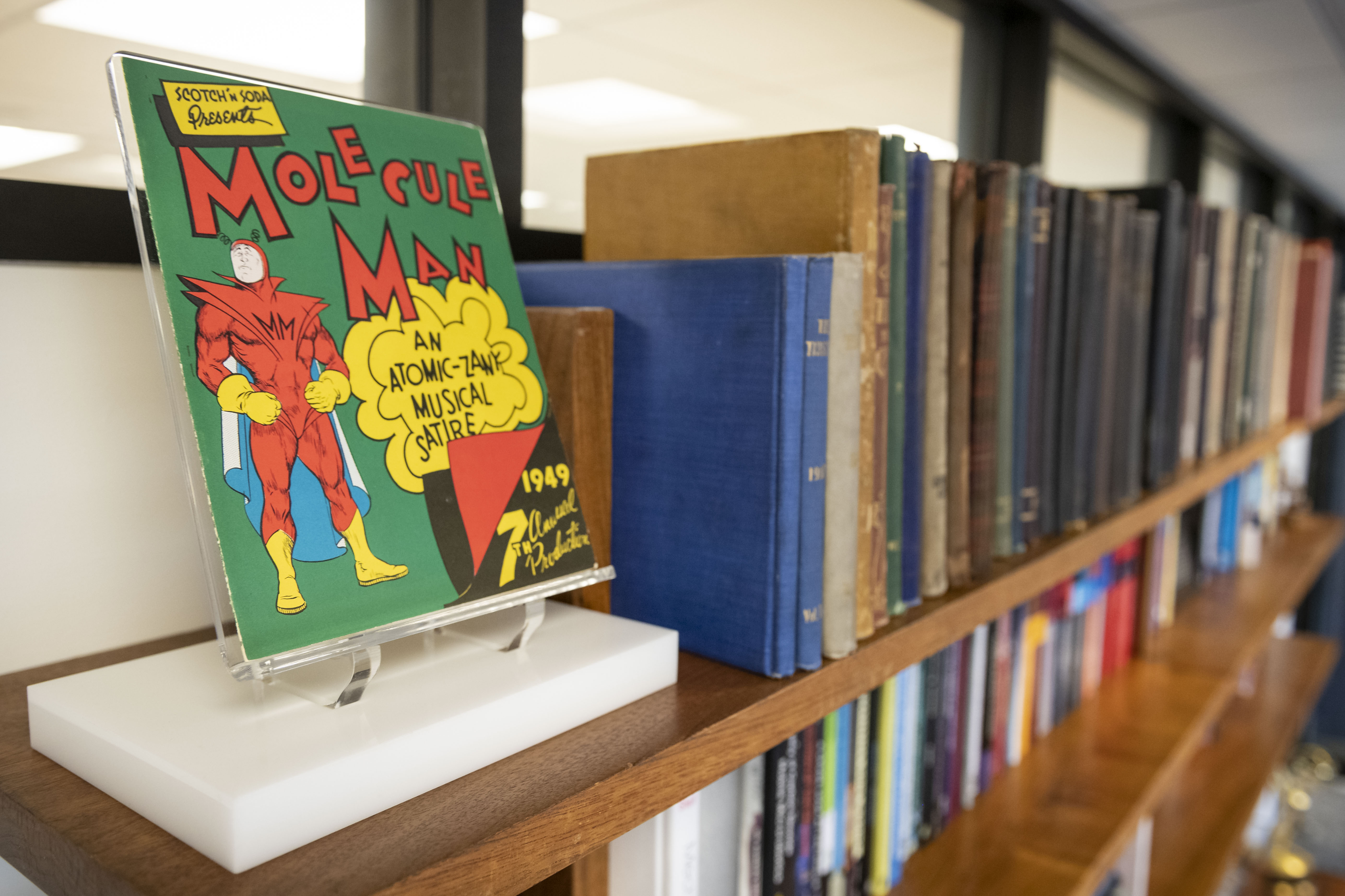 Corrin handpicked artifacts from the University Archives to supplement and enhance the display. Among her favorites is a playful, Pop Art-inspired program from the 1949 Scotch 'n' Soda production of Molecule Man. She also loves the cross-section of the original Fence, which collapsed in 1993 and was replaced with today's steel and concrete structure.
"It's really special to have an object that decades of students have touched and contributed to," Corrin said.
Student life is an important part of the display. Corrin retrieved The Thistle yearbooks, from nearly every year since it was first published in 1906, to line the top shelf.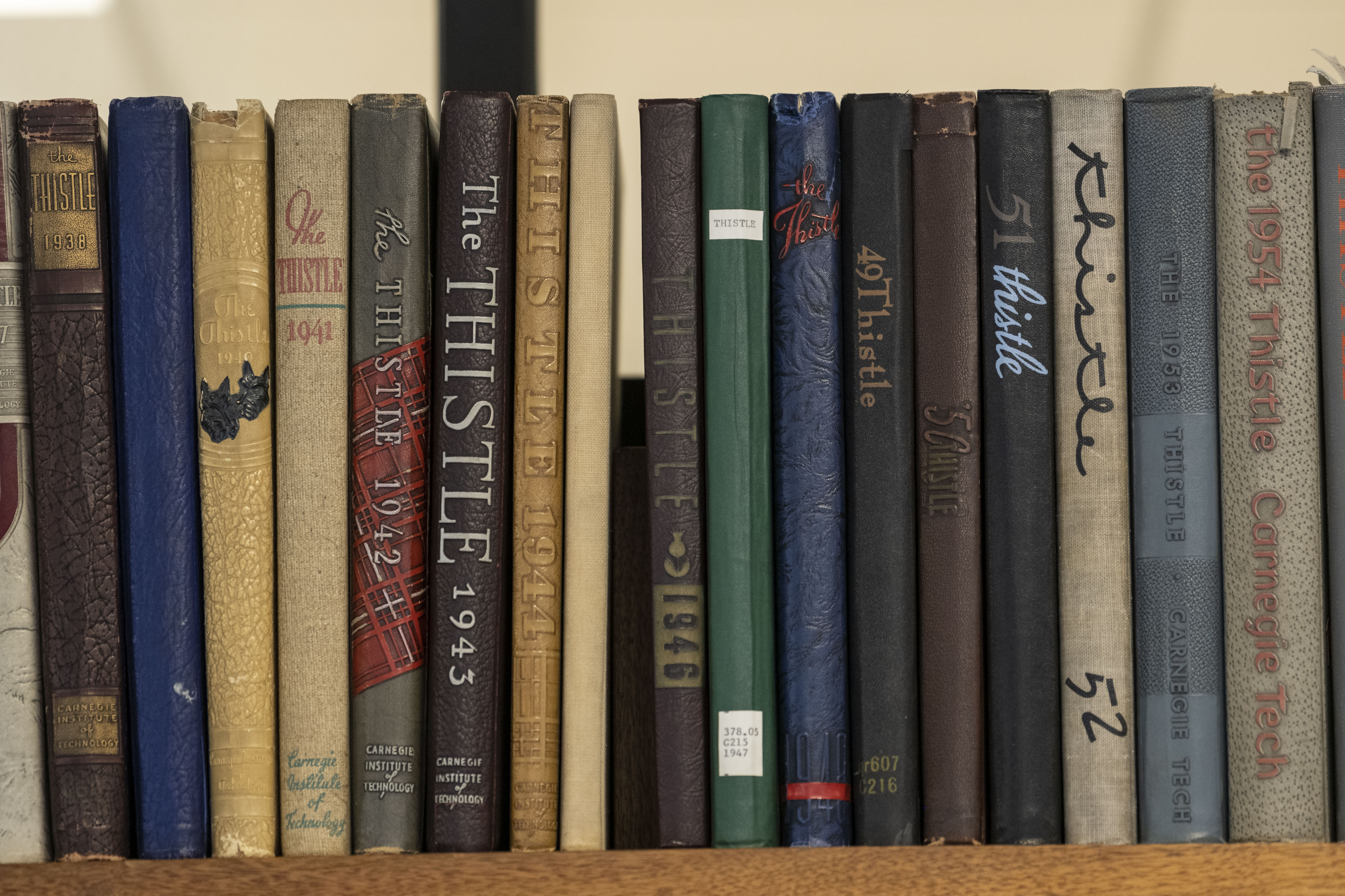 Anchoring the shelf at the ends and on the base are objects representing world-class achievements, such as Nobel Laureate Herb Simon's wooden "Magic Knot" logic puzzle, alongside his books that have been translated into multiple languages. Glints of silver and gold shine from an Emmy Award and Tony Award, won by Sada Thompson (CFA 1949) for her role as Kate Lawrence on ABC's Family in 1978 and for her performance in George Furth's Twigs in 1972, respectively.
With its shelves now filled, the Nakashima bookshelf is a beautiful and thoughtful display that reflects the rich history and traditions of the university and the vibrant spirit of the city of Pittsburgh.
by Ann Lyon Ritchie