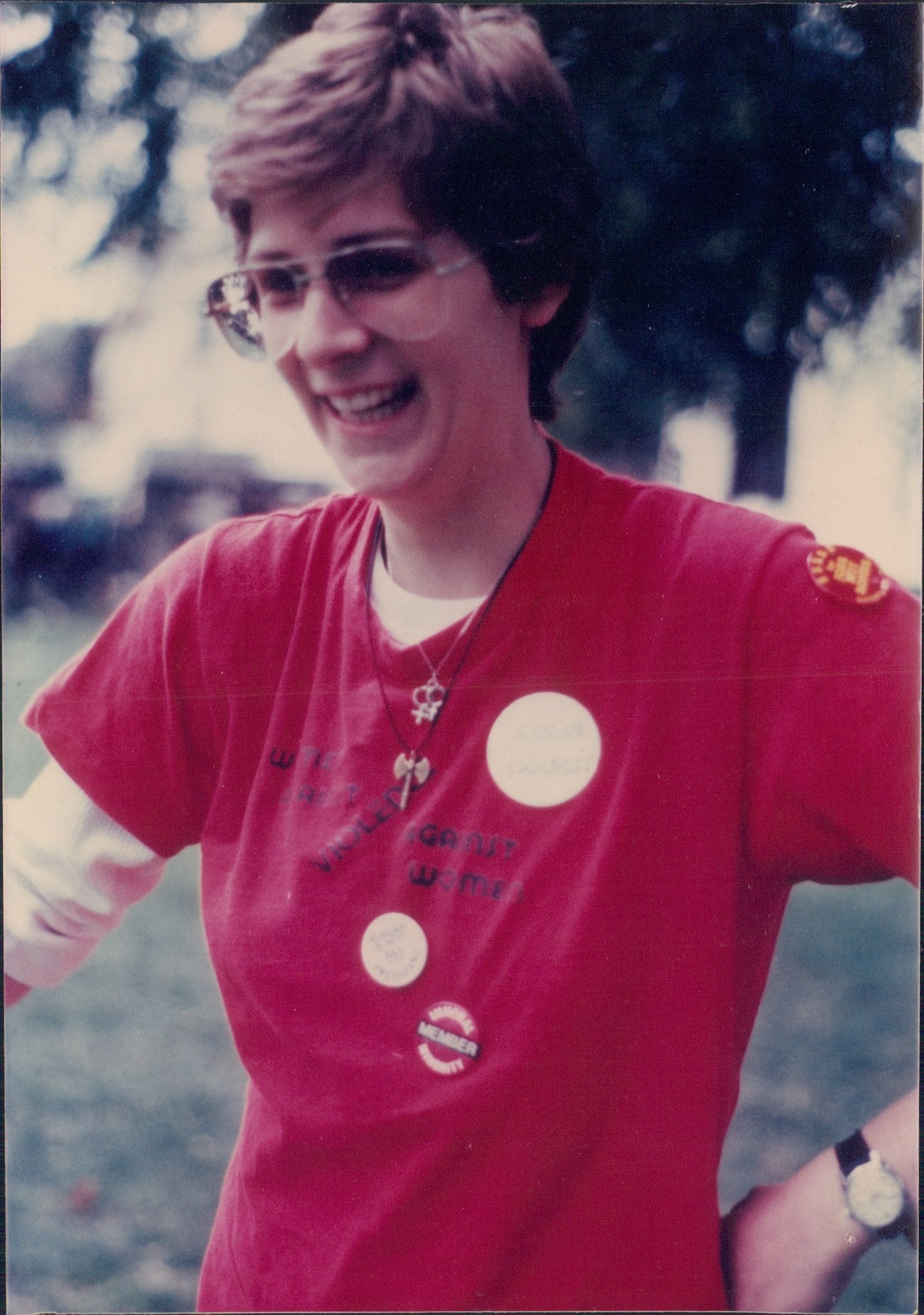 To understand how much Pride Month means to me, here's a bit of background. My first Gay Pride march (as we called it then) was sometime in the late 70s, down Fifth Ave. into Oakland. As we passed Mellon Institute, local news aimed their cameras at us, and some of the marchers covered their heads with brown paper bags. I realized at that moment how much we could lose - our jobs, our families, our homes - and how exposed we were to danger.
It's been some years, with more acceptance, some legal protections, and the ability to marry all won through great struggle. I still keep a wary eye; I'm used to protecting myself. But I've tried to be as out as I can. I know the Pittsburgh lesbian community has kept me alive and optimistic. I also credit LGBTQIA+ writers for giving me the inspiration and entertainment I needed.
Luckily, as I was coming out, the feminist movement combined with the lesbian publishing boom of the '70s. Pittsburgh's first women's bookstore, Birmingham Booksellers, opened on a Carson Street second floor in the South Side. I remember books stacked on shelves, on the floor, on the sill of the window looking out across the Birmingham Bridge; I paged through those books and felt like I was flying.
When that store closed, the Gertrude Stein Memorial Bookshop, run by a women's collective, opened in a former cigar store on Carson near 10th Avenue. Gertie's had walnut shelves filled with women's/feminist/lesbian fiction, nonfiction, poetry and journals; a room to lounge in; and a courtyard for readings. What follows, in no particular order, is my personal bibliography of books that shaped my life, gave me hope and lifted me up through those early years.
Women's Studies classes at Pitt introduced me to Adrienne Rich's poems in "The Dream of a Common Language" (PS3535 .I233 D7 1978 and online). I remember so many women reading her work aloud, the lovely, lyrical images contrasting with her tone of dogged persistence. Audre Lorde's poetry and prose, especially "Sister Outsider: Essays and Speeches" (PS3562 .O75 S5 1984 and online) taught me that "your silence will not protect you" and that "the master's tools will not dismantle the master's house" - concepts that are truisms now, but worth reading in full in her essays.
Judy Grahn inspired a generation of lesbian poets with "The Work of a Common Woman" (PS3557 .R226 W6 1980). Cheryl Clarke had the guts to title her book "Living as a Lesbian" (PS3553 .L314 L58 1986), no small feat in 1986; she followed it with "Humid Pitch: Narrative Poetry" (PS3553 .L314 H86 1989) describing the lives of African American lesbians. I'd recommend Adrienne Rich's "Essential Essays: Culture, Politics, and the Art of Poetry" (PS3535 .I233 A6 2018c) and Judy Grahn's study of mythology and language "Another Mother Tongue: Gay Words, Gay Worlds" (HQ76.25 .U5 G73 1984) for people who would rather read prose. Grahn's account of finding that the pronunciation of the warrior goddess Boudicea originally was closer to "bull-dyke" fascinated me.
In the fiction department, Rita Mae Brown is now successfully writing mysteries with the assistance of her cat, Sneaky Pie. But she began with the lesbian coming-of-age novel "Rubyfruit Jungle," followed by "Six of One" (PS3552 .R698 S5 1979). Jeanette Winterson's stunning novel "Oranges are Not the Only Fruit" (PR6073 .I558 O7 1987) describes a girl's escape from her family's religious fanaticism. Jane Rule gave us "Desert of the Heart," later made by director Donna Deitch into "Desert Hearts" (DVD-7576), the first widely released positive portrayal of lesbians in film. For more information on gays and lesbians in the movies, check out Vito Russo's classic book "The Celluloid Closet: Homosexuality in the Movies" (PN1995.9 .H55 R8 1981), also made into a documentary (DVD-571).
My consciousness about class probably began with Judy Grahn's poetry, but it definitely grew through Dorothy Allison's shattering memoir of poverty and abuse in Appalachia, "Bastard out of Carolina" (PS3551 .L453 B37 1992), and her essays in "Skin: Talking About Sex, Class and Literature" (PS3551 .L453 Z475 1994). Joan Nestle, Lee Lynch, and Leslie Feinberg ("Stone Butch Blues: A Novel" PS3556 .E427 S7 1993) also wrote about working class and butch and femme lesbian life. "Boots of Leather, Slippers of Gold: The History of a Lesbian Community" (HQ75.6 .U5 K47 1993) by Elizabeth Lapovsky Kennedy is an eye-opening study of a working-class black and white lesbian community in Buffalo, NY.
Like any other movement, we made mistakes, and certainly some of us had a lot to learn about classism, racism, antiSemitism, and ableism. We tried to represent all of our differences; editors of anthologies stepped in to fill the void with books like "Nice Jewish Girls: A Lesbian Anthology" (HQ75.6 .U5 N5 1990), "Home Girls: A Black Feminist Anthology" (E185.86 .H7 1983), and "This Bridge Called My Back: Writings by Radical Women of Color" (PS509 .F44 T5 1983). Certainly our understanding of the LGBTQIA+ community continues to expand and grow.
Every movement needs a sense of history (herstory), which Lillian Faderman fulfilled with her "Surpassing the Love of Men: Romantic Friendship and Love between Women from the Renaissance to the Present" (HQ75.5 .F33 1981B) and with "Odd Girls and Twilight Lovers: A History of Lesbian Life in Twentieth-century America" (HQ75.6 .U5 F33 1992). We also had Jonathan Katz's masterwork "Gay American HIstory: Lesbians and Gay Men in the U.S.A." (HQ76.3 .U5 K37 1992).
More importantly, every movement needs a sense of humor. Kate Clinton, a "fumerist" (feminist humorist) performed lesbian stand-up comedy before Ellen DeGeneres, and so did Marga Gomez, Lea DeLaria and Karen Williams. Alison Bechdel honed her skills in a comic strip, "Dykes To Watch Out For," in lesbian journals for years; later she wrote "Fun Home: A Family Tragicomic" (PN6727 .B3757 Z46 2007), which found great success as a Tony award-winning Broadway musical (CD 8990). I'm amazed and grateful for all the LGBTQIA+ literature I've enjoyed, and I'm excited for future possibilities.
---
Reviewed by Jan Hardy, Library Specialist. Feature image of Jan at a march in Washington, DC in the late 1970s.