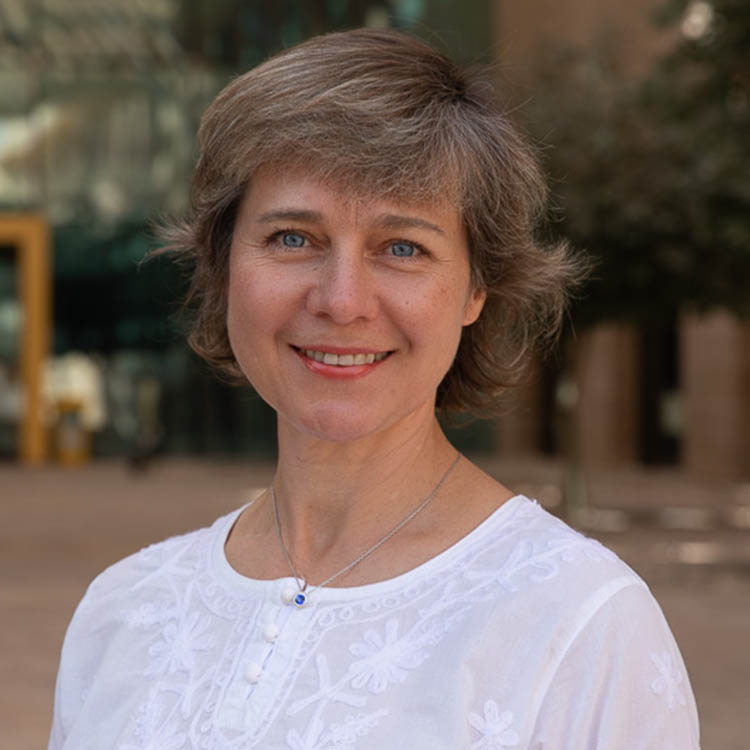 Please join us in welcoming Tatiana Usova to the Carnegie Mellon University Libraries as the Director of the Library, CMU-Q. Prior to joining the Libraries, Tatiana was the Associate Director of the Library at Georgetown University in Qatar.
We asked Tatiana, who uses she/her/hers pronouns, a few questions about herself and her plans for her new role.
What are you goals for this year as our new Library Director?
Right now, my primary focus is getting up to speed. I guess you heard the expression 'measure twice, cut once'. So, before setting concrete goals for myself and the team I feel that I need to familiarize myself with the CMU-Q culture, values and priorities, meet key decision makers, build relationships with primary stakeholders, understand the library modus operandi as well roles and contributions of each team member, explore the most popular library resources and find out what services are most valued by our community. Then I will be ready to provide both "a map and a compass" for the library. In May, together with the team I plan to set goals for 2022-23. The priorities for the year will be to keep up the good work that was done before, maintain the library reputation at a high level, hire new librarian to replace Jasmine who will leave in August and strengthen the library team in line with the CMU core values of collaboration, inclusion, empathy, creativity and dedication.
How has your prior experience prepared you for this role at the Carnegie Mellon University Libraries?
Four and a half years that I worked at Georgetown University in Qatar were crucial for me to understand the ecosystem of the Education City (EC) and the way the top American universities operate and achieve their mission here in the Gulf. So, I know well the environment in which CMU-Q operates. Over the years I managed to meet all EC librarians and build connections. There is a big push for collaboration across universities in the Education City, and I am well-positioned to contribute to these conversations.
Prior to Qatar, I was the Director of a library at the University of Alberta, one of the top research universities in Canada. It was a great experience in terms of learning the tricks of the trade, growing my competencies and enhancing my leadership skills that I can successfully apply in my current job.
What projects are you excited to tackle in your first few months?
There are several tasks that I need to complete, e.g. hire a new librarian, set library budget for 2022-23, keep library open with many employees taking long vacations after the COVID pandemic period. What I am really excited about is probably the upcoming trip to Pittsburgh where I hope to meet many of you in person, talk about the wonderful work you do, hear about the projects you lead and the value they bring to the university. Another thing that excites me is witnessing the trust and support offered to me by the library team. It is really inspiring to see how motivated library folks are to serve the CMU-Q community and add value to people's lives.
What do you like to do outside of work?
When I took Gallup StrenghFinder2.0 test, I was not surprised to find out that my top strength is Learning. This is something that energizes me. I love attending different training programs and listening to webinars on the topics of interest. Healthy lifestyle, leadership, financial literacy were the areas I topped up my knowledge in the past few years. I am also passionate about ballroom dancing but it is non-existent in Qatar. Thus, I replaced it with playing social volleyball and being part of the Qatar Concert Choir. Like many of you, I love nature and enjoy walks in parks and forests. No forests here but the country's efforts to create parks in the desert are commendable. Doha is good for walking but only during six months, then you need to solidify your friendship with a treadmill. I also like watching films and TV-shows that present real-life stories with psychological twists. Younger and Call My Agent are recently watched TV series that I truly enjoyed.