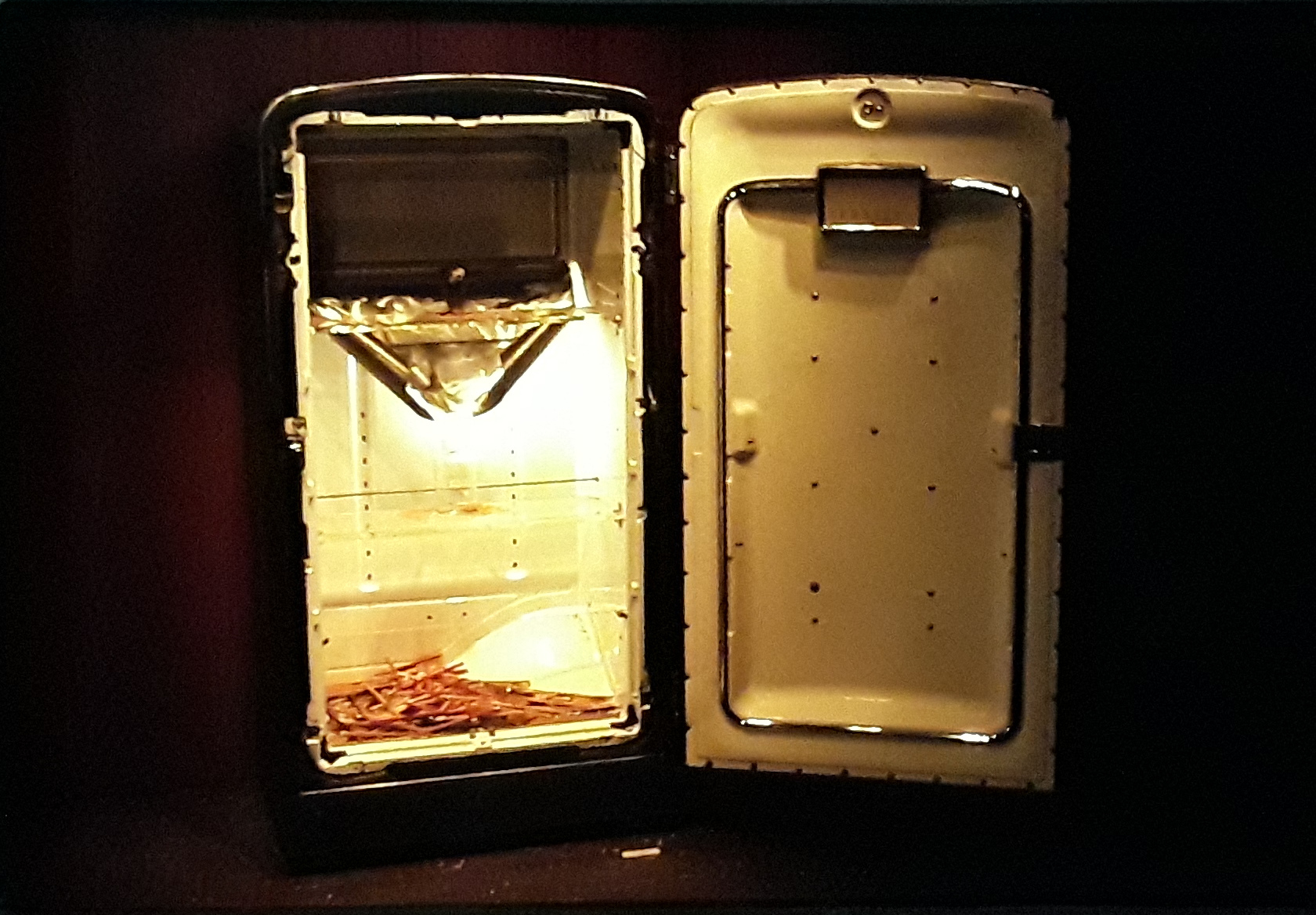 For over thirty years, a classic refrigerator from the 1950s has baffled, amused, and intrigued visitors to Hunt Library. The lore of the "fourth floor fridge" has grown recently, you may have heard that the mysterious art piece once belonged to Andy Warhol. Perhaps you've developed theories of your own or have pondered its perplexing presence in the library. Where did it come from? Why is it here? What's with the pencil sharpener?
Adding to the mystique is the fact that those who knew its origin story have all either retired or left the Libraries. We began by asking the above questions to the people who've worked in Hunt Library the longest, eventually acquiring a few leads from several retired librarians. Soon it was known that the iconic refrigerator was an ambitious art project of a former CMU student in the early 1990s: Nicholas Madjerick, 1993 graduate of the College of Fine Arts.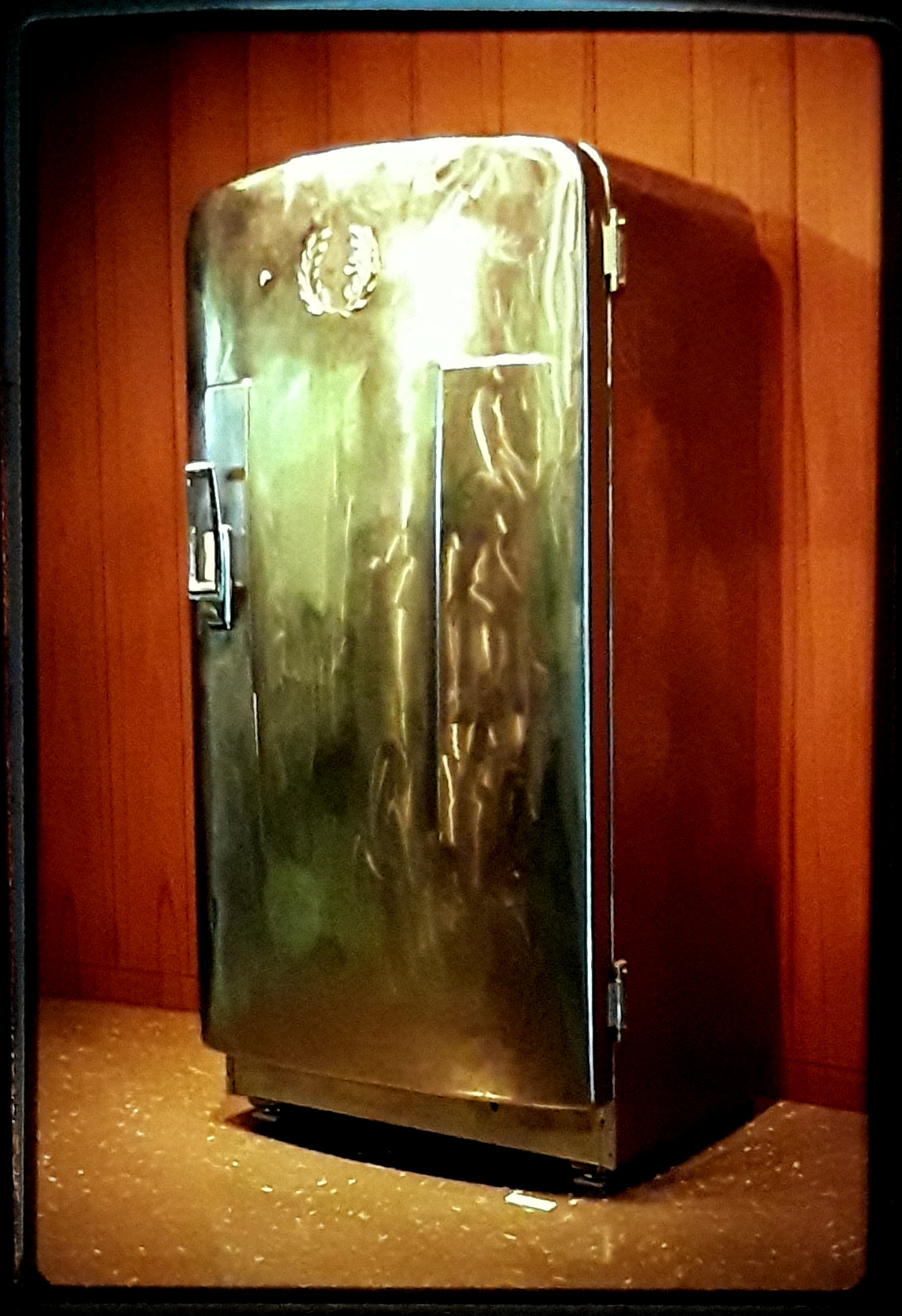 "Nick had been doing works related to recycling and reuse, mostly sculptural installations. He asked me if he could do an installation in the library as part of his studio productivity and I agreed," recalled former Fine Arts Librarian, Henry Pisciotta. "The fridge appeared and we were all delighted. We began answering the question, 'Where's the pencil sharpener?' with, 'In the fridge.' The initial installation was intended to be brief, but everyone (even trustees passing by on the way to meetings) seemed to enjoy the piece, so we left it for quite a while. After it had been up a year-or-so, I personally purchased it from Nick and donated it to the Libraries. I'm surprised and pleased that no one has pitched it out, must be proof of its endearing qualities."
Others had similar impressions of the fridge, even incorporating it into teaching moments. "I used to introduce Nick's piece to classes and at lectures as the largest 'artist book' in our collection. Nick would not think of the work that way, at least he didn't then, but art is long, especially when it allows for the imagination of the viewer," said Mo Dawley, Senior Librarian Emerita who served as liaison to Art and Drama. "All said, it's an object of delight and joy for all and I feel as though the mythology building around it is an important part of the piece in addition to its environmental message."

The patina of time and use has certainly added a special element to the piece.
"We noticed handprints were starting to tarnish the shiny surface, and then we decided that that was the history of people using the art and decided to keep the handprints," added Mary Kay Johnsen, Senior Librarian Emerita who oversaw CMU's Special Collections for over 30 years. "When the Arts Reference Desk was there out on the floor, it was fun to tell students, 'Check the fridge' when they wanted to borrow a pencil. Does anyone use a pencil anymore?"
A well-established student-artist in the early 1990s, Madjerick had also been awarded two Small Undergraduate Research Grants (SURG) in 1992 and 1993 and was named a 1993 Undergraduate Research Associate for a project called "Reenchantment of Place," in which he "sought to re-enliven a narrow hillside spanning the walls between Dougherty and Wean Halls at Carnegie Mellon University through continual documentation of human discards and wildlife over a three-year period."
Madjerick's art installations were unique for the time, focusing on creating awareness to complex and pressing environmental issues. Awareness was also a major theme of the fridge/pencil sharpener project, he called 2HK10331 after its serial number.
We reached out to Nick on LinkedIn and were delighted to hear back from him, especially after receiving his well-preserved notebooks and sketches documenting the process from inception to creation, along with initial observations of how the piece was received on its unveiling, April Fools' Day, 1991.
"The Pencil Sharpener was my final project for a Fall 1990 course with Professor Bob Bingham. I was not able to complete the project until after the semester's end. Bob gave me an incomplete until sometime in early 1991," said Madjerick, recalling his experience.
"Prof Bob uses the pencil sharpener! My Mission is complete." [Notebook Entry: 2 Apr 1991, 5:02:30 p.m.]
"I remember reading a scientific paper on the survivability of tree seeds. A tree can produce hundreds of thousands of seeds in its lifetime, and yet, on average, only one of its seeds will make it to full maturity. I feel that 2HK10331 is like one of those lucky seeds that makes it to adulthood," said Madjerick upon hearing of the longevity of his project. "After I planted it on the 4th floor, I had no idea what kind of future it would have. I had expected it to survive a year or so and then be rotated into storage or the big recycle. I am astonished and pleased to see it reach fruition."
by Shannon P. Baldridge, Web & Content Specialist
---
The Notebooks
1952 Philco Model# G1125, Style RA, Serial# 2HK103331
First Entry: November 26, 1990 - Last Entry: March 23, 1991
Courtesy of Nicholas Madjerick