Any review of Pittsburgh films should include George Romero's zombie movies – but did you know Romero also made a vampire movie here in the Burgh? Or that another movie gave our Pirates some angelic assistance?
Angels in the Outfield (DVD-6950)
Paul Douglas, Janet Leigh (1951)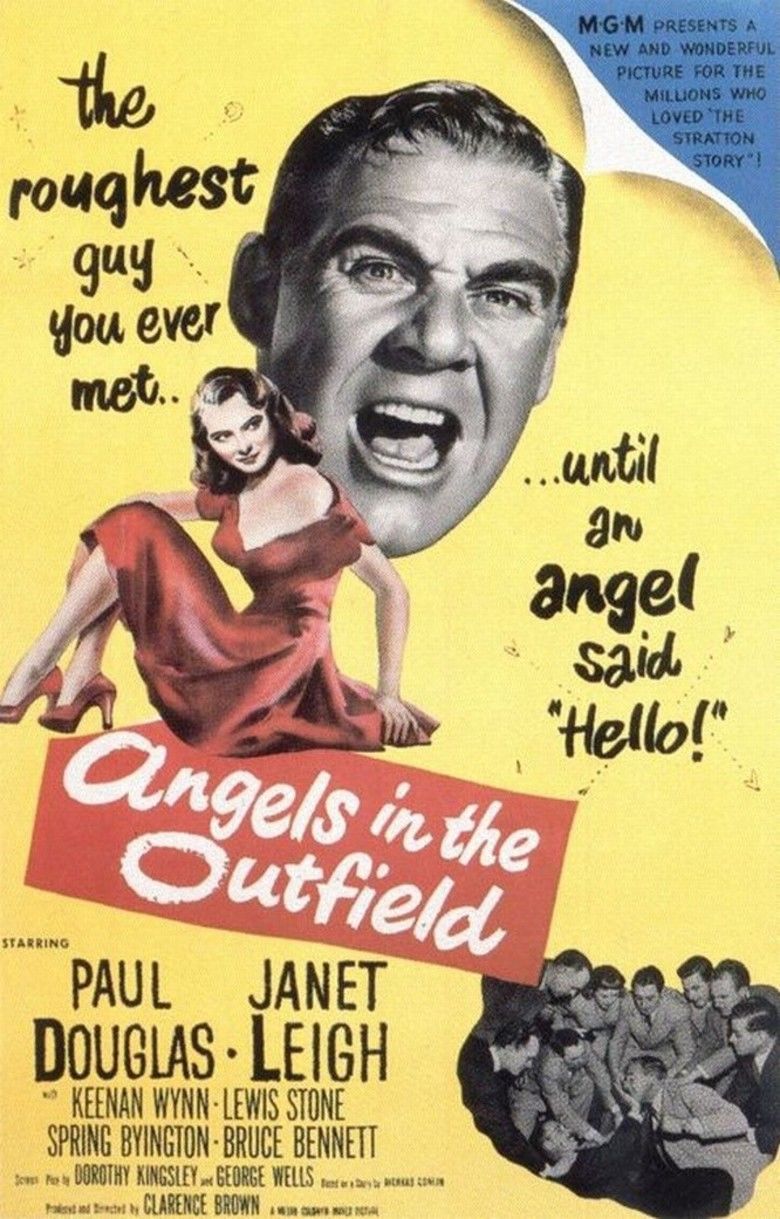 (Unrated, but G) You may be more familiar with the 1994 Disney re-make, but the original is a sweet, funny story about an orphan girl who loves the Pirates and prays for an angel to help them win. Janet Leigh, of "Psycho" fame, plays a reporter who discovers the story. Paul Douglas is the argumentative, foul-mouthed coach; his speech is garbled to get past the censors, a nice touch. Ellen Corby, the grandma from "The Waltons," appears as a nun. Bing Crosby appears in the film because at the time, he was partial owner (15%) of the Pittsburgh Pirates.
There are many baseball action shots, most filmed at Forbes Field. Opening credits acknowledge "the kind cooperation of the Pittsburgh 'Pirates' for the use of the team and its ballpark," while reminding the viewer that the story is fictional and "could be any baseball team, in any league, in any town in America." We see Janet Leigh at the door of the King Edward Apartments on Bayard Street in Oakland. From the shots at Forbes Field, you can see other Oakland landmarks like the Carnegie Museum, the Cathedral of Learning, and parts of CMU (then Carnegie Tech).
---
Night of the Living Dead (DVD-2067)
Duane Jones, Judith O'Dea (1968)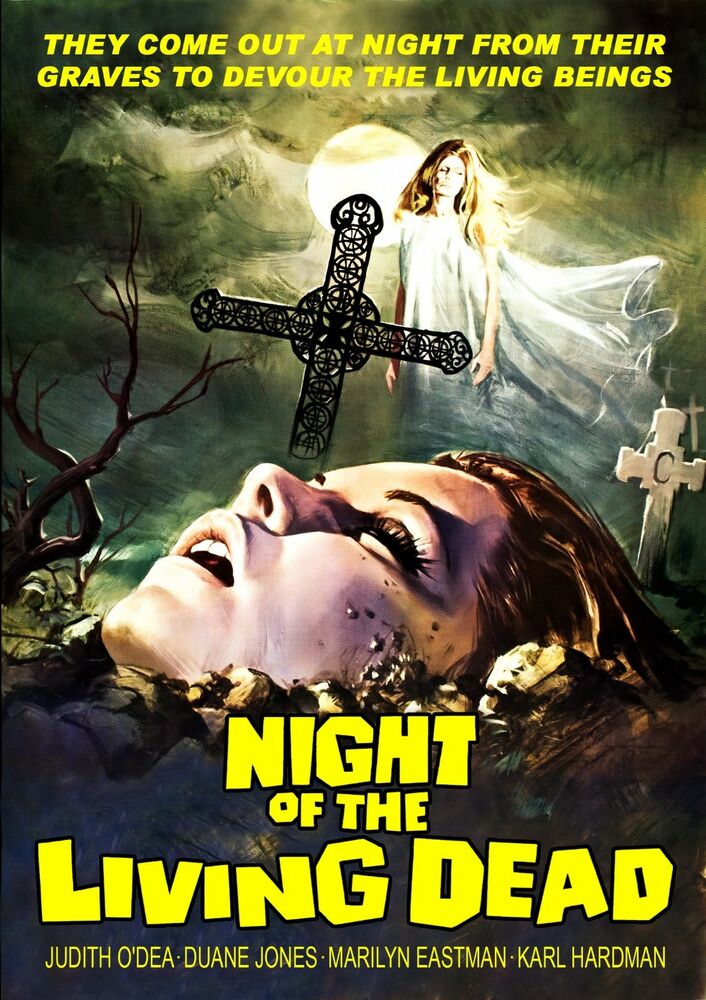 (Unrated, but R in nature) I'd seen clips before ("They're coming to get you, Barbara…") but watching George Romero's famous first zombie movie in its entirety was more moving than I'd expected. The grainy black-and-white film and eerie music set the tone for Barbara and her brother's first encounter with a "ghoul." The zombie kills Barbara's brother, and she manages to escape to a farmhouse, but she's in shock and annoyingly useless from then on. Ben, our hero, enters, and gradually a family emerges from the cellar. Romero said that Jones simply auditioned best for the role of Ben. Still, casting an African American man as the hero adds extra layers to every interaction with the white actors, and to his tragic shooting by police at the movie's end, where Romero's slowing to stills is very effective. Romero filmed in Evans City Cemetery, and the farmhouse was in Zelienople. Long-time Pittsburghers will recognize "Chilly Billy" Cardille, local news reporter and host of our Saturday night horror movies. Also, locations of shelters roll on news broadcasts, including a fictional "Oakland Health Center." When the film first ran on Pittsburgh TV, networks had to include an announcement that the events being depicted weren't real, to avoid an Orson Welles' "War of the Worlds" panic.
---
Martin (DVD-8102)
John Amplas, Lincoln Maazel, Christine Forrest (1977)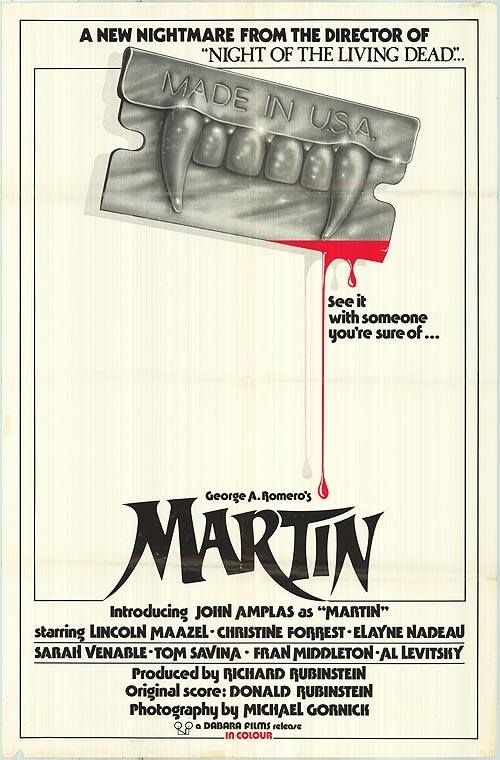 (Rated R) Said to be Romero's favorite, originally written for an older character but revised when Romero saw John Amplas (my brother-in-law!) onstage, making the character younger and more innocent. Or as the ads say, "He could be the boy next door!" Is Martin a vampire, or as Amplas says, "just a crazy, mixed-up kid?" The color film includes black-and-white sequences of beckoning women, candle-lit mansions, and torch-carrying villagers – are these Martin's memories or his fantasies?
Viewer advisory: usually vampires are seductive, but Romero's vampire is a rapist. The movie opens with Martin taking a train, attacking a woman in her compartment, injecting her with a sedative ("Just go to sleep" he pleads), raping her, killing her, and drinking her blood. Martin is on his way to live with his older cousin Cuda (Maazel) to be cured of the family curse. Cuda calls him Nosferatu, but Martin doesn't believe in vampires and protests "there is no magic." Cuda's granddaughter Christina argues that Martin needs psychiatric help. Martin says, "that would be too hard for me," but he's glad Christina doesn't believe in the family myths. Yet he says to her, "I'm old. I'm 84."
Pittsburgh shots include Braddock, Penn Station, and Downtown Pittsburgh; real Braddock police officers participated in the gang shoot-out scene. Romero used fellow filmmaker Tony Buba's duplex in Braddock and Buba's family photo albums. "Martin" is, according to Amplas, a statement against superstition and the old ways of the old country. It's also a statement about the mills closing and subsequent economic decline. Cuda warns Martin not only against killing but scaring people away: "You will not take people from the city. If I hear of it, I will destroy you without salvation." There are shots of junkyards and machines crushing cars; one unemployed man says despondently "I should be fixing cars." When Christina accuses her grandfather of being insane and finally decides to leave Braddock with her boyfriend, Martin says "People always go away so they can forget where they were." "A shocking, thoughtful reworking of the vampire myth" according to TV Guide. It's truly creepy, especially because we're drawn into the young man's character and his psychosis.
---
Dawn of the Dead (DVD-775)
David Emge, Ken Foree, Scott H. Reiniger, Gaylen Ross (1978)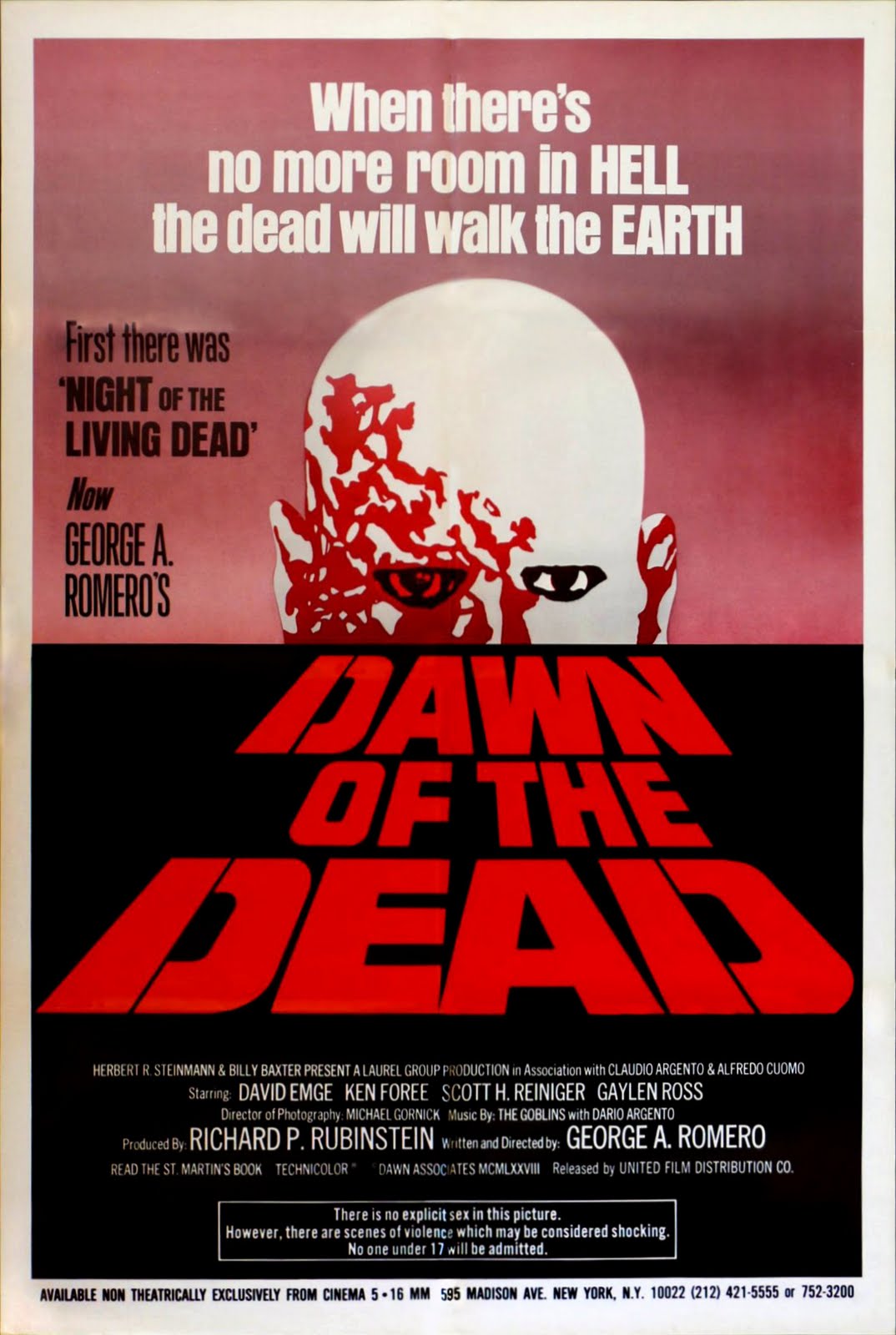 (Rated R) Romero's second zombie movie begins with a TV news network in chaos, and a traffic reporter plans to escape with his girlfriend, the producer, in a helicopter. Meanwhile, the National Guard shoots down an insurrection by Latinex and African American tenants of an apartment complex because they refuse to turn over their re-animating dead. (This shootout seems as though it should be less a priority than killing the zombies, but it's truer to life.) Two members of the National Guard escape with the reporter and producer, and fly towards Pittsburgh, to the roof of Monroeville Mall. Once the characters get inside, they evolve from hiding in a storeroom and eating Spam, to shopping for necessities, to the gleeful excess of eating caviar in fully furnished rooms, and finally to the boredom of having it all.
Much has been written about Romero's parody of "consumer" culture (pun intended) – entranced zombies shuffling past Foxmoor Casuals and Piercing Pagoda while jaunty music plays, and a distorted voice on the PA system announces a candy sale. "What the hell are they?" one character says, and another answers, "They're us, that's all." Made in a more comedic, comic-book style, we get plenty of gore and everything from pie fights to biker gangs (which set off all the alarms with their roar during filming at the Mall), and an ending that promised more Dead sequels. Entertainment Weekly ranked this Number Five in its "Guilty Pleasures: Testosterone Edition." At least the woman isn't helpless – in fact, she insists her boyfriend teach her how to shoot a gun and fly the helicopter. To complete the ironic commentary on consumerism, there's now a Romero souvenir shop and museum in Monroeville Mall.
Reviewed by Jan Hardy, Library Specialist.