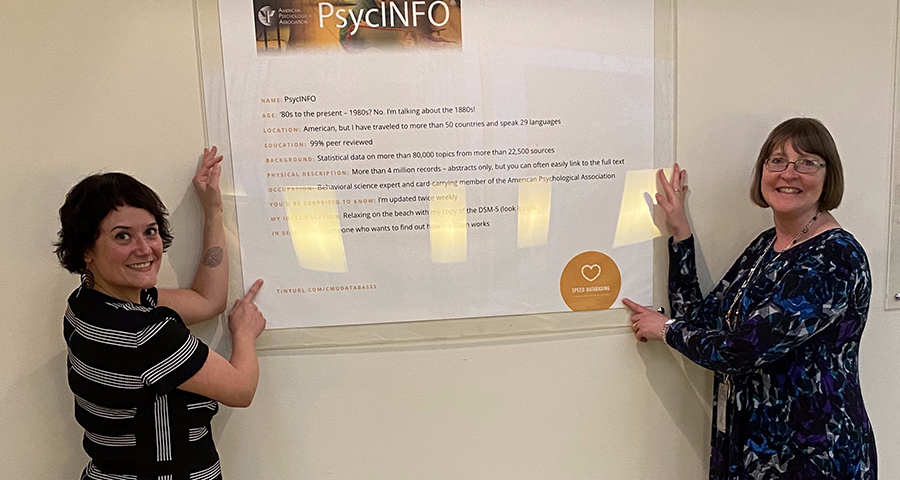 The Carnegie Mellon University in Qatar Library won an award from the Library Leadership and Management Association, a division of the American Library Association. Teresa MacGregor, director of the library at CMU-Q, along with colleagues Jill Chisnell and Heidi Wiren Bartlett from CMU's main campus, created the winning campaign to raise awareness among students of the many research databases available from the University Libraries.
Chisnell is the art, architecture and design librarian at CMU, and Wiren Bartlett is CMU's University Libraries designer.
In 2016, MacGregor and Chisnell created an activity called speed databasing for an undergraduate information literacy class. During the activity, students had five minutes to meet and learn more about a database through humorous biographies and thought-provoking questions before switching to a new database at the sound of a bell. The activity introduced students to resources containing scholarly articles, statistics, and company information.
MacGregor said, 'We have more than 700 databases in our collection, and needed an engaging, fast-paced and accessible method for sharing them with students.' Based on feedback gathered after each session, it was evident that students enjoyed the activity while also gaining experience with new resources and improving their research skills.
MacGregor and Chisnell hosted the speed databasing activity several times in Qatar and Pittsburgh, then shared their findings at conferences in the United States, South Africa and the United Kingdom, and the concept was picked up by several other academic libraries around the world. In fall 2019, MacGregor and Chisnell, along with designer Wiren Bartlett, adapted the activity into a poster campaign.
The campaign won the PR Xchange Award for materials promoting collections, services and resources. MacGregor accepted the award on behalf of the CMU-Q Library at a virtual ceremony over the summer.
To learn more about speed databasing, visit the community of practice hosted on the Open Science Framework.
This article originally appeared on the CMU-Q News website.