The latest attraction at Carnegie Mellon University Libraries is a workshop-on-wheels known as the 'zine cart.' Created by University Libraries' Liaison Librarian Jill Chisnell, a zine is a self-published booklet of original or appropriated text and images—Chisnell's cart allows students on campus to create their very own. 
Independently produced by hand and meant for a small audience, the idea of the zine has been around since Thomas Paine created his pamphlet 'Common Sense' in 1776. In the 20th century, the format gained popularity in the science fiction, film, and punk rock genres. In fact, the term 'zine' (pronounced zeen) is derived from 'fanzine,' used to describe a small science-fiction publication.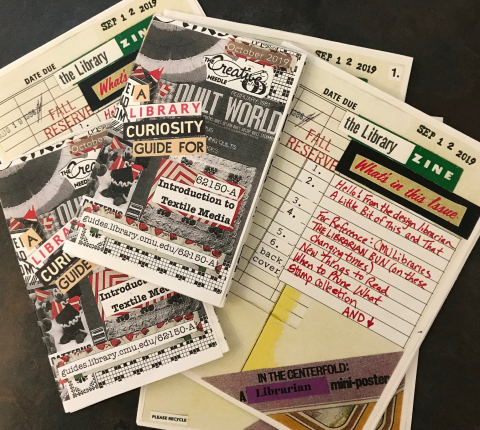 Zines have become increasingly relevant in recent years due to their do-it-yourself style and anti-mainstream status. Their personal nature has made them an excellent vehicle for creative self-expression, an idea that Chisnell holds dear.  
'I made my first zine this summer called 'Date Due: The Library Zine' for design faculty,' said Chisnell. 'I thought it would be more meaningful to say hello and share the Libraries' news in a hand-made, physical form rather than the usual mass email."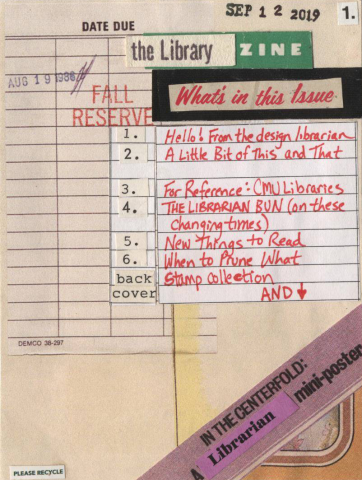 Chisnell serves as the Libraries' Liaison Librarian to the School of Design, IDeATe, and the Entertainment Technology Center (ETC). She holds a bachelor's degree in film and television from NYU's Tisch School of the Arts, along with a master's degree in library and information science from the University of Pittsburgh. She co-founded Pittsburgh's first independent craft fair Handmade Arcade, and is responsible for implementing the widely-popular button-making activities seen at the Libraries. Chisnell became interested in zine-making while attending a conference in Salt Lake City, Utah and received a Libraries Innovation Grant last year to create a pilot project.  
'Salt Lake City has a pretty big zine scene, and I had the opportunity to interact with the University of Utah's Marriott Library zine cart. I loved it and thought it would be cool to have one at our library too,' Chisnell said.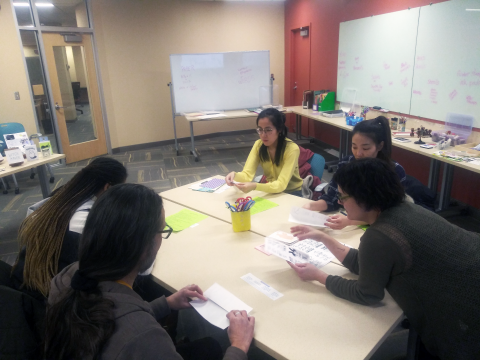 An artist and crafter, Chisnell uses reclaimed material and found objects in her work—something she explored with students in her first-ever zine workshop held during Fair Use/Fair Dealing Week 2020 in Hunt Library. Fair Use/Fair Dealing Week is commissioned by the Association of Research Libraries and held annually in the last week of February. Institutions across the United States and Canada take this time to celebrate the important doctrines of fair use and fair dealing, which give essential limitations and expectations to copyright law, and allow intellectual property to adapt to new technologies and media.  
'I can't draw, but I'm a wizard with scissors and a glue stick,' Chisnell said. 'So I use a lot of vintage and found images and text in my zines, which makes it super important to consider the factors of fair use.' 
With the popularity of the zine cart increasing on campus, Chisnell wants to do more. 'I have so many ideas!' said Chisnell. 'I want to make more zines. I want to offer more workshops. I want to take the zine cart on the road and loan it out for classes. I want to start a library zine collection. But as a team of one, I know I can't move forward with all of them. So I think it's time to spread the word and help make my team grow.'