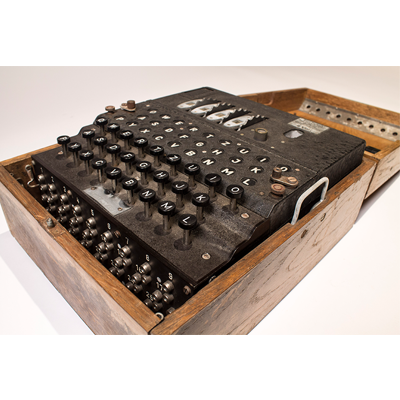 Crucial World War II encryption devices have found a home at the Carnegie Mellon University Libraries thanks to the generosity of author Pamela McCorduck, wife of the late Computer Science Department Head Joseph Traub.
Totaling more than 50 calculating machines, letters and books, the collection contains important items in the history of computing. Included are two Enigma machines, electro-mechanical rotor cipher machines used to encrypt communication. Most notably, they were used by Nazi Germany to protect military communication during World War II. With this gift, which includes one 4-rotor machine and one 3-rotor machine, CMU becomes one of a handful of American institutions to own an Enigma machine.
Other highlights include:
A Thomas Arithmometer, the first commercially produced mechanical calculator;
A Curta Type I Calculating Machine, designed by Curt Hertzstark while he was a prisoner in a concentration camp; and
Rare books by Charles Babbage, the 19th century mathematician considered by some to be a "father of the computer."
The items from the Traub-McCorduck Collection will be added to the University Libraries Special Collections. The University Archives, also housed in the Libraries, contains the papers of Traub and McCorduck, as well as noted computer science pioneers Allen Newell and Herb Simon, who worked alongside Traub in the department.
A pioneering computer scientist who led Carnegie Mellon's Computer Science Department during a crucial period in its history, Traub, who died in 2015, went on to found the computer science department at Columbia University. McCorduck is an author of influential books on artificial intelligence.
"As the second chair of what was then CMU's Computer Science Department, Joe's career eventually took him back to his alma mater, Columbia, but he never lost his deep loyalty, affection and admiration for CMU," McCorduck said. "Moreover, for one of the best schools of computer science in the world, a collection of ancestral machines seems a good marker of where the field has come from.
Andrew Moore, dean of the School of Computer Science, said the collection will serve as inspiration for a new generation of computer scientists.
"It's exciting that these artifacts tracing the early history of computation are now here at Carnegie Mellon, where the history of computer science continues to be written every day," Moore said. "Joe Traub was a great educator, so it's only fitting that our students will be studying and be inspired by these devices for years to come."
Many of the items in this collection were gathered via the couple's international travels over decades, driven by a desire to collect objects that held importance in their own fields of study.
"It's wonderful to see the collection that Joe and Pamela acquired together, often on their travels in Europe, and to understand the relationship between early computational and calculating machines and the innovative work he pioneered in the second half of the 20th century," said Keith Webster, dean of University Libraries. "We hope that the collection will give those who view and work with it an important sense of place and point to how CMU has built upon early work from around the world."
An event is planned for April 19, "From Enigma to AI: The Legacy of Pamela McCorduck and Joseph Traub at CMU," at which university leaders and special guests will join McCorduck to recount the academic achievements and philanthropic highlights of her extraordinary life with her late husband.
Rare Devices
According to Ralph Simpson of the Computer History Museum in Mountain View, California and the Cipher History Museum in San Jose, California, some 35,000 Engima machines were manufactured, but only 350 are known to exist today. Simpson said the National Security Agency is home to 21 machines and some 18 U.S. institutions, including CMU, have them in their collections. They include places such as the International Museum of World War II, the Smithsonian, the International Spy Museum, the Computer History Museum, Chicago's Museum of Science & Industry and the U.S. Air Force and Naval academies.
Related:
In Memoriam: Joseph F. Traub