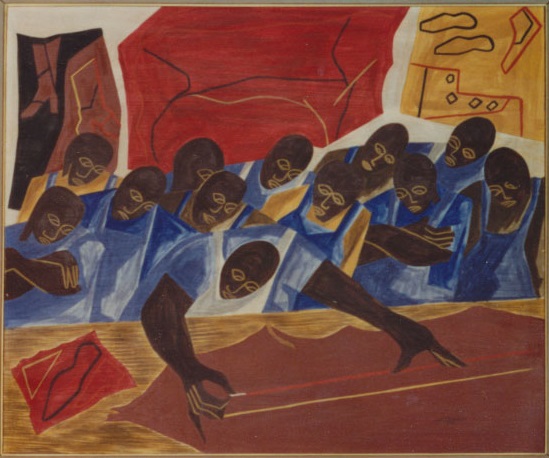 Jacob Lawrence  'A Class in Shoemaking' 1947
Tempera; 20 x 24 inches  
The Downtown Gallery; Gift of Dr. Carl W. Norden and Mrs. Margaret Norden

Given to Carnegie Mellon University in 1987 by two local Pittsburgh collectors, Jacob Lawrence's 1947 tempera painting, 'A Class in Shoemaking' clearly shows his pictorial style that he called 'dynamic cubism,' with jagged compositions in bold, flat colors that are abstract yet figurative, and full of social comment. Often in his career, he painted tradespeople, craftspeople and laborers hard at work in many fields. In 1941, his show of the 'The Migration of the Negro in 1941,' a 60-panel series at the prestigious Downtown Gallery was the first for a black artist in a New York commercial gallery. Fortune magazine published 26 of the panels and published his work again in 1947. This painting was one of a series commissioned by editor Walker Evans for Fortune in 1947, but wasn't published. 

At the Downtown Gallery,  he exhibited with established modernists as Stuart Davis, John Marin, Charles Sheeler, and Ben Shahn, all of whom became close friends. In 1946, he taught at the Black Mountain College summer session in Asheville, N.C., at the invitation of Josef Albers. He knew Richard Wright, Ralph Ellison, and Langston Hughes. He was contemporary with Romare Bearden, at one point his neighbor.
   
One of the first American artists trained in and by the black community in Harlem, who also gave him professional recognition, he was also the first African American artist to receive sustained support from mainstream art museums and patronage outside of the black community. In Pittsburgh, he exhibited at the Carnegie in 1947, 1948 and 1949. 

In 1990, President Bush awarded Jacob Lawrence the National Medal of Arts, and he died June 9, 2000 at the age of 82. 

This painting lives in the Fine & Rare Book Room, on the fourth floor of Carnegie Mellon University's Hunt Library. 
Notes compiled from 1. )  Jacob Lawrence Catalogue Raisonné  2.) Over the Line : The Art and Life of Jacob Lawrence by Carter B. Horsley. http://www.thecityreview.com/jacob.html, accessed February 13, 2017; 3.)   http://www.newyorker.com/wp-content/uploads/2015/04/150420_r26396-992.jpg