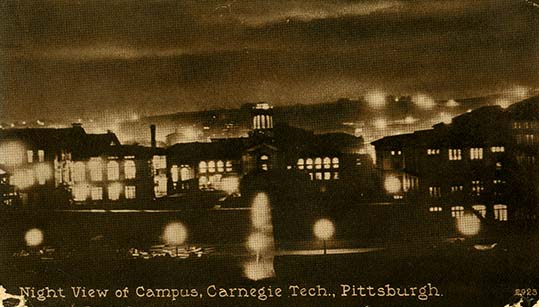 An early postcard depicting campus
Thank you to all of us who joined us for our #AskAnArchivist Day celebrations. I know everyone has been on pins and needles waiting to find out the truth behind our trivia questions.
1. During World War I there were tanks on the Cut, soldiers in Schenley Park, and airplanes where Hunt Library is.
This is true! When the US entered the war in 1917, President Hamerschlag offered Carnegie Institute of Technology as a training center for the military. Starting in July 1918, a training camp was held on the Schenley Oval, and that fall CIT became a unit of the Student Army Training Corps and regular classes were cancelled. Instead, students took "War Courses" for Radio and Buzzer Operators, Aeroplane Riggers and Engine Men, Truck Drivers, Telegraphers, and Band Musicians. Even Margaret Morrison offered War Courses in subjects like mechanical tracing and stenography.
If you want to know more about life on campus during the war, make sure to visit the archive to use our WWI collection.
2. The reason the halls in Baker/Porter are sloped is because Andrew Carnegie wanted to turn campus into a factory if the school failed.
This is false. There's no evidence to suggest that Andrew Carnegie was hedging his bets when he founded Carnegie Tech. However, the idea that the halls in Baker/Porter were built to accommodate large machinery is true. Baker/Porter originally housed the School of Applied Industries and had machine shops for students studying everything from plumbing and heating to "electrical practice."
To understand more about the early years of Carnegie Tech, you can stop by the archive to look at course catalogs, yearbooks, and our photo collection.
3. We once hosted a funeral for a monkey on campus.
Maybe. Henry Hornbostel, who designed the original buildings on campus, was also a member of the faculty. His impact went beyond the design of campus – he founded the Beaux Art Ball and was beloved by his students. He was also known for bringing his pet monkey to work with him. When Hornbostel's monkey died, it's said that students held an elaborate funeral procession and buried it in Schenley Park. Sadly, we can't find any evidence that this actually happened. It's possible that the photographs claiming to be of the funeral are actually photographs of the yearly burying of the plebe regulations.
If you want to help us get to the bottom of this legend, the answer may be in Hornbostel's correspondence, which is part of the records the architecture department.
4. The first skinless hot dog was developed at the Mellon Institute.
True! Rumor (also known as Wikipedia) has it that the skinless hot dog was developed "in Chicago in 1925 by Erwin O. Freund, founder of Visking, which would later become Viskase Companies." While Freund was integral in the discovery, he didn't do it alone. Freund actually sponsored a fellowship at the Mellon Institute, and it was scientists in Pittsburgh who did all the work.
If you don't believe us, you can find the contract in the records of the Mellon Institute!
by Julia Corrin, University Archivist
Tags
:
Archives
,
CMU History
, See all tags