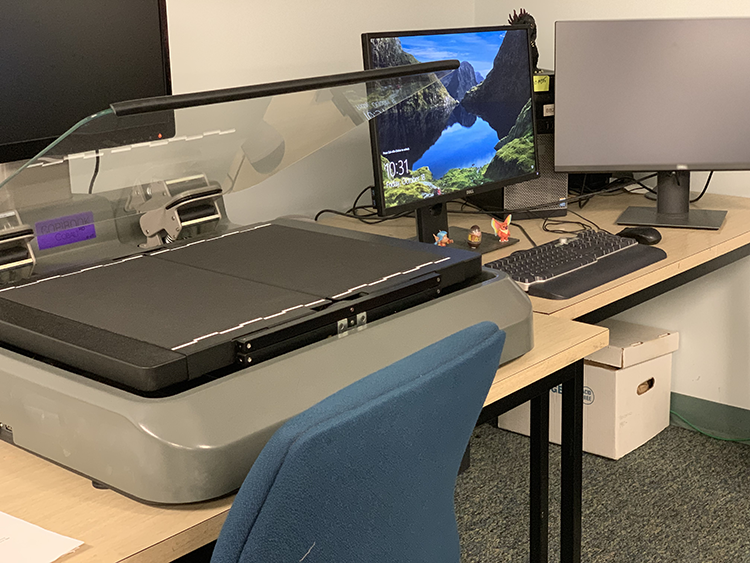 1535. This is the number of book pages scanned by the Libraries Digitization Lab to meet the needs of CMU instructors transitioning to online classes. The scanning of materials for use by faculty and researchers is nothing new for the Libraries, but the circumstances surrounding these requests were unique.
As a result of the March 11 announcement that CMU would shift to online classes—and subsequent March 20 closure of all library locations—the Libraries faculty and staff quickly took steps to ensure that the CMU community would have access to the materials they would need for the rest of the semester.
During this brief window, new processes were initiated to deliver swift service. One of these is the Textbook Help mailing list (lib-textbookhelp@lists.andrew.cmu.edu), introduced to provide course reserve alternates for online classes and textbook alternates for students who were unable to retrieve materials from their dorm rooms due to Spring Break travel.
The mailing list, which remains active, was announced in a university-wide email outlining the Libraries' readiness efforts for the transition and reinforced by librarians in their department-specific communications, as well as by employees of the Eberly Center. Requests for textbook help were accepted via a shared Google document or message to the email list. 26 requests were received during this time.
"Textbooks are hard to find as e-books, but out of 26 requests, we were able to get 19 as e-books from various resources," said Neelam Bharti, Senior Librarian and Interim Associate Dean for Library Technology and Technical Services. "For the rest, our staff did a tremendous job in rapidly communicating and scanning the material and providing PDFs of the material to the instructors."
Tags
:
Online But Never Remote
, See all tags